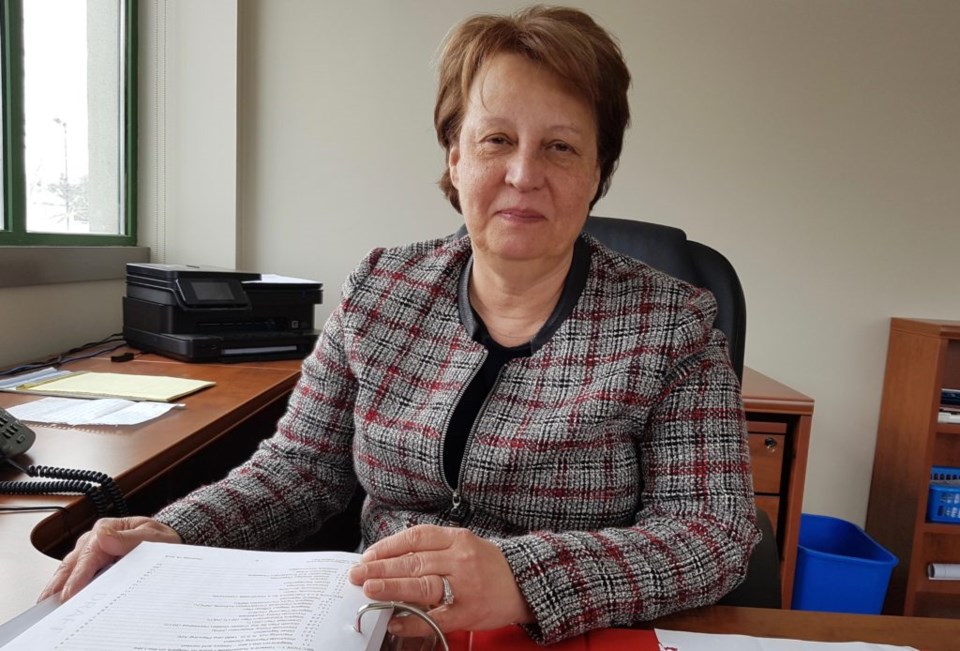 After more than 15 years of attempts to revise the Town's out-of-date Official Plan, and another five-and-a-half hours of discussion last Thursday, Lord Mayor Betty Disero's determination to approve a new plan was successful, with only one dissenting vote.
"I'm so proud this council got it done," said Disero before beginning her second day at an Association of Municipalities of Ontario (AMO) conference Tuesday.
"There comes a point when you have to make a decision. You can't keep editing and editing, you have to say 'this is it.' And I'm glad we made that decision."
After questions early in the special council meeting last Thursday about how any suggested changes might be made and presented to councillors before the OP goes to the Region for approval, Disero made it clear by the time the meeting was finished, there would be no more opportunities for change.
A warning of the vote outcome came when Coun. Stuart McCormack indicated he wanted to see any changes that were made following the meeting.
"We are going to be adopting this today," Disero said.
"We're not going to set up another special council meeting to deal with yet another draft."
As the marathon meeting wrapped up with a vote, McCormack was the only councillor who opposed approving the draft, saying he felt it was too rushed.
Councillors had only 24 hours to see the final draft before the meeting, but any recent changes were red-lined so they could easily see the differences following the presentation to council Aug. 1 by consultants Rick Hunter and Margaret Walton of Planscape. They were at the community centre Thursday to again point out and explain the changes, and answer any questions of council.
The last Official Plan was approved in 1994, with 78 amendments since then. The Town has been working on a review since 2002, with Planscape since 2015, and Disero has several times stressed the need for the updated guide to local town planning to be approved, especially with the threat of amalgamation from the Province.
The Official Plan is a land use policy document required by the Province that implements the community's vision for growth and development, but must agree with provincial policies. The Province has recently asked municipalities' deliberations on planning documents such as official plans, be put on hold, until it completes some anticipated policy changes.
A municipal Official Plan addresses such issues as agriculture, housing, the natural environment, heritage preservation, employment needs, commercial services, tourism, parkland and recreation, servicing and transportation.
At Thursday's meeting, several of those issues were part of the discussion, with the most time spent on agriculture, specifically, drainage, swales, ditches and irrigation ponds, which in some cases are considered natural heritage features and protected by the Province.
Councillors were warned by the consultants several times there might be problems finalizing the plan, with ongoing changes at both the Provincial and Regional levels of planning policies that conflict, especially on the issue of natural heritage features.
But Disero and several councillors pointed out the importance of protecting those features which were man-made for irrigation purposes decades ago, and are so vital to farmers.
Coun. Erwin Wiens, himself a grape-grower, said in this instance, "the Province got it wrong."
He spoke of the importance of correcting the information, and if nothing else, beginning a discussion with the Province that could lead to it changing its mapping of natural heritage features.
"We're obligated to follow the lead of the Province," Disero told The Local. "They may turn around and say we have to follow the provincial mapping. But if they do, it will give us an opportunity to get some changes to their mapping. We put forward what we see is important for our town."
At Monday's AMO meeting, Disero and the NOTL delegation, including Sheldon Randall, Brett Ruk, Craig Larmour and Coun. Erwin Wiens, had an opportunity to talk to Laurie Scott, the provincial Minister of Infrastructure. Disero said they talked about ditches and drains as an essential part of infrastructure for NOTL, and should be considered as such by the Province, allowing NOTL to access funding for needed improvements to the aging irrigation system.
"It's an important asset that will remain in our town" for the use of farmers, they explained to Scott, who seemed receptive to the idea, said Disero. That discussion may be the beginning of the Province understanding the important distinction between an irrigation system and natural heritage features, she said.
Also as a result of the OP approval, said Disero, which included heritage and character areas, the Town can begin to look at further designations for areas and buildings of heritage significance, to protect them.
Until the revised OP is also approved by the Region and the Province, the 1994 plan and its amendments are still the Town's official legal planning documents, said Disero, but the new OP can be referenced when talking to developers, as guidelines for the future.
"The town staff can say "this is what we'd like you to do," referring to the revised OP, including the adopted community planning process, which also sets out the types of housing for future development.
Disero said on behalf of council, she wanted to thank town staff and the consultants from Planscape for working so hard to complete the document, and the public for "consistently being engaged in this process and providing your valuable feedback."
She accepts there may be more revisions coming, "but that's what OP amendments are all about," she said.
"We had to finalize something, and I believe this is a document that was ready for approval. Everybody's concerns have been addressed. The time is right — right now."