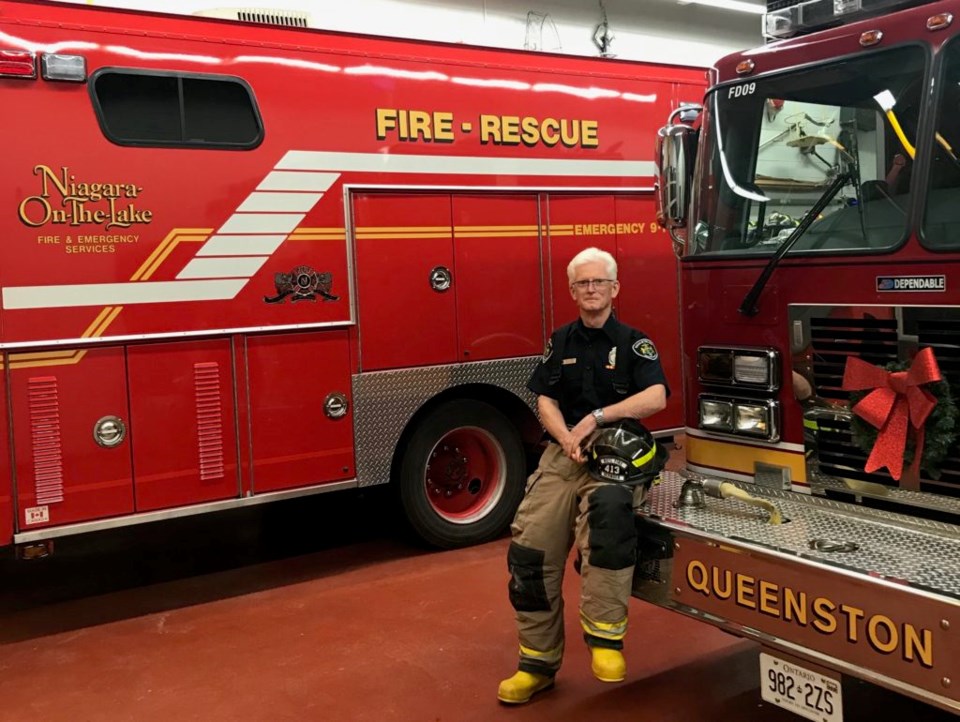 After 38 years as a volunteer with the Queenston fire department, Ken Hernder has several memorable calls he's responded to, many of them having nothing to do with fighting a fire.
At 65, his mandatory retirement date was Dec. 31, so he begins the new year without worrying about responding to his pager.
While talking to The Local, he heard sirens outside the window, but for the first time in decades, he has to learn to ignore the automatic response of checking to see what the call is about.
His wife Cindy Young Hernder has compiled a list of some of his calls, thinking many Niagara-on-the-Lake residents would be very surprised at what is expected of a volunteer firefighter.
Some of that has changed over the years, as some situations, such as water and gorge rescues, which are now assigned to specialized, professional teams.
Although he has answered those calls in past years, he believes it's for the best that firefighters who have more training in those areas have taken over.
He remembers one rescue of fishermen on the Upper Niagara River, who had fallen overboard.
The Queenston Fire Department at that time had a 12-foot aluminum boat and a nine-horsepower motor, he says. Two volunteers went out in the boat to rescue the fishermen, who tried to climb aboard.
"I was just a young guy, watching from shore. The boat got out to them. The fishermen were wearing lifejackets, and were trying to get into the boat, almost tipping it in the process. The firefighters threw them a rope and towed them back to shore. After that they said they'd never take that boat out again. We'd never do another water rescue if we didn't get a bigger boat, and that never happened."
These days, the U.S. Coast Guard and Homeland Security can get to an incident on the river the fastest, and they respond to most rescue calls. St. Catharines has a water rescue team as well, he says. "We leave the water rescues to those who have the time to train for them."
Another memory, the most traumatic of his career, and certainly the most tragic, was the 2004 fiery church van crash into the barriers in front of the Queenston-Lewiston Bridge toll booth. Three people, including the driver and two passengers, were killed.
The carnage, says Hernder, was the worst he has ever seen.
The van was carrying members of a Bronx church group home, after they had attended a conference in Toronto.
Speed was suspected, and a later report blamed the collision on a travel coffee mug becoming lodged behind the brake pedal. When the driver couldn't stop, it was assumed he swerved to avoid a van in front of him, also carrying members of the church group home.
"That's one that stays in your mind," he says. "There were body parts everywhere."
There is not much to be done about memories like that, Hernder says, but he believes he's fortunate in the way he deals with some of the more horrific incidents he's encountered on the job, although the department offers help to all firefighters now.
"I seem to be able to find a spot in my head and keep them inside," he says.
"It also helps to recap what happened when you're back at the hall, maybe have a beer. And then you put it behind you."
Niagara-on-the-Lake, with its volunteer department is "one little town like every little town in Ontario. We do what we can to help the citizens in our community."
From the most gruesome situation he's encountered, Hernder switches to something less serious, and slightly humorous.
He recalls being called to a fire at Private Eyes, and when firefighters entered, the place was thick with black smoke. When they traced the cause of the smoke, it was a "golden horseshoe" that turned out to be a plastic toilet seat on a wall that someone had set on fire.
As they walked through the main room of the lounge, women continued performing, and men continued watching, not seemingly bothered by the heavy smoke or the men in their gear with their heavy equipment. "It was like they thought it was all part of the act."
One of the hardest parts of the job has been the many motor vehicle collisions firefighters are called to, never knowing what they will find when they get there.
In a small community, it may be a family member, a friend, or a relative of a friend.
Hernder says he's seen firefighters face all those situations. "It's part of the job," he says. "Your initial reaction is to take care of what's happening, then you realize, "it is who I thought it was. Not only do you have a victim right in front of you, but it's someone you know."
Having that happen even once in a career as a firefighter "would be too many times," he says.
On his list of calls he's attended over the years, Hernder includes the Oban Inn Christmas Day fire, which broke out with about 175 guests sitting down for their Christmas dinner. "I was one of the last to leave, about 4 a.m.," he says.
He was also at the fire to the former firehall on Queen Street, in 2009. The volunteer firefighters were praised for their professionalism fighting that blaze, preventing the fire from spreading any more than it did as a large crowd of visitors and locals gathered to watch.
He also mentions hazardous material spills they've cleaned up, bomb threats, an incident with a truck carrying nuclear detonators which closed the Queenston-Lewiston Bridge, a plane crash, barn and greenhouse fires, and several Bruce Trail and Niagara Gorge rescues.
As Hernder and his wife face a new year with his pager silent — he officially turned it off for good at midnight, New Year's Eve, and he won't mind not being woken up at 3 a.m. any more — his wife tells him she won't know what to do with him on Monday nights, when he's usually at the station for training sessions.
She has always supported him, and although he's been called away from many family dinners and special occasions, he knows she's proud of his role as a firefighter.
"The fire department is in a good position, with new recruits coming up. Those coming in have to be dedicated, with 250 to 300 hours of training — that's a bit of a challenge for young people with their jobs," says Hernder. "It was a lot simpler back in the day. But if someone's thinking of joining, don't be afraid. When things go back to normal, walk up to a fire hall on a Monday night and open the door," he says. "People will talk to you and tell you what it's like. Don't be afraid to ask. It's a great way to give back to your community, and very rewarding. You're helping the people of your community."
Hernder says retiring is bittersweet. "I have 38 years of knowledge and training, but others have to move up the ladder. I've had a good run and some fun times. It's time for others to take over."
The association at the hall is strong, he says, and he looks forward to the post-COVID time, when social gatherings and fundraisers are permitted, "and we're able to get together again."
His concern is that those community events will change as well, if the Queenston firehall is closed or amalgamated with St. Davids. He also worries for the safety of villagers and those living nearby.
The station was built in 1947 because there were too many local tragedies that occurred due to the slow response time of firefighters coming from further away, he says.
"Now here we are years later, and thinking about closing or amalgamating it. I just hope history doesn't repeat itself."
He understands the stations are old and run down, he adds, "but you don't need a Taj Mahal to park fire trucks in."
Firefighters from all five stations work as a team, and that won't change if two stations are amalgamated, which might make sense economically, he says, "but the station in Queenston is more than a station. It's where the community comes together for all kinds of events. Taking away the station will take a little bit of heart out of the village."