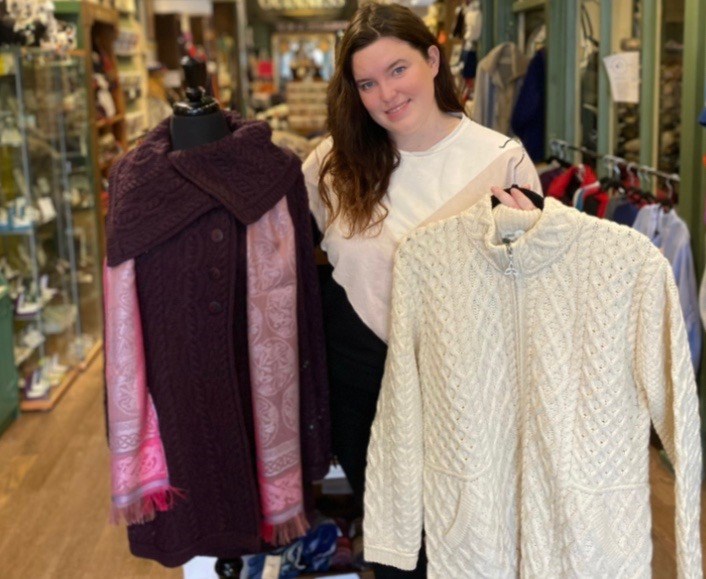 As some provincial restrictions are lifted, local retail businesses are preparing to reopen. Their plans are in place, they've been through the process before, and they're anxious to open their doors.
Having transitioned to creative ways to continue contact with the public, through online sales, curbside pickups and deliveries, they are ready for this, and confident they can do it safely.
After all, they say, they've done it before.
The restrictions will be determined by Niagara's colour zone, which hadn't been determined earlier this week, but in all zones, non-essential retail stores are permitted to reopen, with 25 per cent capacity limits.
Shauna Dickson of Irish Design on Queen Street says she has managed to keep busy during this lockdown — actually busier than usual — with online sales that are shipped around the world and close to home, as well as curbside pickups three days a week.
"We've aways shipped around the world, and we're still doing that," she says, "but we've actually seen an increase in domestic sales. We have more online sales to Toronto and the U.S."
She believes "1,000 per cent" that businesses have learned from the situations they've faced during the two lockdowns, and in many cases, that will continue to benefit them post-pandemic, including using social media.
"Our thought process at the beginning was to have some presence, and dreaming up new ways to get people shopping. People want to support us. They just need to know how."
That has kept her occupied as she seeks new ways of marketing, mostly using Facebook and Instagram. A new initiative she created worked better than expected, a weekly Wednesday evening Insta Sales on Instagram.
"We see a lot of other businesses benefiting from Instagram. For us, it's surpassed our website. People like the consistency of the Wednesday sales, and they also like to support local businesses."
She also loves that customers reach out to the store to ask how she and her parents, Maureen and Paul Dickson, and other staff are doing.
"People are contacting us to check on us. It's so heart-warming. I knew the people of Niagara-on-the-Lake were lovely, but we're really feeling the love now."
Dickson says she had no idea what to expect opening after the first lockdown last June, but this time, she's ready for it, as are customers.
The plexiglass is in place, arrows on the floor, shoppers are accustomed to wearing masks, and they understand capacity limits. "We know what to do, and they know what to do," she says.
"We're chomping at the bit for normal, bricks and mortar retail."
The icing on the cake will be if the Shaw Festival can open. "There are other factors, but the Shaw definitely makes a difference," she says.
"Every day during this pandemic brings a new learning curve. Just when you think you've got it figured out, something new happens. That's what's most stressful — the uncertainty of not knowing. But we're going to get through it."
Across Queen Street, Rick Jorgensen looks forward to implementing his cautious plan to fully reopen OLiV Tasting Room on Queen Street, after more than a month of just nine-hour weeks. For three hours, three days a week, he's been filling orders curbside. Although his business is in a grey area as a food store, his retail space is small, and with few people on the street anyway, he decided to close his doors during the week, shift to pickups and deliveries, and transition to online sales.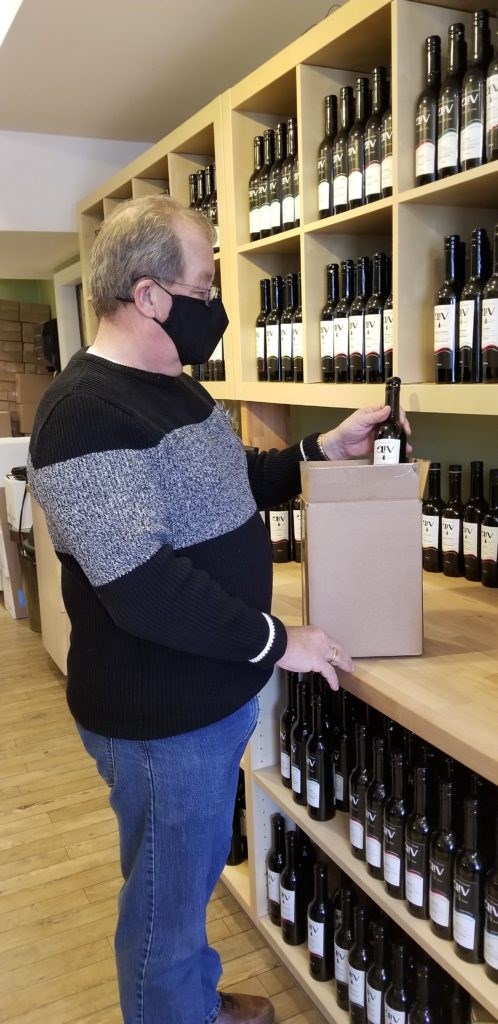 He expects to move into a larger space, half of the former Starbucks, sharing it with Budapest Bakery. The main door will enter into a redesigned vestibule, with customers for OLiV going to the right, and the bakery to the left.
He hopes to be in the new location by May, where he will be able to expand his marketplace with a new line of food products, he says.
That, plus optimism that the end of the lockdown is in sight, and hope that this will be the last one, is allowing him to look forward to a bright future.
He points to the "relatively quick" recovery after the first lockdown, thanks to visitors from across the region, the GTA and even Quebec, as reason for optimism this season. There is no doubt the locals, as supportive as they are, can't carry the businesses on Queen Street — there just aren't enough of them.
Although most businesses have survived a second lockdown, he is not the only one to warn it will be a different story if it happens a third time.
This one has to work, and when stores reopen, "we have a strategy to keep staff and customers safe. I'm very optimistic and confident in our ability to manage the transmission in our area. If everyone does that, we can have some semblance of normality. We managed the first wave because everyone was committed to following those measures. But people are becoming stir-crazy. They want to at least be able to walk around freely. As long as the town manages the public facilities, we'll be okay, and we can enjoy some level of freedom," he says.
"But we still need to be cautious. I don't know how many businesses will survive a third level of shut-down. We really need to get this under control and keep it under control. We've reached the tipping point."
Jaime Chevalier, owner of Textures Hair Salon, was out delivering hair colour to one of her clients this week, looking ahead to seeing some of them when permitted by the province. Salons may or may not be part of the reopening next week, depending on Niagara's colour zone, which is expected to be red or grey.
She knows when permitted, she can do it safely. Everything is in place, she has the one-use gowns and gloves, the sanitizer and masks, and she is accustomed to scheduling clients, having them wait in the car until there's a chair for them inside, and spacing them two metres apart.
Chevalier is a people person, accustomed to chatting with clients all day long, and she misses that. Her dog Charlie also misses the salon full of people. He usually goes to work with her, and has been waiting at the door in the mornings, unable to understand why they aren't going to work.
They'll both be happy to get back to it, she says.
In the meantime, as she did during the first lockdown, Chevalier has been preparing bowls of colour for clients, and delivering it, along with all the other supplies they need.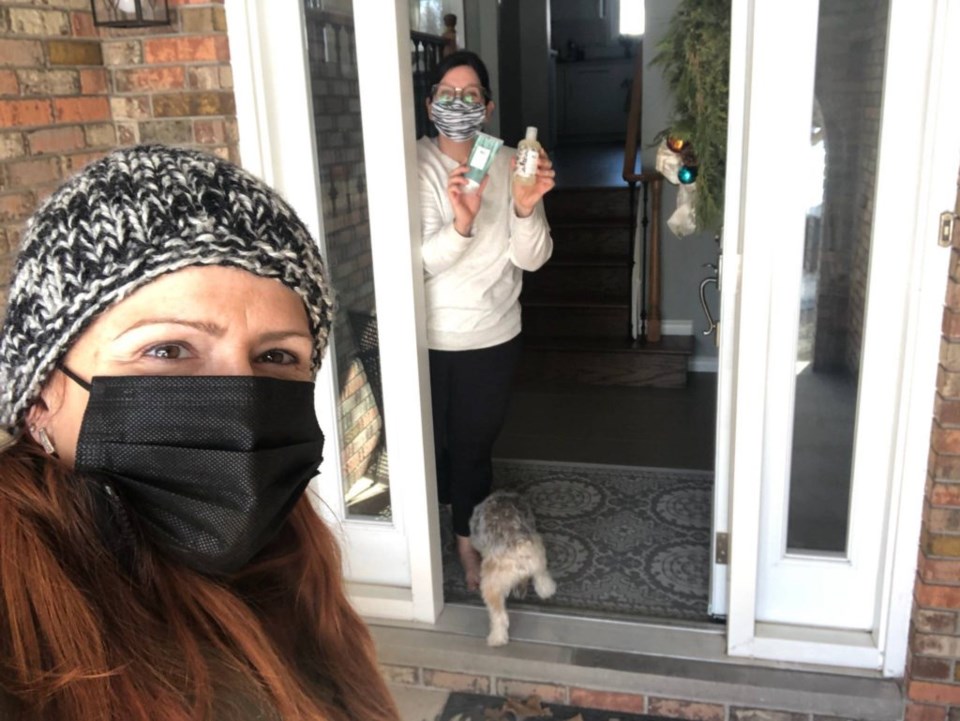 It's not a lot of help for the business financially, she says, "but it helps pay the gas and phone bill. They don't go away."
The main reason for doing it is "that it makes our clients feel better. They send me emails afterwards telling me how much it's helped. At least we can do that for them."
Chevalier is happy to be able to support them in that way, and she's grateful to know it's a two-way street.
"People reach out to me, asking if I'm okay, and if the staff are okay. They're concerned for us. We all know this isn't good for anyone. We miss human contact."
Coming to the salon is also a social outing for some clients, she says. "They need it for their mental health."
Once she has a date to open, she'll begin calling the clients she thinks will need a visit to the salon the most, and then go through the waiting list of people who have been calling her.
"Everyone has been so kind and understanding. I'm very grateful for that. We're all in this together, and we have to stick together to get through it."
John Koldenhof has been operating his Maple Leaf Fudge store on Queen Street for 53 years. He continues to open his doors seven days a week, from 11 a.m. to 4 p.m., receives orders online and by phone, and makes appointments for people to pick them up, he says.
Although business has picked up a little leading up to Feb. 14, "it's nowhere near a normal year for Valentine's Day."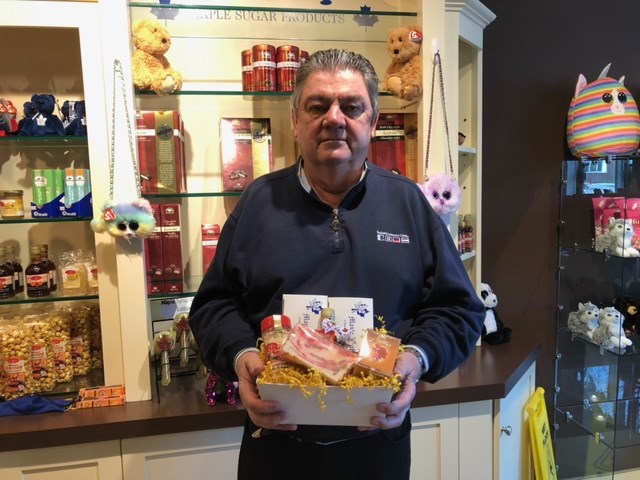 He's been able to keep three people working, with help from government subsidies, he says. "But we need the Shaw Festival. We need tourism. It's been difficult, but we've been doing this for 53 years, and we'll get through it. I've been out delivering orders around the region, and I've been keeping busy."
He already has all the protocols in place to reopen safely, with a limited number of people, and with a weather break, "hopefully we'll start to get back to normal. I can't wait."
Terri-Lynn Woodhouse, owner of One Earth, was out delivering orders this weekend, and also feeling pretty optimistic about the future.
"We are so grateful for all of the support we have received from all of our customers. When we had to temporarily close our storefront, we wanted to make sure we could still reach our customer base to let them know we were still here, and they could order from us and stay home," she says.
"We were lucky that we already had an online presence, so we didn't have to set it up, but with everyone in the world now having a website, we had to be competitive."
The store offers fair trade, ethically-produced items such as soaps, sanitizers, and body care products.
During the recent shutdown, she says, "we began looking at product offerings and asked ourselves, 'what would people need, and enjoy, if they were in lockdown for an extended period of time?' We began offering more fair trade coffee, chocolate, tea, and soy candles, as well as our regular, all-natural fair trade soaps, body lotions, shampoos and gifts. We did our best to tailor our product offerings for the time and experience we were all going through."
The store offers curbside pickup, "but most of our time is spent driving around the Niagara region doing porch dropoffs. From day one, way back to last March, we wanted people to stay home, so we immediately started free, same-day delivery in the Niagara region. We have to compete with Amazon, so timely deliveries are important."
Woodhouse says she has been "so in awe of the support we have received, not only from NOTL, but our surrounding communities. It's been amazing."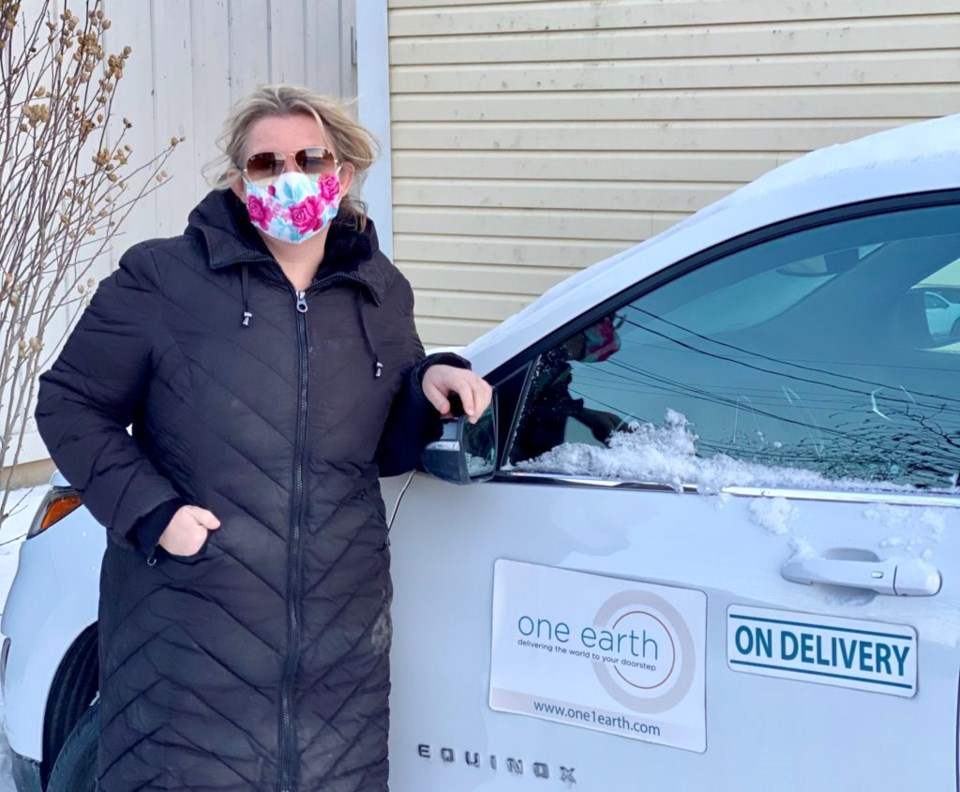 Online ordering and delivery has helped to keep their lights on, "and allowed us to keep our supply chains in the developing world and Canada healthy."
She was able to retain the equivalent of two and a half staff members, and expects to be hiring again when they move to their new location on Queen Street in the spring, with a bigger retail space and customer parking behind.
During the pandemic, she says, One Earth sanitizing lotion helped gain awareness of the business and its other products.
Now, as a small business owner, she is "a little nervous" about reopening, not knowing what's around the corner. However, she adds, "our priority is keeping our community healthy. We have to trust in Public Health to make the right call, and then pass the baton to us to make sure we follow the guidelines and keep people safe. We feel our space is very safe."
Air purifiers were installed in the store last year, which fully clean the air every 15 minutes, and kill viruses, she adds.
"It will be great to see our customers again, in person, and to share a joke or two. All of us in NOTL have been through a lot this past year."
Face-to-face, masked and socially-distanced contact is better for everyone's mental health, she says.
"This upcoming season is a time to celebrate that we are on the other side of this. We have all shared a collective experience that none of us saw coming. It will be a different year, I'm sure, but we have to make it a good one."
Cristina Cino, owner of Swag Hair Salon in Virgil, like other businesses, has kept in touch with her clients through dropoffs of products, including custom-mixed hair colour touch-up kits, with all necessary supplies.
It doesn't bring in a lot of revenue, "but any little bit helps. We went down to zero revenue, but still have bills to pay."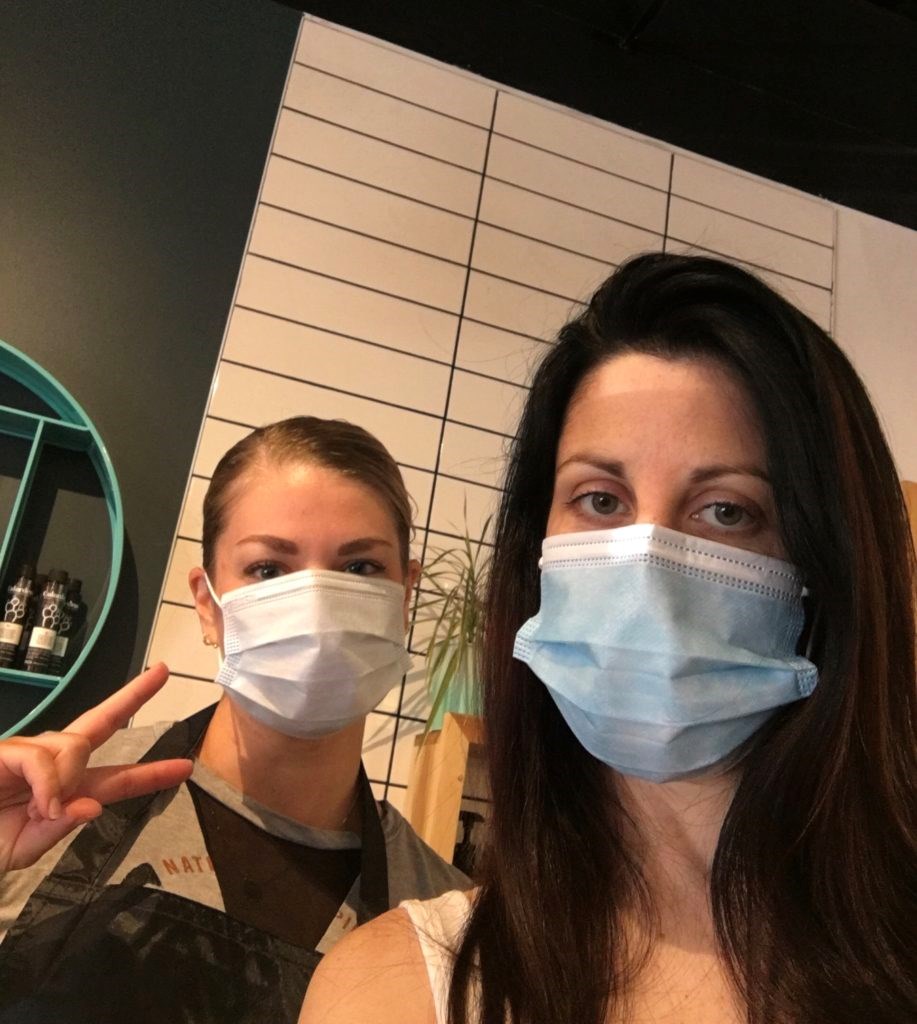 She also wanted to look after her clients, and was touched by those who have reached out to her, checking that she and other staff members were okay.
When Swag reopened in June after the first lockdown, with all safety protocols in place, including disposable equipment such as capes and gloves, she had a questionnaire ready for clients, and will do the same when permitted to open this time, depending on the colour zone Niagara enters.
She also expects to take temperatures of clients as they arrive, and says she finds that by knowing she is going "above and beyond" what is called for, "reopening will be easier and less stressful than it was the first time. We're ready to open when we're allowed to open."