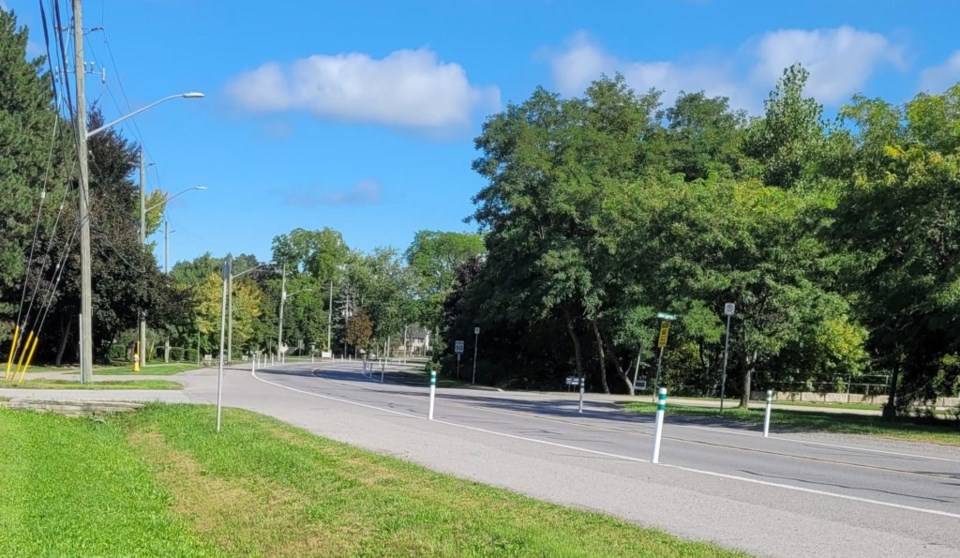 The bollards residents saw removed recently from Four Mile Creek Road in St. Davids were only expected to be temporary, installed by Niagara region as a pilot project to slow down traffic and provide safely for cyclists in the bike lanes. That they are now gone was always part of the plan, said Carolyn Ryall, director of the region's transportation services division.

Last Tuesday, St. Davids residents reported there had been emergency vehicles on Four Mile Creek Road, and drivers had not pulled over as they should in response to lights and sirens. Some were questioning whether that was why the bollards have been removed.
Nothing was brought forward to the regional transportation department related to a safety issue, said Ryall. "In conversations with emergency services to date, no issues have been raised. Staff will continue to review with emergency services and other service providers as part of the assessment."

"The bollards were scheduled to be removed as part of winter operations," she added, and all road work was completed as part of the bollard removals, with caps placed where they were removed.

The region is not aware of any safety issues resulting from the removal of the bollards, and "will assess the road condition in the spring."

Road safety, including safety for additional modes of travel, is a top priority, said Ryall. "Bicycle bollards were installed as part of Niagara Region's bicycle bollard pilot project to enhance safety for additional modes." The bollards were discussed as one of a number of options to slow down traffic and make Four Mile Creek Road safer for all users, including those on bikes, Ryall told The Local when the bollards were installed. "The separation between cyclists and vehicles is key," she said. The decision was made in response to concerns heard from St. Davids residents about the speed of vehicles through that area and the threat to the safety of cyclists.
The region will be evaluating how effective the bollards have been and will be making recommendations for the future, said Ryall. Even if they are approved for permanent use, they will be seasonal, and removed for the winter.

They are spaced far enough apart, at a distance prescribed under provincial legislation, that vehicles can ove to the side of the road and back when it's safe to do so, she said.