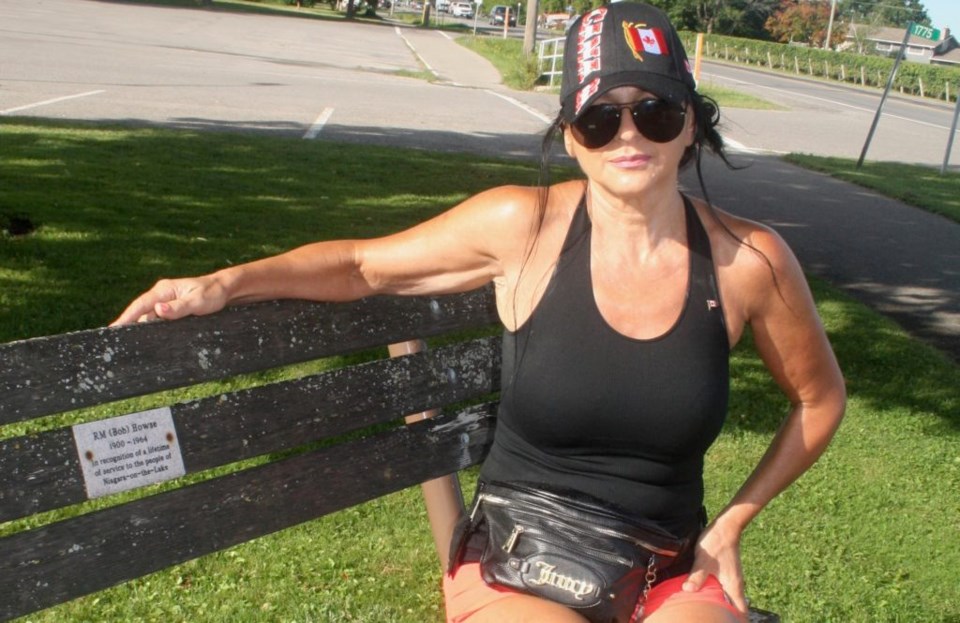 Those who drive along Niagara Stone Road from Virgil to the Old Town regularly will know how well-used the Bob Howse Trail has become in the decade or so since it opened.
Many may also have noted one of the most regular and committed users of the trail, a woman who is seen almost daily, usually speed-walking, through every season.
Her name is Angela Medici, and she, among all those who enjoy the trail, is likely the one who has accumulated the most kilometres on it.
It's officially named the Bob Howse Trail, after a former town clerk who, after retirement, became a town councillor until his passing in August of 2008. He was the driving force on council behind the trail that connects Virgil at Line 2 to the community centre, meeting up with sidewalks on both ends.
When construction began on the trail in 2008, Medici said to herself, "'one day I will walk that trail,' and I did."
First, she cycled it, but realized she wasn't getting enough exercise for the rest of her body, "so I started walking. And I haven't stopped."
She gets out on the path about four times a week, she says, and when she's on vacation, which she takes in the winter from her job at the Queenston-Lewiston Duty Free Shop, she might walk five or six days a week.
She has a regular route she follows that takes her about three hours, starting from the Village Green Plaza in Virgil where she parks and sets off on foot.
Medici lives on one of the rural lines, and she decided early on they are too dangerous to walk — she feels much more comfortable on a combination of sidewalks and the path. "People driving on the rural roads are crazy. There are so many collisions," she says.
And although many drivers and pedestrians on the trail are aware of her route from Virgil to the Old Town, that's not where it ends.
Medici keeps walking, past the library and community centre on Anderson Lane, on a route that takes her down to the waterfront, along to the gazebo at Queen's Royal Park, and back to the path before she heads home to Virgil. She's never measured the distance, but believes it must be 30 kilometres or more.
"It's a beautiful route, summer and winter," she says.
The path isn't always plowed in the winter, but she pushes through the snow. "I just put on more layers, and off I go," she says.
Medici, who is 58 — a very fit-looking 58, not surprisingly — grew up on a peach farm. Her maiden name is Benevento. She is accustomed to hard work and being outdoors from her years picking peaches, she says. She's also walked other long-distance routes, including the Niagara Falls International Marathon, which takes place every fall — she's finished that three times.
When she first started walking on the trail through town, she says she wore ear buds and listened to music, but soon realized, after a couple of close calls, that not being able to hear traffic presented a danger.
"You have to be aware of what's happening around you to be safe. I feel like drivers don't see me, probably because I power walk. I'm very, very careful. I've had some scary incidents."
The driveways along the trail are marked, and Medici pays attention to the traffic, out of self-preservation.
There was some opposition to the trail in its planning stages, mostly out of concern for the safety of those using it, because of the number of driveways that cross it, including several busy commercial entrances.
But signs were posted from the beginning, and those who use the trail have to be aware of the danger, says Medici.
"There is so much more traffic, so much more development, even in the last 10 years. It's really important to pay attention. In the beginning the path wasn't that well-used, but now it is, with bikes and scooters. I really appreciate it when cyclists use their bell as a warning," says Medici, who has never encountered an accident involving anyone on the trail.
She has experienced curiosity from others about her regular use of it, she says.
"I get asked how often I walk, and people also ask how far I walk. I don't come across a lot of other regulars, but then I walk at different times, according to my work schedule. I'm not walking the same time every day."
For a stretch of time, she carried three-pound weights as she walked, but then she realized they were hurting her wrists, and gave them up.
Her motivation for walking, she says, is that she feels she is taking the path to good health — mentally, emotionally, and physically.
It feels good to do something she knows is good for her, she explains.
"It is like a freeing time for me," she says, and she also hopes, as she gets older, her prolonged bouts of exercise will mean "I won't have to take any kind of medications."
Her husband of 37 years has walked with her on her route — just once, says Medici.
"He said he had new-found new respect for me, but he didn't want to do it again. My daughter also came with me — once. She has promised she will walk with me again, but she has two little girls, two years old and six, and she's busy. I'm sure she will come again. But my son has no interest in it at all, although I will try to convince him."
Is she a little obsessive about walking?
"Maybe," she laughs. "Some days, when I'm working, I want to be here on the path, and I feel guilty thinking that. I love my job — I've been there 30 years, and I have no complaints. But sometimes I'd just rather be walking."