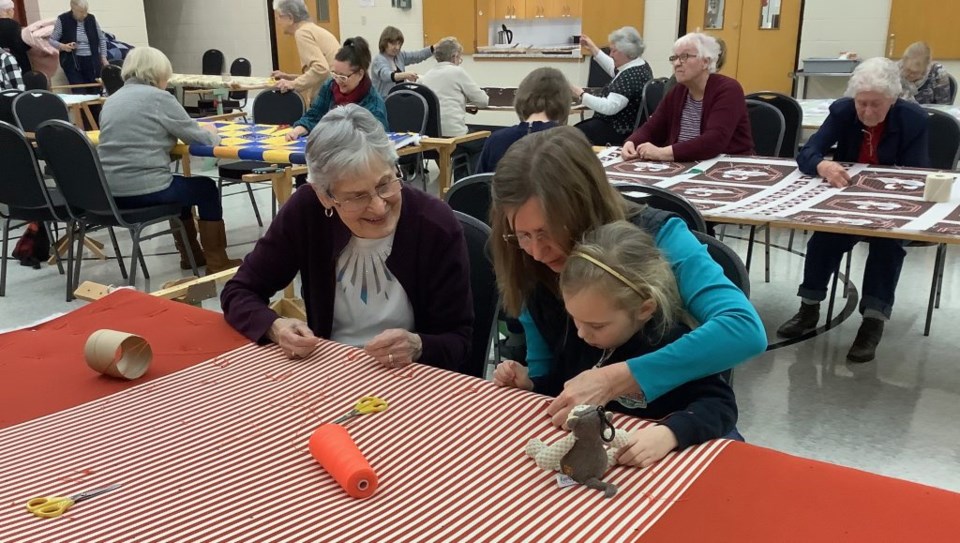 A group of Niagara United Mennonite Church women have been meeting Tuesday mornings for decades —the best guess is 40 or 50 years — to share a tradition that is steeped in history and passed down through generations.
They like to socialize and enjoy coffee together, but their main purpose is create quilts to warm those in need, in communities close to home and far away.
This time the help that is needed is far away, and immediate.
Because of the pandemic the women haven't been able to get together as a group for about a year and a half, but they will on Saturday, March 26, at what is known locally as the Red Brick Church, and they would welcome help from the public.
Their goal is to tie quilts to send to Ukraine, through the Mennonite Central Committee.
Their quilts have been distributed all over the world through the MCC, but this time the greatest need is for Ukrainians under attack by Russians, many of them, mostly women and children, driven from their homes to find safety from the military, says church administrator Emily Fieguth.
As the number of quilting members declined to a group that now numbers 20 women, they began putting the layers of quilting together, she says, and then tying them, a method which is much easier and faster than traditional quilting.
A successful quilt-tying event, with help from the public, was held at the church in January, 2020, and everyone had so much fun they wanted to do it again, but it couldn't proceed last year with COVID regulations.
"No sewing experience is needed, says Fieguth. "We welcome everyone to be part of our community, coming together to support our brothers and sisters in Ukraine."
The task is pretty simple, she says.
"I can't quilt, but I can tie, and if I can do it, anyone can."
Her expertise is organization, and when Fieguth began hearing about the attacks on Ukraine, she used her skills to quickly put together this event.
She is hoping people will drop in at 1775 Niagara Stone Road and help out, even if only for an hour, on Saturday morning, March 26, between 8:30 and noon.
"We were all sitting around thinking we wanted to do something to help, but didn't know what to do," she says. "This seemed like such a practical thing to do."
Even children aged 10 and up should be able to tie, Fieguth says — and coffee, tea and refreshments will be available. She is also setting up a quilt colouring activity for younger kids.
Every year, the number of comforter requests MCC receives from its partners in more than 45 countries is greater than the number of comforters it can provide. In the fall of 2021, the NUMC Women in Service group sent 78 comforters to MCC that were mostly tied at home while they were unable to gather due to COVID, and this February, they had finished an additional 45 comforters to donate.
"Comforters are an excellent metaphor for the nature of our work around the world at MCC," says Rick Cober Bauman, executive director of MCC Canada. "When our volunteers and supporters come together to create comforters, they will make a difference in the lives of people affected by conflict and disaster."
Last year, he says, more than 45,000 comforters were shipped by MCC to Burkina Faso, Ecuador, Jordan, Lebanon, Syria, Ukraine, and Zambia as well as throughout Canada and the U.S. The project started in 1929, helping families affected by war and famine in Ukraine.
For more information contact [email protected] or go to www.redbrickchurch.ca for details.