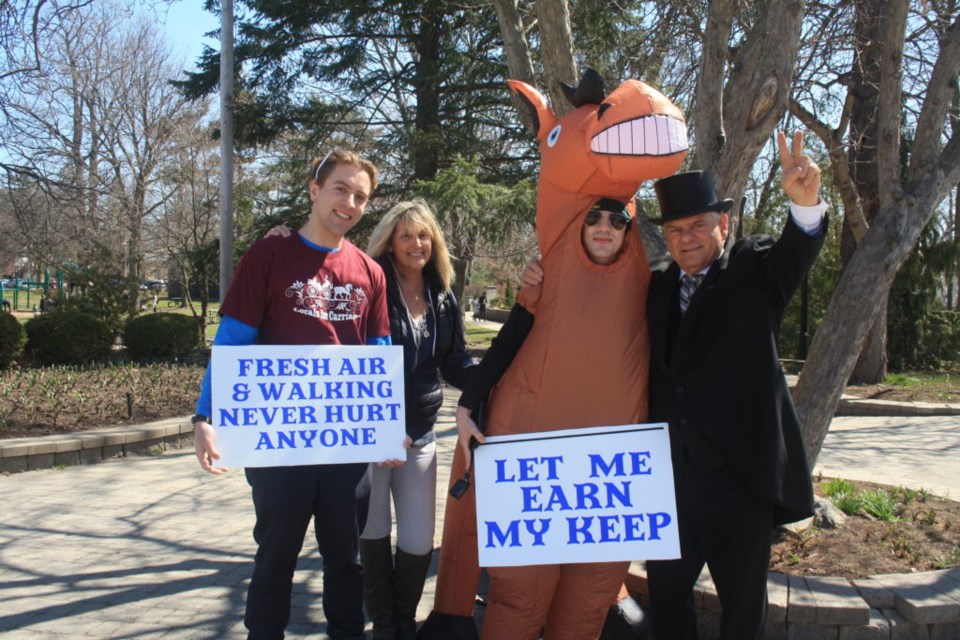 With the start of tourism season and a busy Queen Street in Niagara-on-the-Lake Saturday came protesters, with a new twist to their efforts to stop the use of horse-drawn carriages in town.
Also on the street to defend a popular, community-minded business were members of Locals for Carriages, offering support to the family who has been providing horse and carriage rides through the Old Town for the last 30 years.
It was business as usual, said Laura Sentineal, as their carriages lined up along King Street outside the Prince of Wales Hotel.
Sentineal Carriages had weddings booked, reservations for tours, and carriages waiting for tourists who decided on a spur-of-the-moment tour on a warm, sunny day in NOTL.
This time last year, in response to the protests, on the advice of police and hoping for a safe day for all, Sentineal decided to keep her horses off the street.
"Not this year," she said. "That was just one day, and it will never happen again."
Her husband Fred, dressed in his elegant black suit and preparing for work, chatted for a few minutes before climbing into a carriage and taking off on a tour.
The fact that it was such a busy day, and carriages weren't sitting idle, she said, "reminds me of why we're doing this."
But without the pre-bookings, she added, "it's hard to say" what impact the protesters would have had on business.
While supporters set up early at the corner of Queen and King Streets, the protesters tried a different tactic from last year, spreading out along Queen Street. There were eight of them stationed at each intersection along the main street, avoiding direct contact with members of the support group, and talking to passers-by about their cause. They are members of AWFAN (At War for Animals Niagara), and call themselves anti-speciesists — they oppose the use of animals for human purposes.
Adam Stirr, the leader of the group, had 40 protesters spread out, to put some space between them, the local supporters, and the horses. It worked out well, he said.
He was acting on an agreement reached with the Niagara Regional Police Service, he said.
"We've agreed we're not going to have gratuitous swearing and we're not going to make a lot of noise. We're not there to cause a ruckus and we don't want to get in the way of what's happening," he said. "We don't talk to people in carriages and we don't stand in the way of people going on a carriage ride. We just want to tell people what we believe."
In addition to staking out street corners, "making themselves extraordinarily conspicuous," said Laura, protesters were following the horse-drawn carriages as they made their way through Old Town streets.
She also saw police walking along Queen Street looking out for disturbances and helping to keep the peace, and although there was no yelling at carriage drivers and those enjoying a tour through town, as happened last year, the protesters were "putting on a show, trying to scare people away."
There were also well-marked vehicles "following and circling the carriages," she said. She has asked the police to stop that practise for safety reasons, but to no avail.
"It's frightening, manipulative, and very unnerving for drivers. I'm not comfortable with that. I think having vehicles following carriages is crossing the line. We do everything we can to keep things safe for our horses, drivers, and passengers. And we have amazing horses and drivers. I don't feel anyone is in danger, but there could be a potentially unsafe situation. We want to ensure safety in every situation."
Stirr said he had seven vehicles out Saturday, using them as "mobile signs." He intends to do more of that this summer — he is referring to the activities he has planned as "rolling thunder."
It's a way of making the most of the space he has available to him, he said, adding he has no desire to spook the horses or cause an unsafe situation. His drivers have been told if they find themselves behind a carriage, they should stay back and turn off when they can. Although there may have been "isolated times" when drivers were following or circling Saturday, his drivers have been told not to do that, he said.
He plans to continue the protests at least part of every weekend throughout the summer, not with as many people out as Saturday.
Laura says although it is her business singled out by AWFAN in NOTL, there are other areas where farms are being targeted by protesters, and it's just a matter of time before restaurants and other businesses are hit in Niagara. "Dairy, pork, beef — they want to put a stop to it all."
She hopes her situation could be the "lightning rod" for protecting those businesses, she said.
She continues to be overwhelmed by the outpouring of support from the community. With fundraising efforts underway to help pay for legal actions that might be undertaken against AWFAN — the activists respond that they aren't breaking any laws — Laura said people were dropping off donations at the office Saturday.
Any time she has a difficult or stressful day, invariably someone will offer support — through donations, a thumbs-up or even just to stop by and say hi.
"There may be 25 people in town who don't like us — everyone else is behind us and very supportive," she said.
"Horse-and-carriages don't necessarily align with everybody's ideals, and that's fine, but don't try to destroy our business. We can have differences of opinions, and we can all make our own decision."
Tickets for a trivia night fundraiser organized by Locals for Carriages were quickly sold out — another welcome reminder of the huge support in the community, said Laura. But for a small donation at the door following the dinner and trivia event, people are welcome to drop by for snacks and entertainment at 9 p.m., May 11 at the Royal Canadian Legion Hall on King Street.