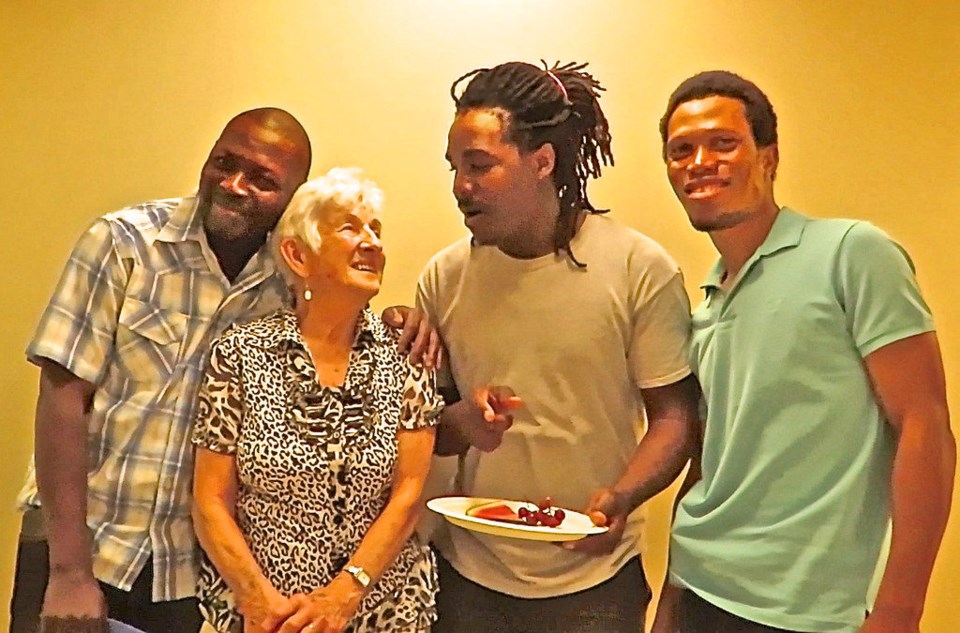 It was a beautiful evening in fall and I was enjoying a quiet time puttering about in my front yard when I heard it. It was a muffled crack followed by an onslaught of men's excited voices, then abrupt silence.
I couldn't tell where it was coming from, until it was repeated a few minutes later. Curious, I headed off in that direction and realized it was coming from Anneliese Pankratz's house a few doors down.
The sound of loud voices and more resounding bangs reverberated through her front door and I quickened my step, concerned about what was taking place. She didn't respond to the doorbell. I went in to find the dining room and living room crowded with her Jamaican neighbours slamming dominoes and having a grand time. A few members of CWOP (Caribbean Workers Outreach Program) and Rachel Pellett Gillette from the Mennonite Central Committee had joined them at the tables as well, slamming dominoes down like pros. Playing dominoes Caribbean-style is always a raucous, lively affair punctuated by laughter, protest and plenty of drama.
Anneliese was hovering over the tables, serving drinks and passing snacks, making sure everyone had plenty of fuel for the "fyah."
I remembered a conversation in her garden two weeks prior when she invited me to a night of dominoes, which I had forgotten. I thought she was inviting one or two over, not hosting a tournament. We had been talking about how difficult it is for the men who are here in the fall after having been in Canada and away from their families for almost six months. Lack of opportunity to socialize and the longer nights intensified the feelings of isolation and loneliness.
Anneliese decided to do something about it and so hosted her own domino tournament for the men on farms in our neighbourhood.
They were all familiar faces, more like family actually, as the men affectionately consider her their Canadian "mum."
The seeds for her thriving friendships were planted many years ago. Although she knew a few Jamaican employees in the neighbourhood, it ramped up when her husband Henry began driving workers to the newly formed CWOP church services about 27 years ago. When he could no longer drive she picked up his responsibilities and has faithfully continued every year since.
She is also well-loved by most of the farming families in the area, since she drove a school bus for 35 years in Niagara-on-the-Lake. She figured it was time to retire when a new bus line took over the contract, however one morning the doorbell rang and a lovely fruit basket awaited, with an invitation to continue to drive for DanNel. Apparently the children on her route had been asking for her to come back, so when school started she was returned to drive the second generation of students, who were happy to see her at the wheel.
At 85-plus she still volunteers two days at week at the Benefit Shop run by the Mennonite Central Committee. Since the shop does not resell "brand" names, she saves the hoodies, coats and jeans for her free shop which she organized in her garage. When the men on the farms arrive in Niagara, Anneliese's number is on speed dial — she's the first one they call.
I would be curious to know the number of miles she put on her famous blue van. I can't count the times I would see it filled to capacity with her Caribbean neighbours, honking and waving as they passed by on a spontaneous trip to Niagara Falls or to pick up some deals at Canadian Tire. She was always the first to offer when rides were needed to Southridge Church events in Vineland or Niagara Falls, happy to help them connect with friends and family members from the Lincoln area.
During her many years of involvement she has received no funding from an organization or support from a church.
One of her other passions was her extensive perennial gardens. What made it even more beautiful was that she welcomed anybody to come and enjoy the incredible fragrance of her peonies and lilacs and the stunning colour combinations.
The neighbourhood children found a second home at "oma's," enjoying snacks in her kitchen, colouring Easter eggs with her and playing freely in her yard.
She was also determined. Once she made her mind up to make a trip (like a solo to BC in her van) or take on a project, there would be no persuading her otherwise.
Years ago I was a little skeptical when she told me she wanted to build a stone enclosure around her well. It used to supply about five neighbouring families on Wall Road with their drinking water, up until the 1960s. She built up a large collection of rocks and with advice from a neighbour set about constructing a solid structure, eventually topping it off with a roof built by a her son Michael. 
To me the little well is a symbol of the resolve and resilience of the inspiring woman who once lived in this house.
Her generosity overflows from a source of love that is as bottomless as her well.
Last night when I passed by, after returning from the CWOP church service, the lights were off in her little home and a mix of emotions washed over me.
A few months ago she told me about her decision to make the move to Pleasant Manor. She was quite excited about it, because her new apartment was in a good location on the main floor. It was right by the parking lot, where her former neighbours could easily find her. She said her daughter Terri Fast was going to help her arrange to store the clothes in a room at Cornerstone Church for when the farm workers arrive next spring.
"I feel really good about it, Jane. It's the right time," she reassured me.
It has been a privilege to be her neighbour for the 22 years I have lived here. We have journeyed through some painful times together and just having her presence in our neighbourhood was deeply comforting. Her ready laughter, twinkle in her eye and sideways glance when she had a rather mischievous thought was a trademark that will always make me smile.
She continues to find great joy in the company and in serving those in our community. She is one of the most humble women I will likely ever meet, one of my greatest inspirations and a mentor.
She leaves smiles, hugs and warm hearts wherever she goes and no doubt will carry this forward into a new chapter in her life.
I find it reassuring that she is just a three-minute drive from the old neighbourhood where she lived and loved for 47 years.
Keep letting your light shine, Anneliese.
You are one of the true treasures of Niagara-on-the-Lake.