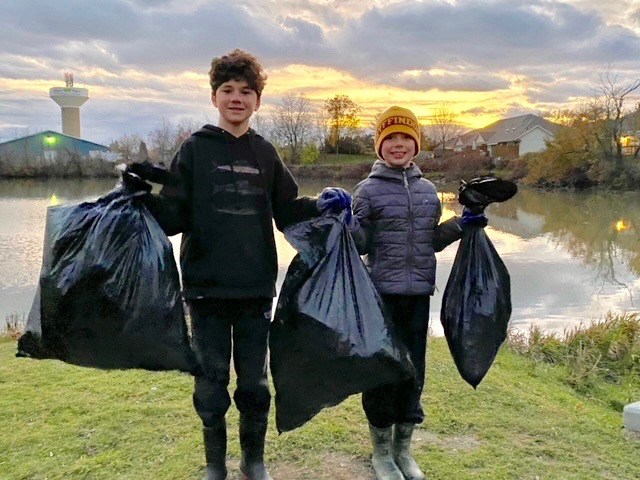 If there is interest in starting a Friends of Four Mile Creek group, there is help available.
When residents recently asked for some help cleaning litter from the creek and Virgil Dam Conservation area, CAO Chandra Sharma suggested that with NPCA resources stretched, and only two staff members to look after all the watersheds in its jurisdiction, the formation of a Friends group could help with basic maintenance, and could also look at ways of preserving wildlife habitat.
Residents whose properties border the ponds attended a meeting at the Virgil reservoir Friday, and expressed an interest in a Friends group.
Jim Handman and David Murray, both of whom live on properties between the two Virgil ponds, met Monday night to discuss how to move forward with a Friends of Four Mile Creek group, and have taken the first step — Murray laughs and says he elected Handman chair of the board.
It's very early days yet, with nothing set in stone as to how to move forward, but Handman has created an email address and hopes to begin hearing from some of his neighbours and others in the watershed area who would like to be involved. He can be reached at [email protected].
Kerry Royer, the coordinator of community outreach for the Niagara Peninsula Conservation Authority, says there are a number of examples of such groups across the NPCA watershed jurisdiction, including Friends of One Mile Creek in Niagara-on-the-Lake.
The NPCA works collaboratively with these groups through volunteer recruitment, offering advice and technical support, and providing letters of support for grants.
If there is enough interest, those starting up the group would have to develop informal terms of reference to determine what their goals and initiatives would be, and what they want to achieve, she said.
Royer also suggests members of Friends of One Mile Creek, "a group that has been around for a very long time," might be able to offer advice, and might know of others in the area that are interested.
Before the formation of the Friends of One Mile Creek, Chautauqua resident Gerry Beneteau says the Chautauqua Residents Association wanted to get some work done on the creek, and asked Ducks Unlimited to talk to them about how to proceed.
After a meeting of 20 people, he then recalls going to breakfast with Michael Rose, manager of Land Care Niagara, who explained his group could teach people how to clean up the creek.
Their first step was to get rid of some logs blocking the flow of water at the beginning of the creek, he says, "taking it upon ourselves to cut them."
That was in 2001, and by 2003, some of those living in the creek watershed got together to form the Friends of One Mile Creek. Beneteau, now 89, still considers himself a steward of the watershed, "but in name only."
He doesn't get around much any more, he says, but stays informed, and adds "the NPCA has been a godsend, helping out and keeping us in line. And when I look back, I feel so proud of all the volunteers, and of the NPCA. I
consider them all friends, and what we were able to accomplish together was definitely very rewarding."
Klara Young-Chin, now project co-ordinator for the Friends, says when the group was formed, there were about 35 members, mostly landowners whose property abutted the creek, who were interested in cleaning it up.
When the property owners came together, they formed a group and created bylaws, "doing everything hand in hand with the NPCA," says Young-Chin.
They always had a staff person as a liaison between the Friends and the NPCA, she adds, "and they have been
incredibly helpful. They were the experts, and we didn't do anything without them."
Soon after the formation of the group, the NPCA paid for a watershed study, says Young-Chin, providing a framework to restore the creek, and later, partnered on a landowner's stewardship guide, a very "user-friendly" resource for residents.
With support from the NPCA, they educated landowners on how to improve water quality and quantity, including how to improve the riparian plantings, which would also improve water quality and quantity, as well as wildlife habitat.
Group members have organized clean-ups, tree-plantings, a pollinator garden at the corner of John and King Streets, and another at the William Street Park.
And through it all, "even during the dark days of the NPCA, we have had a fantastic relationship with the NPCA."
Her advice to those thinking of starting a Friends of Four Mile Creek group would be that a membership with fees, and the paperwork that goes with it is not really necessary.
"What is important is to have a really tight communications strategy, and to reach out to landowners."
Once they've decided on a strategy and a goal, create some door hangers to explain who they are and what they want to accomplish, she suggested.
A great way to get people involved is through organizing clean-ups, "and once you're huddling together, it's a good time to start talking about a group."
She would also encourage working hand in hand with the NPCA. "They have never dictated anything to us. They just helped by providing their expertise."