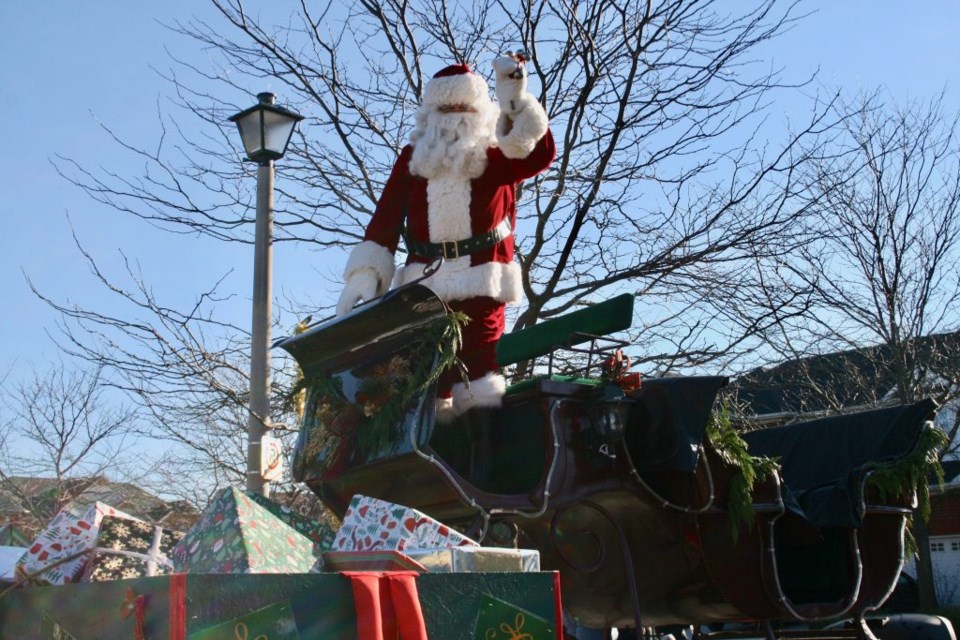 Beginning in Glendale, Santa rode on his sleigh throughout all areas of the town, finishing off the afternoon in Virgil.
Sunday proved to be the perfect sunny day for the visit, after Saturday's high winds forced plans for that day to be postponed 24 hours.
"We had trouble getting our sleigh into the Niagara District Airport yesterday," Santa told The Local Sunday. "I had to stay an extra day in the North Pole, but I was very excited to visit today when I saw the sun shining. It was a long wait, but it was worth it."
This year and last, in lieu of the usual NOTL Santa Claus parade, the jolly old man has taken a tour through the town's neighbourhoods, visiting local children right where they live. 
"It is special to see the children in front of their own houses," he said. "They made up signs that Santa got to see today. What's nice, too, is we can stop our sleigh and have a little conversation with them."
Families gathered in front yards, driveways and on sidewalks eagerly awaiting the visit from Mr. Claus.
A large group composed of seven families gathered together in St. Davids. They had the inside tip as to when Santa would arrive on their street, as their parents were checking his location on the live interactive map available via the town's website. 
Loretta Cater knew Santa wasn't coming down her street this year, so she and her family joined the gathering with some of her friends from school. She is hoping Santa brings her the Grand Hotel Lego set this year. Others in the group were hoping for Hatchimals, Fidgets and slime.
Many of the children along the route shouted out their names in hopes that Santa would remember them from last year. One little girl asked Mr. Claus what Japan was like. Another handed him one of those cookies he likes, too. Santa asked them if they had sent their letters to him, and a few stepped up to hand him their letters in person.
He figures he will be very, very busy Christmas Eve, due to so many of NOTL's children making the right list this year.
"Everyone I talked to said they had been good," Santa raved. "It didn't matter if I was in Glendale, Queenston, St. Davids, Virgil, or Old Town. All the children I spoke to said they had been very, very good."
He promised to be back on Christmas Eve, and encouraged all the children to make sure they go to bed early that night. And he doesn't want anyone worrying about him eating too many cookies.
"I just asked for one cookie," he assured The Local, "and a glass of milk which helps neutralize it. It's a long night, a busy night. I don't want to overdo it. One little chocolate chip cookie at each stop just makes my evening go by nicely."