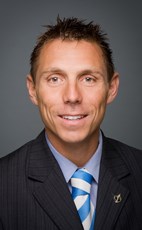 Marlene Gallyot, an employee of the municipality of Markham and a resident of Niagara-on-the-Lake, has experience organizing political campaigns — she ran as a Conservative party candidate herself in a federal election in the riding of Scarborough-Rouge River.
She is a mother of four, a former immigration consultant, and also a wedding officiant and planner.
Her role this Saturday will be that of a campaign organizer, as part of the Patrick Brown team. Brown, running for the Conservative leadership, will be at her home on Line 3 for a two hour meet and greet, which she arranged. She has other locations planned for the coming weeks, but first, she wants to introduce him to locals.
Gallyot says she has met each one of the leadership candidates, and has decided Brown is the best man for the job.
She knows him well, she says, and believes his background, both with the Conservative party and as mayor of Brampton, a large municipality with a diverse population, makes him the right choice.
She is opening up her large yard, which she also uses to host weddings, and is hoping for good weather. To hedge her bets she's also cleaning out her barn, her workshop for wedding decor items, in case it rains.
The meet and greet with Brown is at 972 Line 3, this Saturday, April 9, from 10 a.m. to 12 noon.