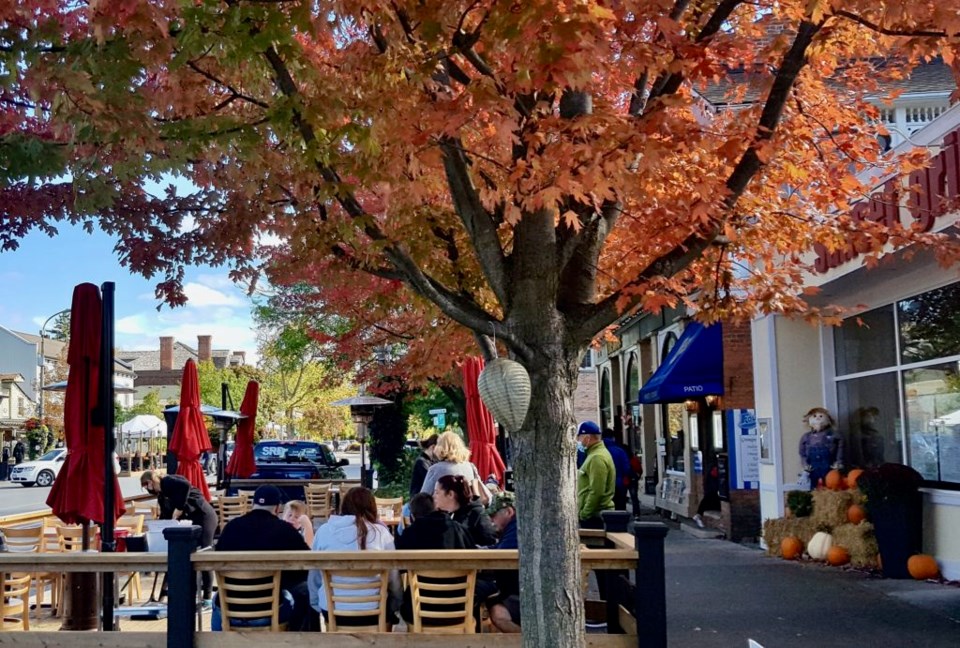 In the printed version of The Local, Coun. Allan Bisback was described as the municipal heritage committee chair. He is a member of the committee, and Drew Chapman is the chair. The Local apologizes for the error and any inconvenience it may have caused.
Restaurant owners in the heritage district are asking for permission to keep their pandemic patios for one more season.
Sales have been significantly down from previous years, and they'd like to keep them open longer, and know that they will be able to use them again next year, says a letter to council, signed by seven restaurant owners in the heritage district.
Pandemic restrictions may carry into next year, and even in "the best case scenario, we will still be recovering from the losses this year," says the letter. "We cannot emphasize how important the patios have been to the survival of our businesses. It is for these reasons we would like to start planning ahead for next year."
Coun. Allan Bisback, a member of the municipal heritage committee, says the request was on this week's agenda to consider, and council is expected to deal with it later this month.
If issues such as snow-plowing around the patios can be accommodated, perhaps with barriers, he'd be inclined to support their request, he says.
Restaurant owners are hoping for a commitment so they can plan ahead, possibly purchasing more or better furniture, planning and budgeting for the outdoor space, and finding storage space for what they've already purchased.
"We are all very open-minded and willing to work with the town, but cannot express how important the patios for restaurants and their necessity for the next summer season as well."
There are other restaurants, not on Queen Street, who may face different hurdles if they want extensions, but they won't require approval from the heritage committee, just from the Town.
The response to patios "has been overwhelmingly positive, from visitors and locals alike," and patrons are still preferring to sit outdoors, in what is still considered the safest environment, but most of the Queen Street restaurants with patios still only reached 50 per cent of their sales, they say.
The Town permit for patios ends Oct. 31, although the provincial regulation allows for them to continue until Jan. 1, 2021.
The city of St. Catharines is allowing their patios, approved during the pandemic, to continue to operate until the end of the year, while Hamilton has extended their patio permits until October, 2021.
Coun. Wendy Cheropita has given a notice of motion for the next council meeting to extend patio permits, but says staff will have to work through snow removal and safety issues first.
"COVID doesn't appear to be going away anytime soon so it might be in the restaurants' best interest to look for a further extension through 2021," she says.
The Ontario Restaurant Association is also lobbying the provincial Alcohol and Gaming Commission to extend licences for serving alcohol outdoors beyond this year, she says.
Maria Mavridis, whose family owns the Flame Firehall and Cork's Wine Bar & Eatery on Queen Street, says the patio they built on the sidewalk outside Flame, spending $15,000 to $20,000 on it, would not pose any issues for snow removal. She's hoping the town council will support an extension for next year.
It was a large investment, and it's important for planning and budgeting purposes to know if they will be able to continue to use it.
"It saved our season. People are still not comfortable going inside. They're more open to sitting outside with a heater."
If the restaurant is allowed to keep the patio open, she says, they can look at investing in ways for making it more comfortable, such as adding plexiglass as a shield to the weather.
While she understands the heritage committee might not want to commit to the patios as permanent fixtures, "we're hoping for next season for sure, and we'll see what happens after that."
Kim and Scott Gauld, owners of the Sunset Grill, have also invested heavily in an outdoor patio. They've survived, so far, but winter is coming, "and the unknown is scary," says Kim.
Support from locals has been great, she says, "but that makes us nervous too. It's a catch-22." They rely heavily on following all the guidelines and regulations to keep themselves and their customers safe, and the patio has helped in that regard.
"We're hopeful that council will approve them for another season. Patios have been crucial to our recovery," says Gauld, "and will continue to be as we look at the possibility of returning to phase 2, or another shutdown."
It will take several years to recoup the losses of this year, she says. "We would love to know now if we will be able to have a patio for next season. It would alleviate some anxiety, and allow us to plan and prepare for next season. Anything like this is helpful, and hopeful in these unchartered times."
Restaurants Canada is saying up to 60 per cent of those that close their doors will not reopen, she says. "This is scary, but knowing that we could have another patio season gives some hope that we can make it through the pandemic."