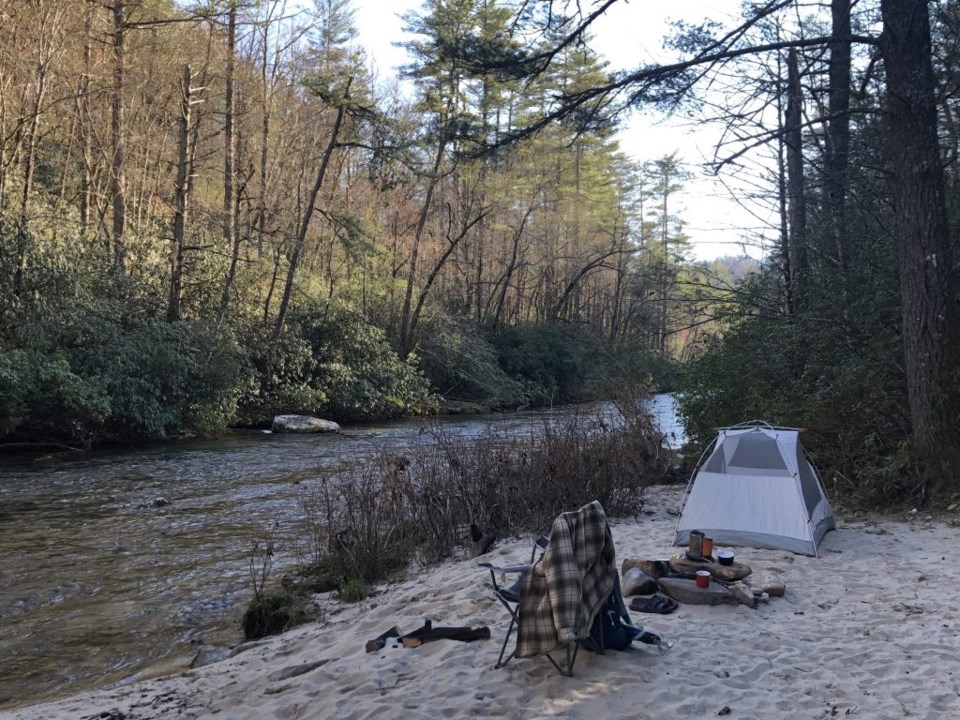 After a two-year stint of waiting for travel restrictions to be removed, it was time.
For the past two cycles around the sun, the world was largely prohibited or discouraged from travelling. From what I've gathered, travel is important to our species in terms of the relationship to not just other cultures of our wonderful world, but the natural environment as well. The more we expose ourselves to different lands and their various charismas, the greater the odds our society will understand and respect its interconnectivity.
With delayed gratification locked and loaded, I went on an Appalachian Mountain road trip in the U.S.
You may be wondering what this back country adventure has to do with NOTL. I have discussed how the small but rich segments of forest here in southern Ontario are called Carolinian Forests, the title of such lumber alluding to its similarities to the ecosystems of the two Carolina states.
Over the past eight days, I essentially got to complete a dream of exploring what our forests are like on steroids. These mountainous woods were bigger, broader, wilder, and surprisingly cut off from modern civilization.
The journey began with a surreal feeling of simply crossing the border. America was just another place on the news for the past two years – so close, yet so far away.
I joke and say that I brought down the Canadian weather with me. In a one-shot drive to northern Georgia, I endured a dense and troublesome March snow storm. From Pittsburgh to North Carolina, I was driving in snow through the rugged Appalachian Mountains.
These mountains don't necessarily size up to the Rockies, the Andes, or the Alps, but they happen to be the oldest mountain range in the world. If you existed for nearly 480 million years, you'd find yourself pretty weathered and eroded, too.
In a post-cabin fever frenzy, I was eager to maximize my time in the valleys and their riverine forests in an attempt to experience and document what lives there. Within 48 hours of my trip, in the mountains of the Georgia and South Carolina border, I already knew in my heart that this excursion was going to produce another Hidden Corners nature documentary of mine.
The forests in the southern Appalachians are located in the second wettest region of the U.S., after the northwest coast. Massive swaths of forest get slammed with humid, moisture laden rains from the Gulf of Mexico all year long. They also get plenty of hurricane leftovers every autumn.
The forests of the south look like the Amazon rainforest and northern Ontario had a baby. Funnily enough, this happens to be the latitudinal mark of the area in between both regions. Monstrous pines and hemlocks stand out amidst the sea of tulip trees and ancient oaks. All the while, lush green rhododendrons and countless fern species line every waterway and its rocky crags.
My first night in the Georgia mountains was ironically the coldest considering I was so far south. The cold front which previously blasted through the area left a lingering mass of a cold air in the mountains. I woke up shivering, but I was quickly rejuvenated by the puzzling scenery and some chats with local guys fishing for brook trout.
Inching my way northbound back to Canada over the next week or so, I found myself fabulously captivated by the area where Georgia, North Carolina, and South Carolina meet. Like spring here in Niagara, there were no biting insects, poison ivy, or tourists. I had the entire mansion of nature to myself on many occasions.
The sensation of solitude was also achieved by having no cell phone reception for all of my camping and hiking areas. There was a sense of vulnerability being tucked into the wilds of the eastern U.S., but I have been fortunate to have done this sort of thing so many times that I feel like my comfort zone is carried within a six foot radius all around me. When you are in bear country and nobody would hear you scream, let alone a gun shot, with no phone reception in the off-season, you have truly immersed yourself into a hidden corner of the world.
The familiarities of tulip trees, bloodroot, spicebush, garter snakes and red-tailed hawks gave the land a sense of homeliness and familiarity. Imagine going to a house party where you know most of the guests, but you have the opportunity to excitedly meet others that you may never see again.
I found three species of salamander I have never seen or recorded in my life. That's the kind of thing that puts me in the mood to celebrate with Tennessee bourbon by the fire in the evenings, while listening to owls and wood frogs call hauntingly into the night. Speaking of frogs, the multiple species I encountered down south were a month ahead of spring mating schedule compared to Niagara, which makes me happy to know I get to relive spring emergence twice in one year.
On that note, I passed through some grandiose stretches of demanding land in West Virginia. This state's slogan is "Wild and Wonderful," and it certainly lived up to its name.
I had intentionally mapped this trip to visit the deepest areas of the Appalachian mountains. I was greeted aggressively with roads that carved intimidatingly deep into the hills. At a few points while driving, I gasped - how am I still driving downwards?
In western West Virginia, the peaks are peeking down at a forgotten America. Some of the most jarring poverty I have ever seen of anywhere in the world was sitting in these valleys. I was driving through the most impoverished county in the whole country, witnessing coal mining towns that are shrivelling up in real time. There is some cruel and odd reality of these depressing dwellings nestled into an area of profound natural beauty, where decades ago, these villages were in their prime as they mined coal from the denuded mountaintops.
While nature indifferently gazes on and recovers, I found myself losing reception and daylight alike as I drove through these twisted mountains. A local gas shop owner told me to "get out" before dark fell, as this was a region I wouldn't want to find myself stuck if I was still out here at night, he said. As we may say in NOTL, always trust the locals. He couldn't even offer me a map — just his Wi-Fi where I could take screen grab images of the route out of the mountains.
After that unforgettable natural and cultural eye opener, I found myself driving north to Pennsylvania contemplating the area I just experienced. As I approached a small town called Weedville, which I jokingly selected on the map in an unending area of forest, I also learned that this town is home to the only wild herd of elk in the eastern U.S. Just an hour and a bit from Ellicottville, New York.
As I set my tent up along a crystal clear babbling brook near Weedville, large hoof prints and elk (also called wapiti) scat was littered everywhere, in the kind of density that Canadian geese leave on local parklands. I knew the odds of seeing one of these majestic animals was going to be high.
As a Jeep driver, you often attract the attention of fellow Jeepers. All of a sudden, two ladies my age, one dressed in camouflage, pulled up to my camping area. They told me they have seen the elk, and asked if I wanted to hop into their vehicle to go film the animals. To which I said yes, and succeeded in doing so.
These enormous mammals were not only grazing, but two males were clashing antlers right before my eyes as I filmed out of this total stranger's Jeep. It was a moment like this where I thought, thank goodness for locals, a sense of trust, and epic wildlife while living the wild life.
On the note of gratitude, and this story nearing the Canadian border, I want to thank my Jeep for pulling the load and keeping me safe on the road. I want to thank my parents who continue to support me on these expeditions. I also want to thank the lovely locals of the Appalachian region of the U.S.
To top it all off, and to leave you with a sense of mystery of the world outside your borders, the last location I filmed was in upstate New York. There is a fire located behind a waterfall. You read that correctly, and that's thanks to a natural methane gas emission out of sedimentary rock. I enjoyed showing my parents the Eternal Flame Falls when they met me on my last night in Ellicottville.
I will always have an eternal flame for the great outdoors, and the Appalachian Mountains only stoked that fire. I encourage you to explore places that make you feel truly wild, as nature is just that good for the soul.