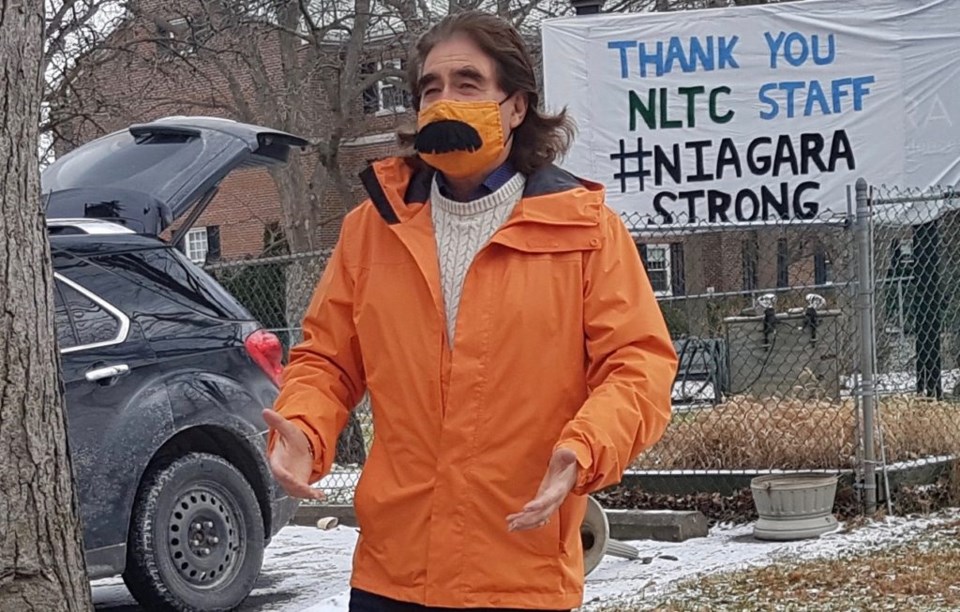 UPDATE: After The Local went to press Tuesday, we learned the number of residents and staff who had tested positive for COVID-10 at Niagara Long Term Care Residence since we heard from executive director Chris Poos had jumped significantly. MPP Wayne Gates says the numbers have increased to 72 seniors testing positive with four cases resolved, and 22 staff members who are infected with COVID, with five deaths. The home is listed online as having 124 beds, but Poos has not provided information about how many residents there were at the home before the outbreak, or confirmed the MPP's numbers.
COVID cases in Niagara-on-the-Lake have been growing at an alarming rate, mainly due to a rising number of cases in a local seniors' facility.
An outbreak at Niagara Long Term Care Residence was reported Saturday, Jan. 2, with the home's first positive staff case discovered through regular testing. By Monday evening it had grown to include 52 residents with active cases, with one resolved, and 19 staff members with active cases, and two resolved, says Chris Poos, executive director of the facility.
By Wednesday it had increased to a total of 72 residents and 22 staff who had tested positive.
"Sadly, four residents have passed away due to COVID-19-related issues, and our condolences have been extended to the families," Poos said Monday, but by Wednesday one more had been recorded.
Poos says staff are in regular contact with Public Health, along with Niagara Health partners, and continue ongoing weekly testing for staff and previously negative residents.
"We are also in regular contact with all residents, families, and staff regarding the status of COVID-19 in our home," he says.
"We remain diligent in all our infection prevention and control measures, including twice-daily screening of residents and staff for any signs of the COVID-19 virus, and regular testing. Residents are isolated to their rooms, receiving in-room meal service, and are being cared for by staff on contact droplet precautions. We have appropriate staffing levels, and all staff are wearing full personal protective equipment at all times, which is well stocked in the home."
Poos says he is working with the Ministry of Long Term Care to secure COVID rapid tests, producing results in 15 minutes, "which will give us real time information to assist us in managing this outbreak," along with additional resident and staff vaccinations.
While the home did have some rooms with three residents previously, Poos says changes have been made so those rooms now accommodate only two residents.
"Sadly, once the virus enters a congregate living environment, this often silent and invisible enemy spreads fast," says Poos. "This is not unique to Niagara Long Term Care," he adds, and is seen in many senior residences across the province, and the country. "We know there is a much greater risk to our homes when there is significant community spread. We have also learned that the ability to receive quick test results for residents and staff gives us a clear picture of the virus in our home, and the advantage of being able to cohort staff and positive residents."
On Saturday, a Public Health team was at the home to administer the first Pfizer vaccine doses, for COVID-negative residents.
"We are thankful for the ongoing support of our families, staff, and the community," says Poos, adding he couldn't be more proud "of the team here at Niagara. From the onset of this outbreak, everyone has worked tirelessly to provide the best possible care and services to our residents."
Dr. Mustafa Hirji, acting chief medical officer for Niagara, says once the outbreak was reported, an inspector went in to the home, and daily meetings have been held between staff at the home and Public Health, "to do as much as we can to help them."
The biggest challenge is usually around getting enough staffing in place, when a large number have tested positive and are isolating, he says, but Niagara Long Term Care is doing "relatively well." It's not unusual with corporate-owned homes to move staff in from other areas when needed, he added.
Typically inspectors may discover proper protocols are in place, but they may not be followed correctly, and once pointed out by inspectors, improvements are put in place.
In this case, there were issues with personal protective equipment not being worn at times needed, not properly removed and disinfected, and not properly stored or disposed of, according to Public Health.
Disinfection protocols were not in acccordance with manufacturer instructions.
Both Niagara Long Term Care and the region-owned Upper Canada Lodge have already had their residents vaccinated with the first Pfizer dose, with the second dose expected in three to four weeks, says Hirji.
A shortage of vaccine means staff at the homes, and residents and staff at retirement homes, will have to wait, he says, although Niagara Health is working on having long-term care home staff vaccinated as quickly as possible.
Radiant Care Pleasant Manor long-term residents in Virgil were expected to receive vaccines this week, says Hirji, and he expects to have all long-term care residents in Niagara vaccinated by the end of next week.
Pleasant Manor has also declared an outbreak, going back to Jan. 1, but it remains a small number, reported only as less than five staff or residents, and restricted to just its long-term care facility.
The privately-owned Wellington Street home is often referred to as Chateau Gardens, or Chartwell.
It became a Chartwell home several years ago, and was purchased in 2020 from Chartwell by a limited partnership, DTOC II LTC LP, and is managed by Responsive Health Management.