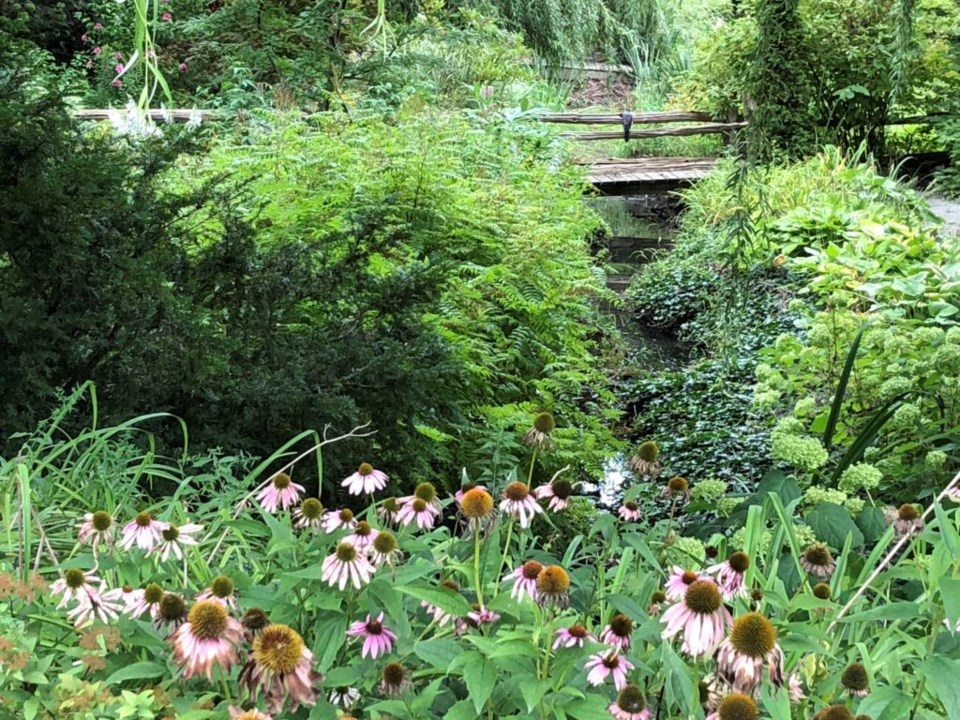 Friends of One Mile Creek (FOMC) is raising its profile again.
On June 19, the group's first public meeting in more than five years attracted 40 people from Old Town, Virgil, St. Davids and Queenston to hear speakers talk about past conservation projects in NOTL and opportunities for natural restoration.
The featured speaker, Jocelyn Baker, grew up in Queenston swimming in the Niagara River. She was on the Niagara Peninsula Conservation Authority (NPCA) staff when the initial One Mile Creek restoration projects were implemented following a 2005 watershed study. She now uses the One Mile Creek example in her teaching about sustainable communities at Niagara College. She says it's important for people to be provided with information about how even small measures can provide significant benefits to water quality. For instance, water is filtered when natural vegetation is left along the banks of the creek rather than mowed or cut down to the water's edge, she says. This also provides a habitat for birds and amphibians that eat mosquitoes.
NPCA explained its staff can meet with farmers and other landowners to look at their situation and provide ideas and information for restoration. The newly refocused NPCA board has just approved funding and a work plan to provide grants that can cover up to 75 per cent of the cost of approved restoration projects.
FOMC had been formed in 2003 by Gerry Beneteau and other members because the Chautauqua Residents Association was tackling environmental cleanup of Landsdowne Pond, where One Mile Creek flows into Lake Ontario. They wanted to engage others along the creek, which winds through Old Town from its origin in Paradise Grove near John Street across from Peller Estates Winery. The FOMC group persuaded the NPCA to finance the 2005 watershed study for One Mile Creek that mapped out a strategy for improving water quality. It was implemented over the following decade by the Town, NPCA and volunteers of FOMC who led cleanups and native plantings.
Because most of the creek runs through private property, many of the steps taken to restore natural vegetation and divert storm waters from flooding the creek need to be supported by landowners.
As can happen with any volunteer group, FOMC efforts became limited in recent years because many of the original founders are no longer as active in the community. However, new owners of property along creeks in NOTL are interested in water quality and natural conservation, so FOMC is encouraging people to sign up for its email list. Many of the resources are relevant for Two Mile Creek and Four Mile Creek.
In the 2005 watershed study, it had been noted that 30 per cent of the One Mile Creek watershed was urbanized in 1985, but by 2005 it was up to 60 per cent urbanized. It's not hard to imagine we're approaching 90 per cent of the One MileCreek as urbanized with all of the residential development pressures because of high property values. For instance, one current development application before Town council views the floodplain as "a gap of under-utilized land between the existing attached dwelling and One Mile Creek."
Backs in 2003, the headline about the founding of a new local group captured the spirit of the group as "GreatLakes cleanup begins with backyard creeks." In 2019, we hope to re-engage those who care about our natural heritage.
Our re-activated FOMC website at friendsofonemilecreek.org provides information. We also will have copies of the NPCA Stewardship Guide and Native Plant List at one of the gardens on the July 6 garden tour by the Niagara-on-the-Lake Horticultural Society.