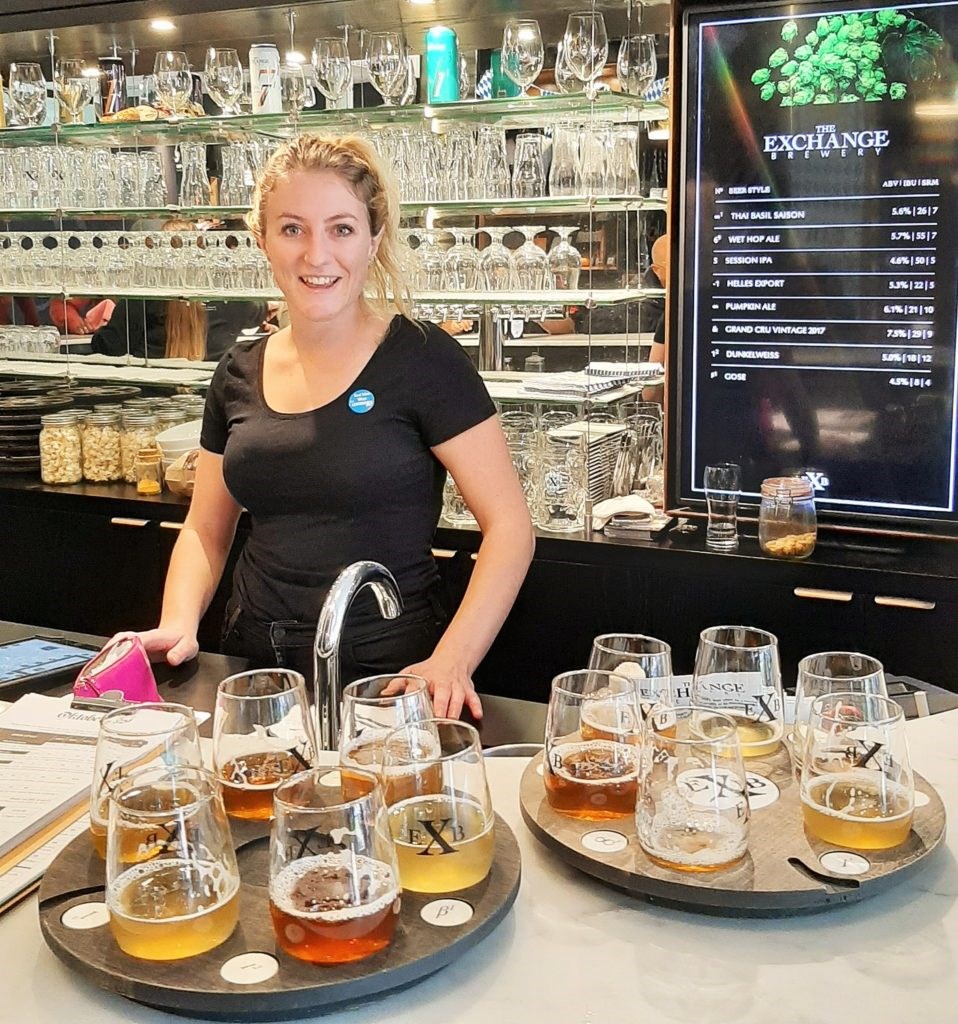 This past Saturday, The Exchange Brewery highlighted their German-style brews by hosting an Oktoberfest event complete with a photo booth, tie-on lederhosen and beer goggle glasses.
Beer novices and aficionados alike were treated to a discriminating selection of brews for the event, ranging from a premier German lager to a malty Bock beer.
Patrons chose from the special Oktoberfest menu, then enjoyed their selection in a one-litre stein bearing a German beer hall stylized logo for The Exchange. Alternatively, a great way to sample more beers was to choose a flight of six or eight beers and pick your favourites in the sunshine on the outdoor patio.
Some of the selections available from the Oktoberfest menu included Hefeweizen, Dunkelweiss, Gose, Maibock and the recently released Helles Export.
Other seasonal choices were unique brews, such as the Belgian Pumpkin Ale and Thai Basil Saison currently on tap.
The Exchange also concocted a signature craft cocktail for the event. The Oktober Bomb contains bourbon, Northern Old Fashioned Simple Syrup, Ginger Wild Flower Simple Syrup and their seasonal Pumpkin Ale.
Paired with beer for the wvent, food selections featured a German pretzel, served with a sweet and spicy mustard and a grilled bratwurst served a freshly baked bun with side of sauerkraut topped with the same sweet and spicy mustard.
While many of the beers for the Oktoberfest are available in bottles to take home with your souvenir stein, some, like the refreshing sour Gose, are tap-exclusive and are to be enjoyed in-house.
There is still time to appreciate these Oktoberfest brews by visiting The Exchange Brewery for these upcoming events:
Oct. 15
Plant Nite
Make your own arrangement of succulents while enjoying craft beer.
Oct. 16
Trivia night
Oct. 18
Humour and Hops
Join host David Green and fellow comedians for a night of lager and laughs.
Oct. 22
Growler's Club
Members Only meeting
Oct. 23
Trivia Night
Oct. 29
Paint Nite
Join in the fun with paints and pints.
Oct. 30
Trivia Night
More details and ticket information for these events are found on the exchangebrewery.com website.