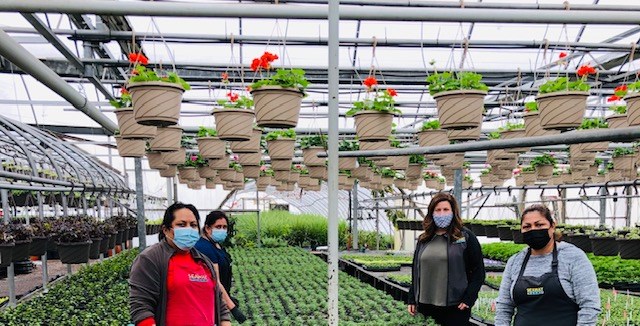 After a day of work in the greenhouses, Eileen Pillitteri-Smith of Seaway Farms in Niagara-on-the-Lake was feeling optimistic about the season to come.
Although it was a cold, wintery and snowy day, the sun was shining, and it was beginning to feel like spring was in sight.
Having gone through one season of a pandemic, going into the second one with similar protocols, lessons learned and some refinements that were making the lead-up to spring seem a little more organized.
The big question this time last year was the arrival of the offshore workers, as growers waited to hear how the federal government was going to handle their entry into Canada, the border having been closed to all but Canadian citizens, with limited exceptions. Initially, seasonal farm workers had not been included in those exceptions, creating a delay before they were able to travel.
This year, the only concern is limited flights for arriving workers, says Pillitteri-Smith. While there are new restrictions on people arriving in Canadian airports, they don't affect essential travellers, which include offshore workers.
The workers who come to Niagara-on-the-Lake have become family over the years, a lifeline, and essential to the success of the farm, says Pillitteri-Smith.
"There are days when I spend more time with them than my kids."
Some have been coming for 25 to 30 years, and over that time, a mutual respect has grown between them.
Farm workers are tested for COVID-19 before they leave home and board a flight to Canada, and when they arrive, as last year, they must quarantine for 14 days. They must use a federal government app designed for travellers to say when they've left their country, when they arrive, their quarantine information, and must notify Public Health that they're here.
Although Seaway's Mexican men and women have been through it before, the quarantining is the hard part, she says, because once they're here, "they're really anxious to work."
During their quarantine, and once they begin work, she calls them daily with screening questions, and they have a number to call if they have any questions.
Over the winter, she has had some renovations done to their living quarters. Large pieces of furniture have been removed, with new Ikea wardrobes and beds ordered for each of the men and women who are coming to work on the farm. By getting rid of some furniture and moving things around, there is more room for them to spread out, she says.
Seaway has had two audits, one from federal inspectors and one from Public Health, to check they're following all protocols.
When some of the women arrived, the renovation of their living quarters was not finished, and they quarantined in a nearby hotel, where meals were provided.
The first group of 10 to arrive are now working, and like last year, she's taking their food orders each week and having supplies delivered to the farm, as she did last year. It means they've lost their one night out each week, but they understand it would be taking a risk.
"We want to keep everyone safe. We're doing everything we can to keep our staff, customers and public safe. Our workers know what to expect, and they are just as worried and want to do everything they need to do to be safe."
As for those still to come, with an expected arrival at the end of the month, the cancellation of flights makes that a question mark. "It could be any time, and we just have to be ready for it. We're trying to be patient."
The one thing she wished she had done differently, she says, would have been to bring the earliest arrivals to the farm two weeks earlier, so they wouldn't have been behind when the quarantine period was finished.
However, another lesson learned that has benefitted the workers and the farm is a result of needing to keep those living together in cohorts when they're working.
They're divided into crews, the cohorts having the same job each day, going out to work in the fields, or the women in different areas of the greenhouses, and she has found that has helped things run smoothly, in an organized fashion she'll keep for the future.
Now that it's feeling like spring isn't too far off, she's been getting calls and emails from customers wanting to know when the garden centre is opening. She's not ready to set a date just yet, unsure of provincial regulations that could change at any time, and wanting to wait until they can open their doors, rather than doing curbside or appointment-only sales, which were necessary for a time last year.
"Every business has had to rework the way we do things. This last year has been a learning experience for all of us, but our workers mean the world to us, and we'll do whatever it takes to make it work for all of us. They really are our family, and every single grower I know feels the same."