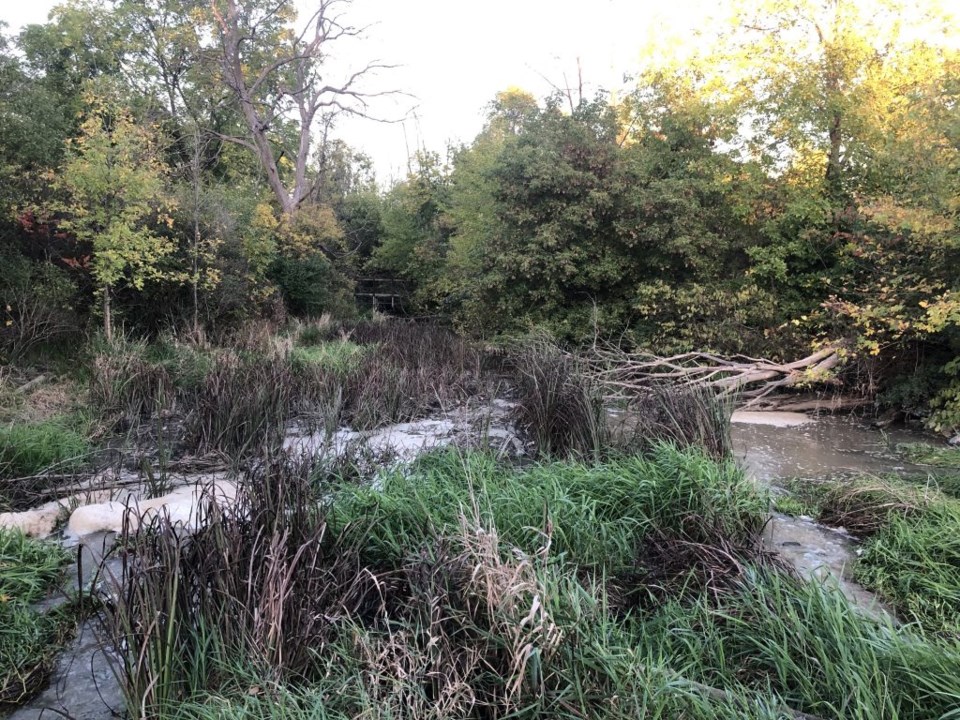 While there are solutions to improve the Four Mile Creek watershed and conservation area, they won't be simple or quick, residents gathered at the lower Virgil reservoir heard Friday.
The informal meeting was attended by Niagara Peninsula Conservation Authority, town staff, and six residents living in the watershed area. Chandra Sharma, CAO of the NPCA, spoke of the possibilities, and also the roadblocks, to moving forward with projects that could turn the Virgil Dam Conservation Area from a source of irrigation to a place that also encourages and protects wildlife and habitat.
NPCA water resources senior manager Steve Miller explained the history of the ponds, going back to the 1960s, as part of an irrigation system for local growers. The system was intended to be "hands-off," with a simple series of wooden flashboards to allow water to drain in and out. "It's quite an unusual system in Ontario," he said.
There has been no upgrading to the system since it was installed, with the exception of replacing the flashboards in 2006, he said, and nothing since then, until very recently.
"In years past," said Brett Ruck, town supervisor of irrigation and environmental services, "vandalism wasn't a problem." It began in 2016, when boards were removed, either by growers desperate for more water, or vandals, but with the recent installation of solid steel over the boards, "they're not moving."
His concern at this point is a more sophisticated management of ponds, to have a reliable source of water for irrigation and the ability to release water in smaller increments, to avoid flooding.
Residents, however, while understanding the importance of the irrigation system, are focused on wildlife, habitat, protecting shores from erosion, and keeping the watershed clean from litter.
David Murray, a homeowner in the watershed area, had asked the NPCA for the meeting with residents. He had been moved by a letter from youngster Morgan Mitchell to The Local last summer, and felt the NPCA should respond to his concerns. Murray says when Morgan, "a young person who wants to make a difference," spoke out and then was ignored, he arranged the meeting to give Morgan a chance to address the NPCA directly.
For most of his life, Morgan said, he has lived on the Virgil lower reservoir, and loves to spend time on it kayaking and fishing.
He had read an article in The Local by environmentalist Owen Bjorgan about the deteriorating state of Four Mile Creek, the largest watershed in Niagara-on-the-Lake, and wrote about the problems with water flow in his area due to vandalism.
"Our section of the creek was man-made, having been flooded to supply water for irrigation in the nearby farms, but has grown over the years into a huge ecosystem, supporting many species of amphibians, birds, and fish. When these incidents happen, the creek, which isn't very deep, drains so much that fish get trapped in the shallows and die," he said.
"This impacts the whole ecosystem because the species that are dependent on the fish will lose their main food source. When these boards come out, it takes longer than it should for the Niagara Peninsula Conservation Authority to replace them, and currently, our creek is experiencing one of the worst water level drops this year."
Morgan, at the meeting with his father Michael Mitchell, asked whether security cameras would be useful, but was told by Ruck that while a camera might capture vandalism, the vandal would need to be identified and caught to be helpful. Instead, the plan was to make it extremely difficult for vandalism to occur, and Ruck felt that goal has been accomplished with the steel frame.
Murray suggested that although there are differing goals for the creek and ponds, irrigation for farms and conservation for residents concerned about wildlife, habitat and the environment, "there has to be a way to marry them together. You need to have a plan, and a cost."
Part of the problem is the silt in the ponds, said Ruck, which has risen in some areas to reduce the water to about two feet deep, where they were originally six to eight feet deep.
He explained it would cost millions of dollars to remove the silt, but he has a vision of creating little islands that would offer habitat for wildlife and improve the flow of water for irrigation. "But that is for the future, and it will take community involvement to get plans in place. We're not quite there yet."
"That's exactly what we're here to talk about," said Sharma. The work of the NPCA has to be backed by science and legislation, she explained, but the NPCA and the town have been in discussion about the future of the conservation area for several years. A vision, in collaboration with all stakeholders, has to come first, to give them something to work toward, "step by step."
Ruck, when questioned about a timeline, said it would be "pretty long term," and would need to be carried out piece by piece, in several phases.
When pressed, Sharma said "we can't do it overnight," but it's also not a 20 year project., she addd. "Let's get together and come up with a vision that's feasible. We have to start visioning and planning as a group."
When asked by 13-year old Morgan whether there could at least be a clean-up of litter along the shorelines, Sharma said the NPCA doesn't have the resources for that, and suggested forming a Friends of Four Mile Creek group. Residents could help out with basic maintenance, such as picking up garbage, as a start, but there is more that can be done to be good stewards of the watershed.
In the meantime, "for Morgan," Sharma said, the NPCA can install signs asking people not to litter, and will look into placing garbage cans for people walking in the area.