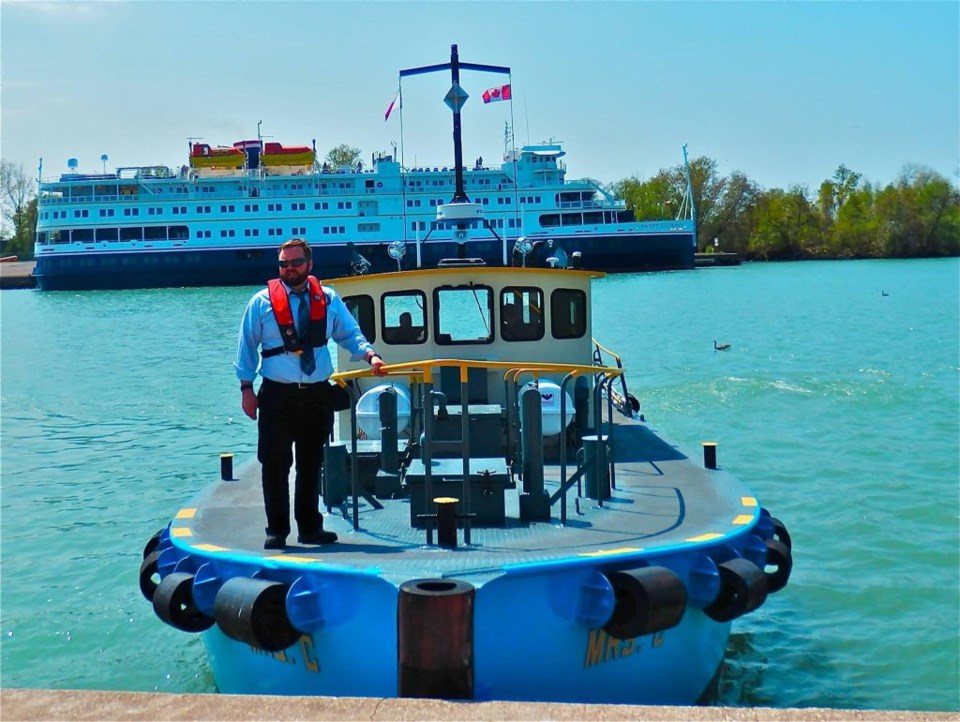 The Welland Canal will remain open until noon on Friday, Jan. 7, but the Lake Ontario-to-Montreal section will be closing a week earlier. That means that marine pilot Robert Reese should have a chance to begin the new year at home in Niagara-on-the-Lake with his wife Mariah and their three boys.
Reese is a member of St. Lawrence Seaway Pilots Association, based out of Cape Vincent, New York. The 39-year-old guides the big ships through what is known as District 1. His job involves piloting from Lock 1 out into Lake Ontario, and then from Kingston to Cornwall along the St. Lawrence River.
"I have three distinctions," he explains. "I'm a harbour pilot. I will do any of the harbours on Lake Ontario — Hamilton, Toronto, Oshawa, and Oswego, New York. I'm also a lake pilot, which involves transiting the lake for navigation. And I'm a river pilot, so I do the St. Lawrence River and any of the locks on there — two American locks and one Canadian lock."
The family moved to town in 2014 from the Jacksonville, Florida area, where the couple originally met. The son of an army chaplain had lived in Louisiana, Georgia and the Florida Panhandle before settling in Ponte Vedra. Mariah, a Winnipeg native, often spent winters in the area with her family.
After completing high school, Reese attended a maritime academy, studying for a bachelors' degree in science, specializing in logistics. During that time he earned his qualifications as a third mate, completing a year at sea as a cadet. His career began shortly after graduation as a third mate on cruise ships.
In what he refers to as "the normal cycle of the cruise ship industry," he transitioned to the oil and gas industry, doing supply boats and anchor handling, moving oil rigs around. That led to a number of years involved in military supply work, helping to deliver supplies to navies around the world.
As if guiding huge ships across Lake Ontario isn't interesting enough, Reese's career prior to the move to Niagara has included a few brushes with some monumental historical events. While attending the United States Merchant Marine Academy (USMMA), Robert was a first responder during the Sept. 11, 2001 attack on New York City's World Trade Center.
"It's on Long Island Sound," Reese says, about the USMMA. "We looked straight at Manhattan. I was an EMT, and when things happened I was held back to accept any patients that were airlifted over. We had a big airfield, the size of a football field, so we set up to receive any overflow from the city's hospitals."
Referred to now as The Great Boatlift of 9/11, Reese says anyone who had a boat of any kind got involved in moving people out of Manhattan. Nearly 500,000 people were evacuated over a mere nine hours following the devastating attack. "A lot of them were from our academy," he says about the vessels used. "When you go to the academy, you actually are Navy personnel. So we got our orders and we responded."
Fast forward nine years for the next historic event. As Mariah tells The Local, Robert almost missed their wedding because of Somali pirates. "We were doing routine supply work in the Gulf of Aden, which was becoming a hot spot due to Somali pirates," Robert explains. "In my supply work, though I was working as a civilian, I was also a Navy officer at the same time."
"I was the navigator and second mate. We pulled into port and were supposed to be disembarking, but the captain told me I needed to be one of the five people to stay on board to plan a voyage to five places."
Once the ship, the Lewis and Clark, pulled out of port, the captain informed the crew that their mission was to rendezvous with a Marine Corps detachment to join a counter-terrorism and anti-piracy task force.
"We embarked a battalion of marines and helicopters and we proceeded to catch 15 pirates," he says. "I couldn't tell Mariah what was going on. Any communication had to be vague for operational security. I told her in an email that the captain promised I would be home on time for the wedding, though. Obviously the reception to that wasn't too positive."
"The next time I received an email from her," he laughs, "she asked why she was seeing my ship on CNN."
The American news network broke the story that the Lewis and Clark was acting as a jail ship for the captured pirates. Robert arrived back in Florida with about 10 days to spare before the nuptials.
Reflecting on the danger of the mission, Reese is matter-of-fact. 
"Any time any of the captives were out and about on the ship, they had no less than three marines with them," explains Reese. "Conditions on our ship were much better than on theirs. They were just happy to have three meals and a cot to sleep on. They weren't in any mood to be aggressive."
In 2014, as the Ebola virus was sweeping across Sierra Leone and neighbouring West African countries, Reese was working for a shipping company that was often tasked to carry cargoes that were generally related to humanitarian aid to largely underdeveloped ports and harbours. Of all the things he's done on sea, he is most proud of his last voyage for that company.
"My ship was shallow draft and geared (we had our own cranes) with a ramp to roll cargo on and off if needed," Reese explains. At the peak of the Ebola crisis we delivered food-aid and medical supplies bound for a group of orphanages in
Sierra Leone."
It was his last task as Master before making the move to NOTL. Of course the safety concerns made it a highly stressful voyage, but today he looks back on it as being his most gratifying.
"It was at a time when hardly any ships would even come close to the ports in those affected countries and we did what mariners do and delivered that cargo."
Shortly after that voyage, he began his two-year training period to qualify for his three distinctions with the Seaway Pilots. After years of being away from his family often for months at a time, working Lake Ontario's District 1 makes it much easier to be around while the boys grow up.
"As a master mariner, you have a lot of ship handling courses, simulator training, manned models," he says. "They have all these different scenarios based on depth of water, clearance under your keel, how much water you have around you, the type of bottom, and all the effects that go along with those."
Unlike his mariner friends in Texas and Georgia, for example, who guide ships in conditions that are consistent along their routes, Reese says District 1 on Lake Ontario runs the gamut of every scenario.
"I think I have the distinction of having to deal with the entire textbook, not just a couple of chapters. It's really fun," he says, referring to himself as a nerd.
With his organization, he has the type of job that never gets boring. Reese works on hundreds of ships every season, including traditional lakers, tankers, and bulk ships with their own cranes on board. They are all driven by different types of propulsion, and the wind surface area can vary, affecting their reactions in different conditions. And there are sometimes language barriers with the crews.
Even piloting the same ship at various levels of tonnage capacity can create completely unique challenges from voyage to voyage. The location of the remaining cargo on any ship after a portion has been unloaded can completely change the way Reese pilots the vessel, making it "directionally unstable."
Ship handling is Reese's favourite part of the job. His grandfather was a Second World War mariner, and he introduced Robert to a number of men who piloted ships for a living. When he realized he could follow his grandfather into the USMMA and have such a career, he knew exactly what he wanted to do.
"I enjoy taking this 30,000 tonne dead-weight ship and putting it into a place with wind going across, and doing things people wouldn't think are possible. It's fun. It can be stressful at times, but when you walk down the gangway and you take the seat and take that deep breath, it's total gratification."
As the shipping season winds down, his usual two to three days away from the family will be coming to an end. He'll be home with Mariah and the boys until mid- to late-March, when the canal opens again.
"We started a family pretty young, and it's always been important for me to get home as soon as possible, to be able to be around for my wife and kids. I give her all the credit for supporting me through my career. It takes a special kind of woman to be able to put up with someone who goes to sea."
"It's always exciting when I get to be home," Reese continues. "We go through a few weeks of decompressing from the season. We try to get into a routine. I'll attack what I can from the 'honey-do' list. Usually there's a couple of courses I have to do to maintain my licence."
Asked if any of his three sons might follow in his mariner footsteps, he says Sebastian does show some interest. A highlight of Reese's time in Niagara was having an opportunity to board one of the ships with his eldest son and his Second World War veteran grandfather in tow.
"I'm never going to pressure any of my kids to do this job," he says. "It's one of those things that if they have a passion for it, I will be as supportive as I can. But if they want to be a teacher or a plumber or whatever, I'll be more than happy to support them on that."