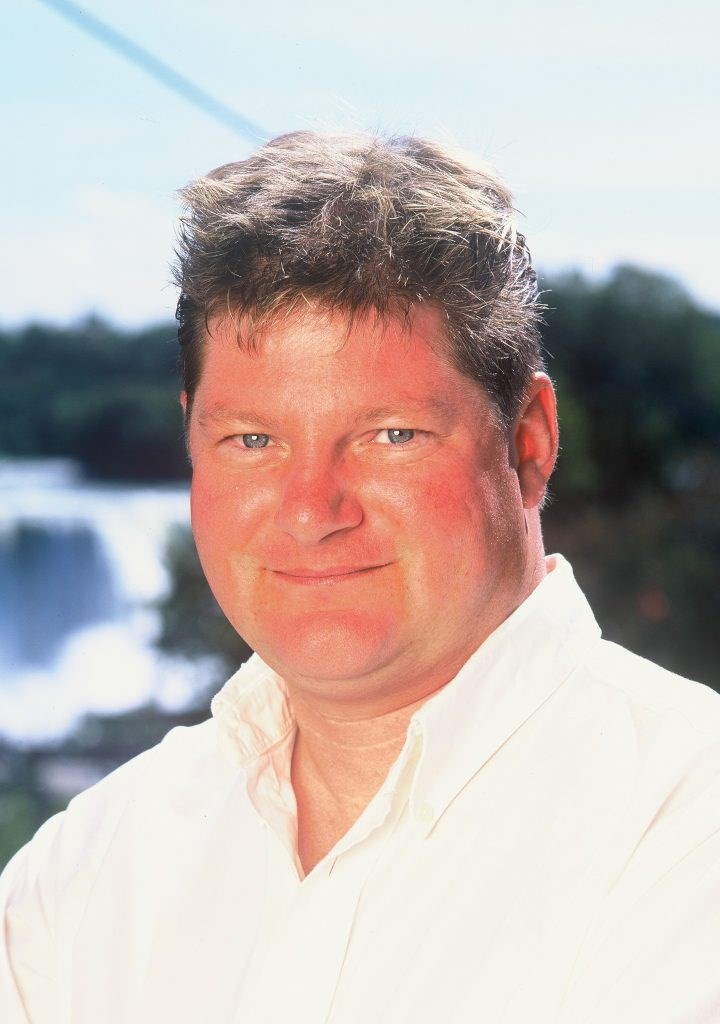 After an almost year-long battle against pancreatic cancer, 54-year-old Charlie Burland of St. Davids passed away Dec. 23.
The father of three boys was well-known in the community as a long-time St. Davids volunteer firefighter, and as an employer of many locals through the years via his role as president of Niagara Clifton Group, a family business which owns and operates a number of properties on Clifton Hill in Niagara Falls.
In both her current role as president of Niagara Falls Tourism, and her former one as president of the Niagara-on-the-Lake Chamber of Commerce, Janice Thomson knows well of his importance in both communities.
"The loss is doubled due to the massive impact Charlie made on two communities," Thomson told The Local in an email, "the tourism district of Clifton Hill in Niagara Falls, where he built on the strengths of almost 100 years of family success in the tourism attraction businesses, and the community of St. Davids in Niagara-on-the-Lake where he and his wife Lisa raised their sons."
"He was a generous contributor to both communities," Thomson continued. "His dedication to the St. Davids volunteer fire department was long-term, and his care for his community genuine. He will be missed by many."
In 1925, his grandfather, Charles Inglis Burland, bought the property that is now operated as the Travelodge hotel on Clifton Hill. Over the years the family acquired more real estate on the north side of the popular tourist destination, and today Niagara Clifton Group has a mix of more than 15 attractions, accommodations, shops and dining facilities.
After spending much of his youth learning the ropes of the family business from the ground floor up, Charlie took over the reins from his father, Dudley, in the 1990s. During his tenure at the helm he was able to transform the business from a strictly seasonal operation to a successful year-round destination, weathering the storms of downturns in 2001 and 2008, as well as the challenges caused by the current pandemic.
The family-owned business regularly employs between 250 and 300 people. Charlie was known to treat each of them as if they were part of his own family. In fact, he met his wife Lisa when she was a 21-year-old summer employee working at the group's Superstar Recording Studio.
"He was a very jovial guy who loved to chat up a storm," Lisa said. "He was very, very down to earth. He took pride in treating his employees very well. He was very well-liked throughout the entire company."
The couple's three sons, Geoffrey, 23, Evan, 20 and Blair, 16, all work in the family business, each starting when they turned 13 years old. Lisa says they complement each other and work very well together. They will continue to help run the company and to extend the family legacy into the fourth generation of the Burland family.
Despite the demands of their larger business holdings, family was always the focus for Charlie. He loved to spend time at their St. Davids home puttering around on his tractor and tinkering in the garage alongside the boys.
"He was a tool time kind of guy, and he instilled that with the boys," says Lisa. "The kids are very handy with tools, very mechanical. He would spend a lot of time tinkering there. He was a very adventurous guy who liked to keep us on our toes all the time. We worked well with the boys together, and we did a lot of things together."
NOTL's 2020 Citizen of the Year Debi Pratt remembers teaching Charlie at the old Brockview School, at the corner of Line 3 and Concession 1.
"I knew Charlie first as this skinny little kid in Grade 2," Pratt laughs, "and he was pretty shy back then. You had to work at getting him to express himself. Every time I saw him (as an adult) I would think of what he was like back then."
Pratt kept in touch with him and his family since those days, enjoying periodic get-togethers with Charlie and a number of his old school friends, the most recent one at Silversmith Brewing Company in Virgil.
"It was just so much laughter," Pratt remembers. "A lot of stories came up. Charlie would just nod and listen, then share some of his stories. We would never talk about business when I would see him. He was a likeable, friendly young man right from the first time I saw him to the last."
"He had that kind of personality, an easy-going, friendly way about him," continues Pratt. "I was pleased that he went into the family business. He was kind, he just treated people so well. And as a businessman, he knew he had to get involved. He stepped up and did what was good, not just for his company but for the whole tourism component in general."
Aside from the time he spent at his business, he was also a pilot, earning his license to fly at only 16 years old. He also served 17 years as a volunteer firefighter in St. Davids until he retired from that role a few years ago. He was a fixture at the annual turkey rolls, and the Burlands spent a lot of time with other firefighter families.
NOTL Deputy Fire Chief Darren Trostenko was with Charlie for each of his 17 years at the St. Davids station.
"Charlie was a good guy, a character," Trostenko chuckles. "He was easy-going and fit in with everyone else. You never would have guessed he was such a successful businessman as well."
Trostenko says Charlie leveraged his businesses to help with some of the charitable work of the firefighters' association.
"He was a very good supporter of our initiatives. He would take care of ordering the turkeys for the turkey roll, and he would store them at one of his facilities on Clifton Hill. And then he would deliver them down to us the day of. He helped out immensely, and supported the association in a quiet and appreciative manner."
Since his diagnosis of pancreatic cancer in March, 2021, Lisa says, their three boys have all been home spending quality time with their father. The announcement of his passing has sparked many online tributes from the community that have helped her and the boys deal with the difficult times.
"Niagara-on-the-Lake, what a great community," she says. "The outpouring of support, prayers and messages is very comforting and heartwarming. At a time like this you are hurting, and can feel so lost. To have all the outpouring of the community, it's really touching and greatly appreciated."
Charlie Burland is resting at the Patterson Funeral Home in Niagara Falls. Visiting hours are Sunday, Jan. 9 from 2 to 4 p.m. and 7 to 9 p.m. A graveside service will be held at Fairview Cemetery Jan. 10 at 1 p.m., with a funeral procession leaving the funeral home at 12:30.
Word is the procession will wind its way along Clifton Hill. A fire truck from the St. Davids station will be part of it, and at the front will be one of Charlie's beloved tractors. It will be one last time for him to survey the properties that have been in his family for close to a century.