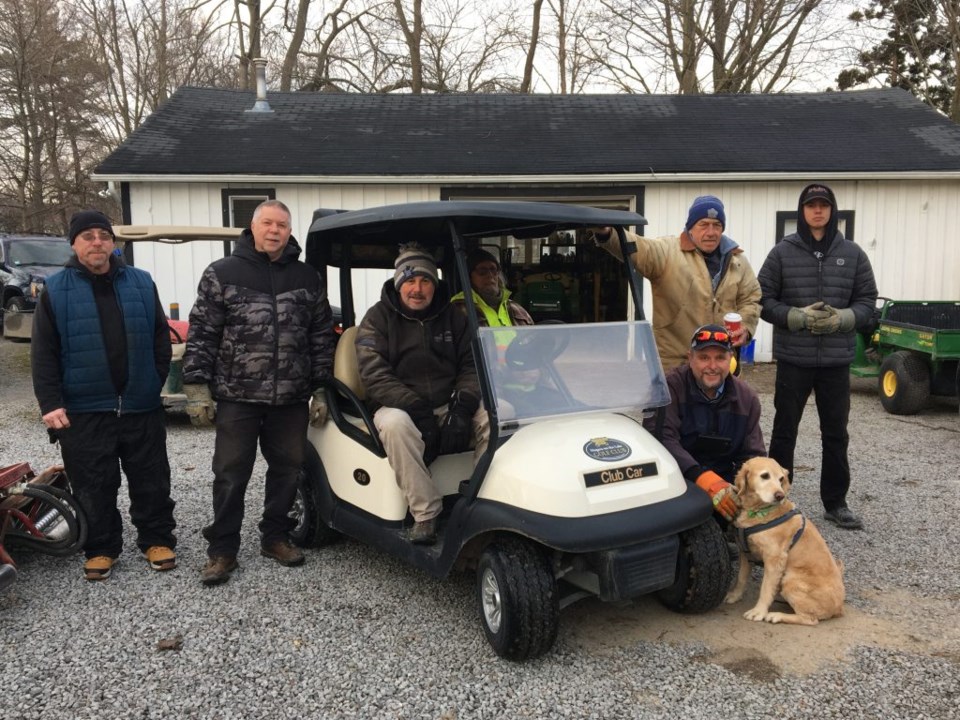 Avid golfers are lining up to be chosen to be in the first foursome teeing off this Friday morning at 8 a.m. as the Niagara-on-the-Lake Golf Club reopens for 2022.
"I don't know exactly how we'll make the choice," laughs NOTL Golf Club owner John Wiens Monday. "There are quite a few people who have requested it already. We may do some kind of a lottery to choose the first group."
Wiens and his wife Jill opened the restaurant on March 23 and had originally targeted Monday, April 4 as the opening day for the golf course. But Mother Nature had different plans.
"We had that snow two weeks ago, and it stayed quite cold for the whole week," he tells The Local. "We couldn't get much work done out there other than blowing twigs off the course. Then it was so damp, we'd be making ruts on the fairways, so we had to stop. And then last week we had quite a bit of rain."
Wiens credits course superintendent Mike Magwood and his team of five for working as much as they could around the poor weather conditions to get the course ready for golfers.
With Monday's sunshine, the full crew was out working on final preparations to bring the course up to the standard for which it is known. Before Friday morning they still needed to rototill and edge the bunkers, continue to roll and blow the greens and remove loose branches left by winter's harsh weather.
Members and others who frequent the nine-hole course will notice the absence of a large old elm tree near the sixth green. The tree was removed by a crew last Tuesday.
"Our arborist told us last fall that it had to come down," Wiens confirms. "We were going to take it down this winter, but we had too much snow and couldn't get the trucks out there. It's wet again now, and we still need to get the stump and some bigger branches removed there too."
Plans were afoot to cut the fairways Wednesday and the greens on Thursday.  All that's left for Friday morning, then, will be to put in the pins to open the season. 
And it will finally be business as usual on the course, after two years of COVID protocols forced the removal of rakes from the bunkers and ball washers at each tee box. Those will be back this summer, and missing on all golf courses will be the pool noodles and strange-looking ball-lifting contraptions attached to the flagsticks.
"Everything is back to normal," Wiens says. "People can finally lift the pins when they are putting, and we're putting the rakes back in the sand traps."
Following the first major wave of the pandemic, golf courses were one of the first activities allowed. The outdoor nature of the game, combined with the vast landscape of a golf course, meant that physical distancing was still possible to maintain. That led to Wiens seeing some interesting statistics over the past two summers.
"We generally have a 60-40 split between members and green fees on the course," he says. "The last two years we were up to 82 per cent member play, and had very little green fees play. We have quite a social membership here. The golf club became sort of their home away from home when they couldn't do much else."
He adds that junior membership (ages 11 to 18) shot up. Where most years the club has around 20 junior members, that doubled last year, and most of them seem to be returning for 2022.
Wiens will be breaking in the club's new head professional, Keith Vant, this summer. The 29-year-old from Niagara Falls is taking over from Billy Simkin, who left for a head teaching professional role at Peninsula Lakes in Fonthill.
Vant, a graduate of Niagara College's professional golf management program, comes to NOTL with seven years of experience working at Legends on the Niagara. He'll be joined by assistant pro Cam Zeppa.
"Keith knows the industry and he knows how to work the leagues," Wiens says. "The members are talking to him already, and he's fitting in very nicely. We will roll out the league stuff the next couple of weeks. We can get back to shotgun starts again and we'll be able to gather for prizes after too. We're all excited about that."
As the season is set to begin, Wiens is asked whether or not he puts much stock into predictions about what this summer's weather is expected to be like. The Farmer's Almanac predicts a warmer and rainier than usual April and May, followed by a summer a bit cooler and rainier than normal. September and October are expected to be warmer and rainier than normal.
"I do read as much as I can about the weather," he confirms. "I check the weather between eight and 10 times a day. Things can change quickly. Most of the summer we're in a nice little pocket here, with the river and the lake, and the escarpment behind us keeping some of the moisture and bad weather away. It's the east winds we have to look out for — they can cause trouble."
East winds be damned, Wiens is anticipating a very successful summer on the course, in the dining room and on the patio.
"I really think people will be wanting to travel and be on the move," he says. "It's going to be a good year."