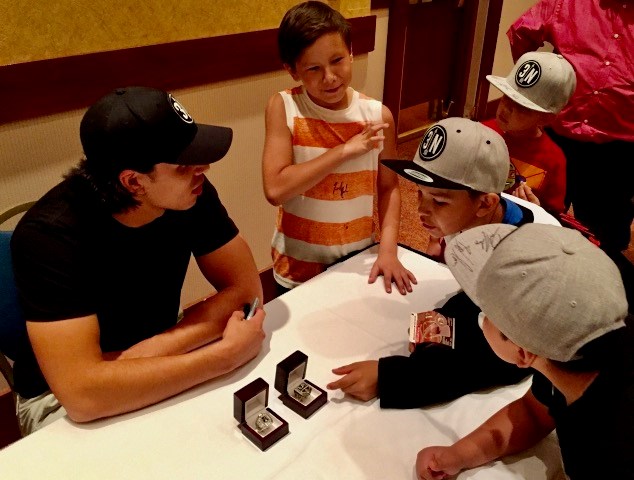 Former Buffalo Sabres head coach Ted Nolan discovered his love of hockey growing up in Garden River First Nation, just outside of Sault Ste. Marie, playing on his backyard rink.
With his sons Brandon and Jordan, both former National Hockey League players, the St. Davids resident is now on a mission to ensure Indigenous youth across the country find that same joy in the game.
The trio has developed their fittingly-named 3Nolans Hockey school as a way to reach and impact the lives of First Nation youth. Beyond the love of hockey, their sessions aim to teach them the importance of living healthy active lifestyles, how to be positive role models, and how to become future leaders in their communities.
Nolan created an Anishinabe Hockey School many years ago, before either of his sons were born, and ran it for 10 years. He enlisted Indigenous NHL players such as Chris Simon and Gino Odjick, and also Kahnawake Mohawk Alwyn Morris, a gold medalist in canoeing, to do some off-ice training.
Ted gives credit to his older son Brandon for reviving his outreach efforts to Indigenous youth in 2013. While working on behalf of a Native organization, Brandon attended a youth symposium, where the idea dawned on him.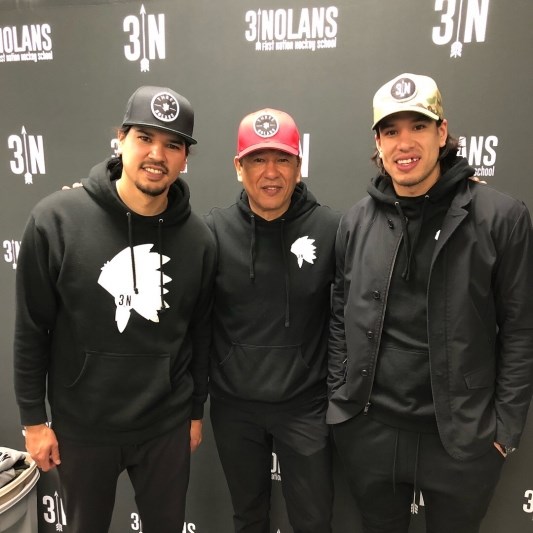 "He came back and asked me what I thought about us starting our own camps," Ted says. "He came up with the name 3Nolans. It's his brainchild, and he runs everything, organizing where we're going and what we're doing."
Brandon is now 39 years old. He was chosen in the third round of the 2001 NHL entry draft by the New Jersey Devils. He opted to stay for two more years with the Oshawa Generals, and went to Vancouver in the fourth round after scoring 36 goals and 53 assists in 2002-2003. He divided his time between the American Hockey League, the East Coast Hockey League (a U.S. professional league a step below the AHL) and Sweden before playing six games with the Carolina Hurricanes in 2007-2008.
Younger brother Jordan, 33, played eight seasons in the NHL with the Los Angeles Kings, Buffalo Sabres and St. Louis Blues, amassing 24 goals and 28 assists in 375 games. Jordan won the Stanley Cup twice with the Kings and was also a member of the Blues' 2019 cup-winning team.
Ted had his own cup of coffee in the NHL. He was drafted by Detroit in 1978 and played 41 games for the Wings in 1981-1982, and another 19 in 1983-1984. His NHL playing career came to an end with the Pittsburgh Penguins in 1985-1986.
He then turned to coaching, starting as a mid-season 1988 replacement with the Ontario Hockey League team he played for, the Sault Ste. Marie Greyhounds. He coached there until the end of the 1994 season, leading the Greyhounds to three consecutive Memorial Cup tournament berths and winning the championship in 1993.
The NHL took notice. The Buffalo Sabres came calling, and Ted guided them for two years in the late 1990s. He took over a struggling team in 1995 and led them to the playoffs in 1997, where they were defeated in the second round by the Philadelphia Flyers. He was awarded the Jack Adams trophy as NHL Coach of the Year that season.
When new general manager Darcy Regier was hired, it was clear he had no plan to keep Nolan behind the bench. He offered Nolan an insulting $500,000 one-year contract extension, which Nolan refused. Ted was replaced by former Sabre Lindy Ruff before the start of the 1997-1998 season.
To this day, Nolan claims that racism kept him out of coaching in the NHL until the New York Islanders hired him in 2006.
"Rumours were flying at the time," Ted says today. "They started saying that I demanded too much, then I was accused of being drunk at practice. That one hurt the most, because of the way alcohol is linked to our people. And my mom was killed by a drunk driver in our community by a non-Indigenous person."
He was certainly no stranger to racism by then. His first real taste of it came when at 17 years old, Nolan left Garden River to play for the Manitoba Junior Hockey League's Kenora Thistles.
"I was bullied for a whole year, I had to fight my own teammates for the first two weeks," Nolan says. "I had just lost my father the year before. It was traumatic. I don't even remember the whole year. I left school. I was just trying to survive. It still affects me to this day."
While he was seemingly blackballed by the NHL, he formed the Ted Nolan Foundation, raising almost $2.5 million for Native initiatives. Then, in 2006, the Quebec Major Junior Hockey League's Moncton Wildcats —the league includes teams in the Atlantic provinces — hired him, and he guided them to the league championship.
That's when the Islanders came calling. He lasted there for two years, then caught on with Rochester of the AHL. Then he turned to international hockey, where he made waves in 2014 when he nearly led Latvia to a major upset of a Canadian team made up of NHL players in the Olympic Games.
Again, Buffalo took notice of his international success, and brought him in as an interim head coach in 2013. He finished out that season and lasted one more before being fired by general manager Tim Murray.
Ted hung up his coaching clipboard in 2018 after a couple of years with Poland's national team. Since then he's dedicated his time to expanding 3Nolans with his sons.
Brandon, who now has three kids of his own, loves working with his father.
"He's definitely just one of the boys," Brandon says on the line from his Whitby home. "Sometimes I suggest he only do one a month, but he says 'let's do as many as we can'. He really loves the work we do in the community."
The 3Nolans camps aren't free, but Brandon works with each community to charge a fee they can afford. They roll into town with a supply of sticks, instructors and some NHL jerseys to give out. A number of NHL teams, including the Kings, generously support the camps with merchandise.
Recently, they've been taking the 3Nolans concept into some of the poorest and most remote First Nations communities.
"We went to one in Saskatchewan where it was 30 below outside, but it had to be 40 below inside the arena," laughs Ted. "We make it work in a lot of these older rinks that don't have heat inside."
"Some locations are super challenging," Brandon adds. "A lot of them, once you get there, they are absolutely stunningly beautiful. We go to these fly-in communities where we are just surrounded by water and nature. For Wemindji Cree Nation, we drove from Toronto to Montreal to make an early flight. Then there was a five-stop layover before we got to James Bay."
The 3Nolans were conducting a hockey school near the Quebec border on Indigenous Day last month.
"We were on Wolf Lake, near Temiskaming," says Ted. "We celebrated Indigenous Day there. They don't have a hockey rink, so we did an outdoor skills development camp with ball hockey. We had a pow wow, and went on the lake for a boat cruise."
"Some people would see the travel and say there's no way I'm doing that," says Brandon. "But if you want to inspire a young person's life, that's what you have to do to get there. We've been committed to it since day one, no matter what it takes to get to these communities."
The kids who participate range in age from about four to 17 years old. Typically a 3Nolans summer camp lasts a week, with two sessions a day and around 100 to 120 kids. They work with the parents as well, holding round table discussions with them. The week concludes with a banquet.
Beside the hockey schools, Ted also works as a political advisor for the Chiefs of Ontario, which supports 133 First Nations in Ontario to assert their sovereignty, jurisdiction, and their chosen expression of nationhood.
Through all of his hockey trials and tribulations, he knows how much representation matters to the kids in these communities.
"My own grandson has come to our hockey schools," Ted says. "I ask him why he plays differently in our hockey schools versus his regular hockey team, and he says he feels more free in the schools because everyone there looks like him."
Reminiscing about his early days in the sport, Ted is clearly still haunted by his memories.
"I was lost for a long time," says the 64-year-old. "I developed a hard shell. It was almost like a medal of honour for me and for other Indigenous hockey players to be tough."
He's adamant that it doesn't have to be that way for today's Indigenous hockey players. He is compelled to make a difference, and is having a blast doing so.
"I began playing because I loved to play," he says. "And I loved coaching, too. But I probably enjoy what I'm doing now even more."