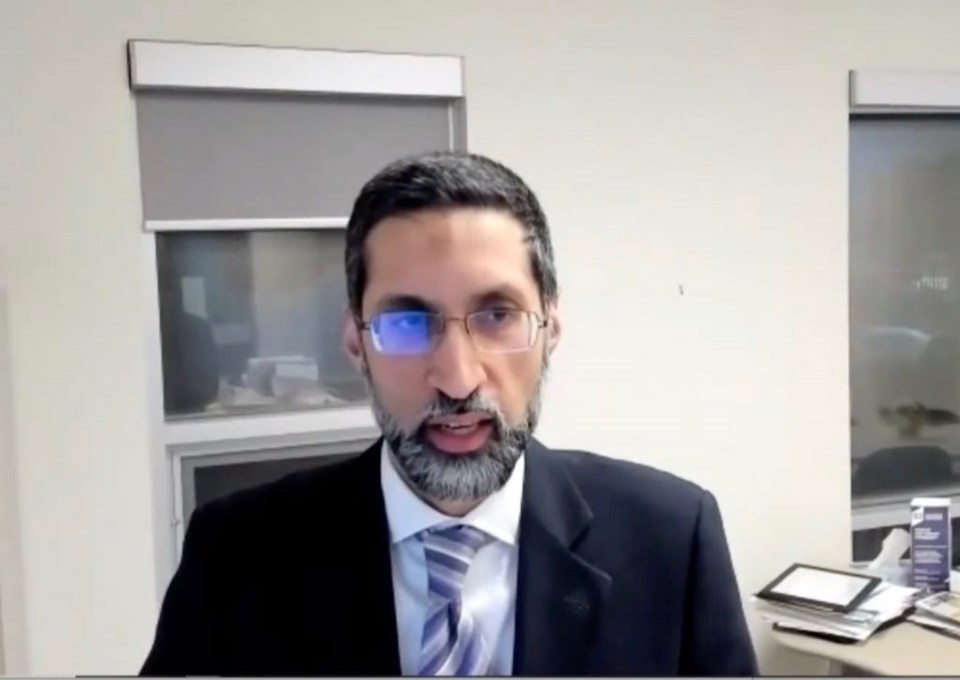 There is nothing new about Dr. Mustafa Hirji's desire to protect students and staff from COVID outbreaks in schools — he has said repeatedly and explicitly throughout this pandemic that he is concerned about disruptions to education, and the effects they have on children.
What is new is Niagara's acting chief medical officer of health being reprimanded for doing what he can to make Niagara schools safe, as students are now back to in-person learning after a holiday break that was extended first due to omicron, and then by Mother Nature as a snow storm cancelled classes across the region.
On Jan. 14, the Friday before students were expected to return to school, Niagara parents received a letter outlining some additional recommendations from Public Health, layered on top of provincial restrictions.
It wasn't long before a letter dated Jan. 15, from Dr. Kieran Moore, the provincial medical officer of health, was made public on social media, chastising Hirji for the extra measures.
Hirji told The Local he was taken aback, but not disturbed, by the tone of the letter.
"I'm certainly surprised by the degree of opposition they've expressed to what we're doing. We're guided by the science. We're guided by our concern for children and parents and teachers, and what is going to keep them safe, and we're very confident what we are doing here is the right thing to do for Niagara. I have no doubts about that. I'm surprised by the level of opposition, but it doesn't really affect me beyond that."
Moore's letter said Hirji's recommendations were made without consultation with the province, and could jeopardize the safety of students.
Hirji says his "enhancements" to provincial regulations were made in collaboration with Niagara school boards. Since then, after continued consultation, there was some tweaking.
the most impactful recommendation from Public Health calls for schools to continue reporting positive test results of students and staff, with a five-day isolation period of unvaccinated students and staff in a class where there is a positive COVID case. Originally, Hirji asked for a longer quarantine, but reduced it after consultation with school boards, he says.
In a second letter to parents dated Jan. 21, he explained the five-day dismissal as "the minimum period of risk, and parents should be attentive of any symptoms a child may develop shortly after dismissal or even after the five days are over."
"Where parents have access to rapid tests and are concerned about a child's exposure to COVID-19 infection, Public Health recommends testing five days after last being around someone who had COVID-19," his recent letter says. "Testing earlier than that may not be reliable," he explains in his Jan. 21 letter.
In bold print, the letter says students who are vaccinated with two doses will be exempt from such dismissals. That was his clearly stated intention in the Jan. 14 guidelines that were sent to parents, although some media outlets were reporting Monday that was a change to his recommendations.
Parents of all children in a cohort where there is a positive case will be notified, and "can make an informed decision" about whether they choose to keep their kids at home, he says.
Provincial regulations do not require the dismissal of students, vaccinated or unvaccinated, when there is a positive case in their class, referring to the increased transmissibility of omicron and the negative consequences of student dismissals.
Provincial guidelines are that parents will not be made aware of positive COVID cases in their children's schools until absenteeism reaches 30 per cent, which had occurred in 10 per cent of Ontario schools by Monday, although 28 per cent of schools had not reported their absenteeism.
Hirji's other enhancements call for students from Kindergarten up to wear masks, unless they have a medical note from their doctor, "in direct opposition to provincial guidance," Moore's letter says, and regular testing of CO2 in classrooms to ensure adequate ventilation, that is also not required by the province.
In his letter Moore says he opposes weekly monitoring because there is no correlation between CO2 levels and viral transmission.
Hirji explains high CO2 levels could indicate poor ventilation in a classroom, and moving hepa filters from other areas of the school where readings are low could improve ventilation. In limited cases, the purchase of more hepa filters than have been supplied by the province might be necessary, he says.
While schools would be expected to pay for the filters, "if there is a financial barrier to improving ventilation we would be happy to talk about that." The last thing Public Health would want to see is "a couple of hundred dollars as the reason we're not doing something to keep our kids safe."
Moore's letter was not intended to be made public, and there was much discussion at last Thursday's regional council meeting about Niagara's extra enhancements and the response from Moore turning very political, very quickly.
The letter referred to a lack of consultation, not only with the Ministry of Health but several other ministries and agencies, implying Hirji had been negligent by not informing them of his plans.
Hirji told The Local while he both spoke and met virtually with Moore to let him know his intentions, he is entitled to make his own recommendations without consultation.
"There has never been an expectation we would consult with the chief medical officer of health on local recommendations or local orders. It was always expected we would let them know so they're not caught off guard," he says.
"I was surprised to hear that expectation that we would have consulted with them in advance," and if that is a change in process going forward, "we will be happy to do that."
However, he feels he fulfilled his obligation to let the ministry know his intentions.
When Moore was asked why he felt it necessary to send the letter rebuking Hirji, he said he felt the message from public health units should be "consistent and persistint," and that he was seeking clarity.
The resulting discussions in social media, Hirji says, came after parents had already been informed of his measures — they were not a secret — but his greater concern was that parents not lose confidence about sending their children back to school, and that they understand the measures are in place to keep students and staff safe from COVID.
Moore also said in that Niagara is alone in instituting enhanced measures, and while Hirji may have been when he made those recommendations, "the most impactful is classroom dismissal, and we're certainly not alone in that now."
On the issue of telling parents about a positive case in their kids' classroom, and dismissing unvaccinated students and staff, Peterborough's public health unit is doing the same, and both Toronto and Peel Region are recommending school boards require students in Kindergarten, both JK and SK, wear masks while attending school and on a school bus.
Perhaps the most stinging rebuke from Moore was in his questioning of the need for extra measures, which he said were not evidence-based.
He said Hirji stated only 25 per cent of children had acquired infections in school, and 75 per cent became infected in the community, yet Niagara is not instituting additional measures to restrict community transmission.
The 25 per cent figure "was misconstrued," says Hirji.
Through contact tracing, the region has determined that 25 per cent of children became infected by attending school or activities at school. Another 50 per cent contracted COVID outside of school, visiting friends or taking part in sports and other activities. "The other 25 percent, we just don't know."
All or none of those infections could have come from school, outside school or a split of the two, he says, and the 25 per cent that is known "is definitely very significant. Any infection we can stop is an infection we want to stop. If there are reasonable, common sense steps to reduce them, why wouldn't we take those steps?"
The 25 per cent of infections that were a result of school spread occurred last September to December, during a time when there were more strict measures in place to keep students safe, including dismissing cohorts when there was an infection in the classroom.
"If we didn't have that dismissal, the 25 per cent would have been higher."
That measure was effective in limiting spread in the fall, and his intention is to continue being aggressive, "to stop the spread and minimize disruption in the long term."
"We're in a new scenario here we haven't experienced before, dealing with omicron in schools," he continues. "All we've learned from around the world, and in schools here, means putting the best protection in place to keep students and staff as safe as possible."
And with students just now returning to school under threat of the rapid spread of omicron, he adds, "we're not going to know what will happen until we see what the experiences in schools are."
With the high number of infections in the community, the most effective tool is still getting vaccinated, "no matter what protections are in place in school."
The decision to dismiss unvaccinated students and staff if there is a
positive COVID case in their class was made to limit infection, he says, because unvaccinated people are more likely to become infected and spread it to others.
But at the same time he hopes parents will be encouraged to get their children vaccinated, "to get vaccination numbers up, protect our schools, protect those children, and keep everyone in school without disruption."
While the choice to dismiss unvaccinated students might set them apart from others in their class, "it's an unfortunate fact that we're dealing with COVID-19 and the prospect that infection is going to spread in schools, and we have to take some action to protect them."
Hirji says he hopes parents will reconsider their choice and have their kids vaccinated, "so we don't have to make that distinction."