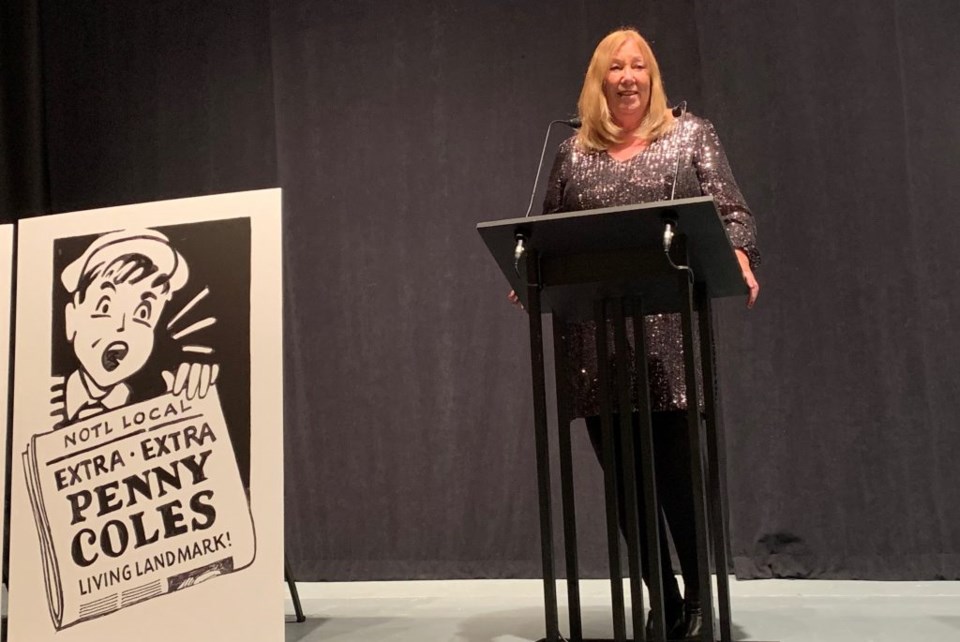 The Niagara Foundation held its Living Landmark Award Dinner last Saturday, beginning with a dedication to Michael Howe, who passed away Dec. 29, 2020.
Current board president Janice Thomson described Michael following in the footsteps of his father, Norm, one of the organization's founders in 1962, and of his mother, Margherita, well-known for her myriad efforts to preserve the town's environmental and heritage assets.
"He was a true defender of truth and the quality of life in Niagara-on-the-Lake," Thomson said about the past president of the Foundation. "He led our organization with clarity and determination. I believe Michael will always be present. His intelligence, humour and caring personality will survive forever."
In her address to board members, representatives from town council, and supporters, Thomson spoke of the Foundation's current drive to preserve The Wilderness property between King and Regent Streets and to protect it from developers' shovels.
The Niagara Foundation is pursuing the purchase of a half-interest in the historically significant 5.5-acre (2.2-hectare) woodland site that houses historic buildings, one of which is modelled after Napoleon's home during his exile. Some legal matters with the estate of one of the two sisters who owned it are currently holding up the deal.
It's the most recent undertaking by the Niagara Foundation, and is in line with past preservation efforts such as the Niagara Apothecary, the William and Susannah Steward House and the St. Mark's Rectory.
Current town Coun. Gary Burroughs was a Foundation board member for 25 years. As a parishioner at St. Mark's Anglican Church, he was involved in one of the Foundation's earliest projects.
"The rectory needed a lot of restoration done that we, the church, couldn't afford," Burroughs recalled. "We worked with the Niagara Foundation. They put over $100,000 into fixing it up, then we allowed them to lease it out for five years to get their money back. We ended up with a great building, and they got their money back."
Burroughs pointed out that during his time as Lord Mayor a similar deal was struck to preserve the Foghorn building on River Beach Road.
"What the Niagara Foundation has accomplished, and what they continue to accomplish, keeps us so aware of the wonderful heritage that we have," Burroughs said. "These are the kinds of groups that the town has to have. There are so many newcomers that don't know the town's history."
Burroughs was at the event Saturday evening along with fellow past Living Landmark Award winners Debi Pratt and Richard Merritt to honour the newest member of their exclusive fraternity, the 2021 recipient, The NOTL Local's own Penny Coles.
As Lord Mayor, regional councillor, town councillor and even as a 2006 federal election candidate, Burroughs has had hundreds of opportunities to speak with Coles through the years.
"She was always willing to listen to me explaining background information, every time we spoke," he said. "She was easy to trust. That's the confidence that every politician needs from their press."
Burroughs continued, "She's right up there, she's absolutely a fabric of the town. She's the kind of person that makes it so special. She's outstanding, and really deserves credit for all she's done for our town."
Before presenting Coles with her award, Thomson outlined the importance of solid local journalism, especially amidst the climate of online blogs, podcasts and immediate uploads of "information," followed just as rapidly by not so well-researched knee jerk reactions.
With the Foundation facing some challenging projects, she said the board is committed to focusing on successful results, and effective communication will be key to sharing progress as it happens.
"Local journalism is truly a public service, informing community members of local activities, council considerations and general community updates," said Thomson. "Presenting the facts may not always be well received in all quarters, but Penny Coles delivers the facts in a well-researched, thoughtful way that gives all sides an equal opportunity to comment."
Thomson's joke that Coles claims to actually enjoy following the meetings and the background behind council's deliberations got a chuckle from the attendees. She mentioned Penny's many years at the helm of the Niagara Advance, and her decision, with her business partner and long-time friend Karen Skeoch, to start The NOTL Local.
"Penny feels very privileged to continue reporting on all the news, support local businesses and tell the great stories readers share," Thomson added. "The broad content of the papers also reflects the wide-ranging community interests and allows residents of all ages to be entertained and educated on local goings-on. Penny clearly understands the importance of municipal decisions that impact the quality of our daily lives, and is committed to delivering journalism excellence."
In her acceptance speech, Coles first thanked all of the attendees, "the people who love and care for this town, who are working so hard to preserve all that is important about it, its built heritage, natural environments and
streetscapes."
"My part is simply to tell your stories," Coles continued. "Thank you for acknowledging tonight that even in this day of technology and social media, community newspapers remain relevant, and have a role to play in helping you protect our community. Karen and I wouldn't be doing this if we didn't wholeheartedly believe that."