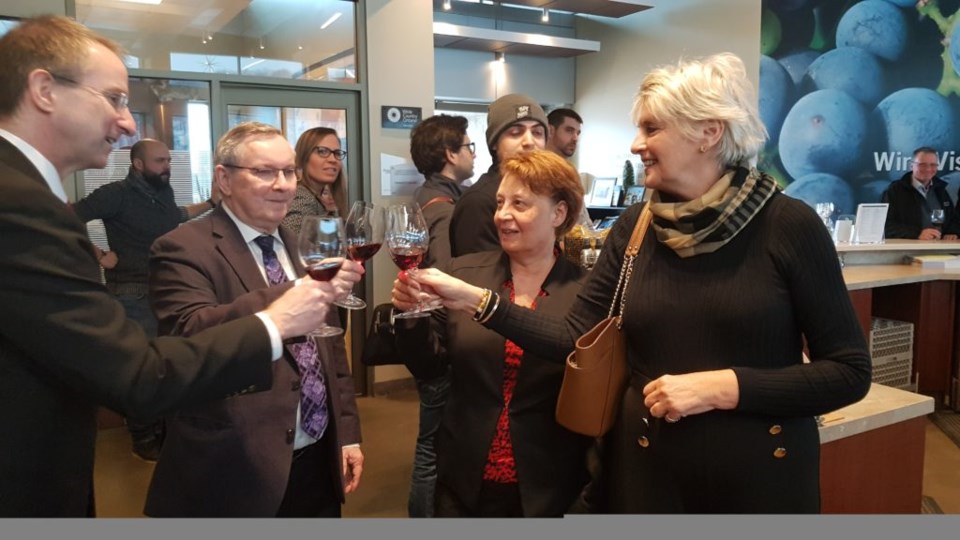 Through a partnership with Canopy Growth, Niagara College is taking over the operation of the Concession 5 vineyard next to Tweed Farms.
Tweed is best known as one of the largest medical marijuana greenhouse operations in the world, with more than a million square feet in production.
The vineyard next door to Tweed was originally owned locally and operated as Coyote's Run Winery. It was sold in October, 2017, with unfounded rumours saying it had been sold to Canopy Growth, which did ultimately purchase it in May, 2019.
At that time, the new owners said they planned to continue wine production at the facility, but were looking for a partnership with an experienced grape grower.
Jeff Ryan of Canopy Growth announced Monday that the college will continue the operation of the vineyards. As home to the first commercial teaching winery in Canada, and the first commercial cannabis production program in the country, the college will use the 27-acre property as a "hub for learning to be enjoyed by Niagara College students for decades to come," he said.
College president Dan Patterson referred to the teaching winery's role as taking "stewardship" of the Concession 5 property, and as an example of the "three drivers of the success" of the college: its strong commitment to industry/educational partnerships; the "unparalleled opportunities" it presents for its students; and the people and culture at the college, interwoven into the fabric of the region and all sectors of its economy, educating future employees for regional industries.
He also praised Canopy Growth for its decisions to preserve the vineyards on the Concession 5 property.
The announcement was made to a crowd of about 50 people at the college's Wine Visitor + Education Centre Monday morning.
The varieties of grapes grown and the terroir of the Concession 5 vineyard present a different opportunity for learning than at the college's teaching winery, and the building on the property will become a secondary production site.
Steve Gill, general manager of the college's Learning Enterprise Centre, which includes the teaching winery, brewery and distillery, called the partnership a win-win-win.
"Canopy benefits from our dedication to minimizing impact on its greenhouse operations, and Niagara-on-the-Lake residents gain good neighbours through our commitment to maintaining the vineyards with sustainable farming practices."