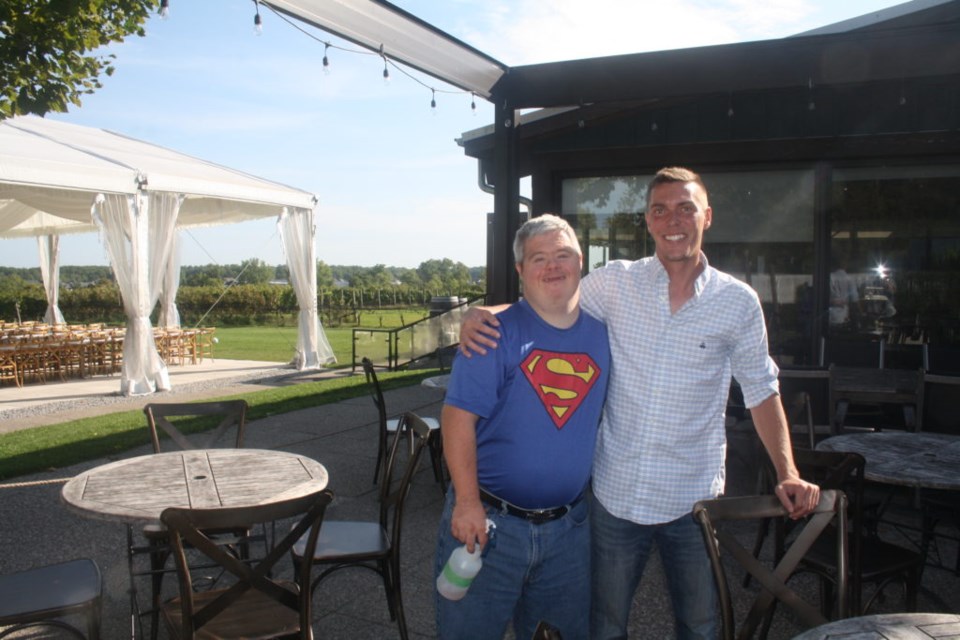 When Kyle Verhulst moved to Niagara-on-the-Lake last spring, he hoped to find meaningful volunteer work locally.
Today, he is proud to be considered a member of the team at Ravine Vineyard Estate Winery, just a short walk from his home in St. Davids.
When the 36-year-old moved to the village with his parents, he left behind a life of routine, which included a volunteer job that shaped his days and gave him a feeling of purpose.
He loves his new home in Cannery Park, with the view of the vineyards across the street, and his own space downstairs, but initially he missed his old life.
His parents, Dianna and Adriaan, made the move from their hometown of Windsor for his welfare. Dianna spoke to The Local about her son, hoping to find something to replace the activities he left behind.
Kyle was born with Down syndrome, and although he is fairly independent and self-sufficient, his parents have to think about his future, when they're no longer around, said Dianna.
His sister Katherine Sykes, a pilot, has settled in NOTL with her husband, Jeff, of Sykes Landscaping. She will one day be Kyle's legal guardian, said Dianna, "and we wanted to be here, closer to her, to help her with her baby. It was important to us that Kyle get used to living here now, instead of it coming as a shock to him one day down the road, when we're no longer here to look after him."
In Windsor, Kyle began each day with a walk through his subdivision to an Extendicare long-term care residence. For 15 years, he started his duties at 9 a.m., delivering newspapers to the rooms of those who lived in the home. His final job of the day was to clear off the tables after lunch. When that was finished, he'd head home. In between, he would visit with residents, and became friends not only with them but with their family members who came to visit, he said.
Now he has found another job he loves, and a similar routine, although with different tasks.
When Paul Harber of Ravine read about Kyle in The Local, he phoned to ask him to come to the winery to chat.
Harber learned quickly Kyle is a social fellow with a ready smile, and loves to joke around. But as much fun as he has kidding with the other employees, he takes his work very seriously, says Harber.
He starts at Ravine at 8:30 a.m. three or four days a week, and begins cleaning and setting up the outdoor patio tables and chairs.
He's thorough and earnest, said Harber, and adheres to the routine set out for him.
When the patio area is ready for the day, Kyle moves to the gardens, which he loves tidying, and then goes home around noon.
Although his mother assumed when she reached out to the community that she would have to drive Kyle to any job opportunity he found, Harber's offer allows Kyle to head off on foot in the morning, and walk home when he's finished.
"He is a great addition to the team at Ravine," said Harber.
"He's fun to work with, and also really dedicated to his job. He's a very hard worker. He keeps the patio and gardens looking great, and he's good at customer relations. He makes everyone smile."
Turning to Kyle, Harber said, "We love having you here."
"I work hard," said Kyle, who jokes about not having time to talk. "I'm a little busy right now."
Kyle also loves to eat, and enjoys the food at Ravine as a bonus, he says. He especially loves the wood oven pizza.
He is planning to bring his family to the winery at Christmas, he said. "I'm going to have a hamburger. I love the hamburgers."
Harber explains Kyle's popularity this way.
"A coat can be made up of different fabrics of many colours. The brighter the fabrics, the more beautiful the coat. Kyle is an important part of the fabric here. He adds to the spirit and makes it a better place."