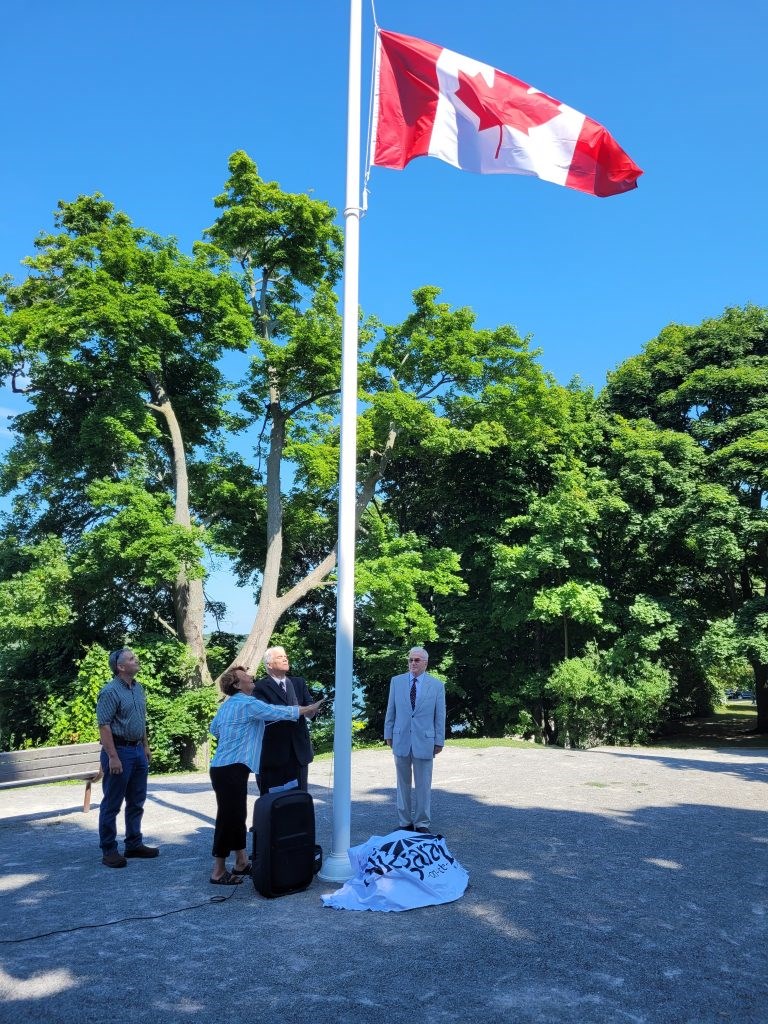 When Jim and Tom Caldwell decided they would like to work with the town to have a Canadian flag flying in Queen's Royal Park, they were hoping it would be in time for the start of the Canada Summer Games.
And there they were Friday on a bright and clear afternoon, at the park, celebrating a beautiful new flag at the crest of the hill looking across toward Fort Niagara.
Although there had been some discussion with the town initially about it being closer to the gazebo, Tom Caldwell said when he climbed the stairway that leads to the new flagpole, he felt it was where it should be.
Jim thanked the town staff, and a small committee of friends who came to him with the suggestion. "I told them I'll see what I can do. I'll have a chat with my brother Tom. He likes flags, especially Canadian flags, and this was a great spot to put it."
The committee helped get the project off the ground, led by Ross Robinson, who spearheaded it, was passionate about it, and went to town council with the request for it, said Jim.
Lord Mayor Betty Disero was also a great advocate, he added.
Tom called the flag-raising "a great project to be involved in," and said when he walked up the stairs to the top of the little hill and saw the flag," I thought of it as a triumph. It's the perfect spot for it."
He mentioned the number of courageous new Canadians who come to this country to find safety and comfort in a new land, and for the possibilities they will find as they start a new life.
He gestured to a large group in the park Friday afternoon, organizing a picnic while the kids played, and watching the raising of the flag.
"It's really fortuitous," he said, "having a group of new Canadians here for this event."
And to make them feel welcome, he encouraged them to join the celebration and pose for a photo — they had come from Brampton to NOTL to celebrate with a relative who had just arrived in Canada for a visit, and were quite delighted to be invited to join in.