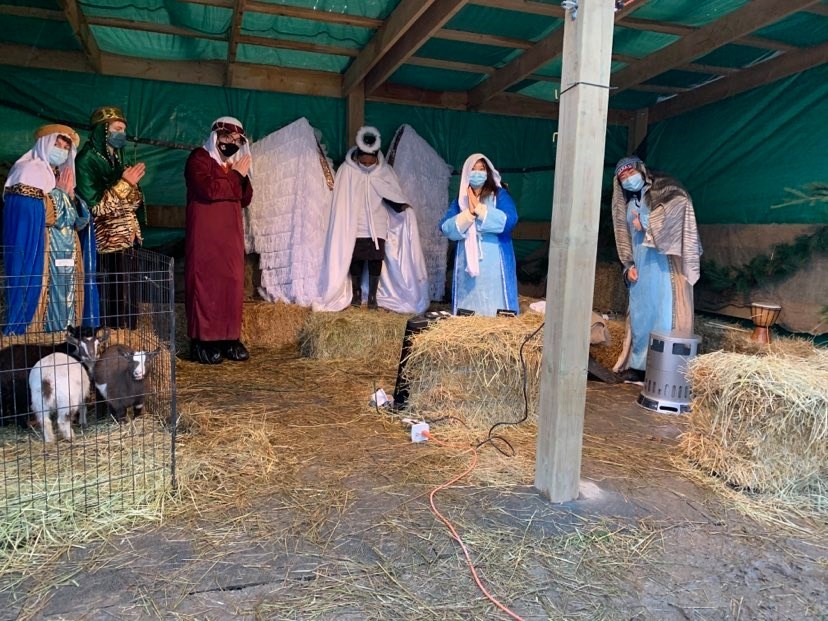 A very successful premier season for Away in a Manger, a living nativity scene, was hosted by Benchview Equestrian Centre this weekend.
The event was held for two days, and raised more than $3,000 for The Darte Family Youth Mental Health Fund. Two other charities were supported, with a food drive for Newark Neighbours, and a mountain of toys collected for children in the 3F pediatric cancer unit in McMaster Childrens' Hospital his Christmas season.
Participants drove up to a manger, where they stopped to observe local people dressed as Mary, Joseph, wise men, shepherds, and angels.
Vineridge Academy took the Sunday afternoon sessions, while local families were featured on Saturday and Sunday evenings.
The event was organized by Pat Darte, Jane Neaves, Caroline Polgrabia, Mona Babin and Melina Morsch to raise awareness of the difficulty so many are having with the new norms the pandemic has introduced.
Steri Plus was on site with equipment that creates a virus-killing steam chamber that all volunteers walked through upon arrival and before departure.
Organizers said the Christmas spirit is something they wanted to share as a community, regardless of challenges due to COVID-19.
There were plenty of happy visitors wishing all a Merry Christmas from the safety and comfort of their cars, as they enjoyed the lights and sounds and sites of this very special Christmas event. Organizers say they hope to make this an annual event.
To donate, go to https://niagaracommunityfoundation.org/dartefamilyfund