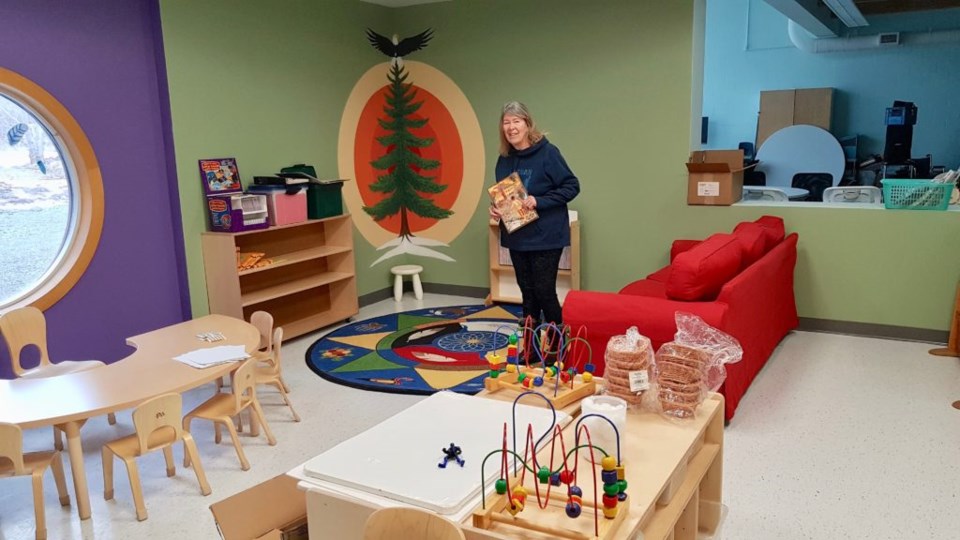 The expansion at the Niagara Regional Native Centre is complete, with new programming beginning soon.
Although there has been no date for an official opening celebration, programming for children and families will begin in the new space March 23, and there will be a drumming and dancing event to recognize it.
A five-day-a-week EarlyOn Centre will open at that time, and some existing programming will move to the new premises, which include three new rooms. They are bright and colourful, with comfy seating, lots of toys and books for children of all ages, big windows to let in natural light, and decorating, such as artwork on the walls, that reflects Indigenous culture.
The EarlyOn program is open to the community, says registered early child educator Dianne Tomlinson, who is in the process of setting up the schedule for the new premises, which is officially called the Clear Skies EarlyOn Child and Family Centre.
As with other EarlyOn centres, funded by the Province but administered by the Region, experts will be invited for specific programming, such as yoga and infant massage — Tomlinson already has two of those on her calendar for the first week. Those sessions will be scheduled, but the program is run on a drop-in basis. EarlyOn Child and Family Centres provide free, high-quality drop-in programs for children from birth to six years of age, their parents and caregivers. The centres, family-focused and designed to offer a welcoming and fun space for children to learn, play, and connect with others, are offered across the region in YMCA buildings, schools and churches, with varying days and times, depending on the location.
Some of the programs at the Native Centre are funded with the purpose of serving the Indigenous community, and others, such as the EarlyOn program, are aimed at the broader community, but even those, Tomlinson explains, may have an Indigenous component, such as traditional nutrition, cooking, or dreamcatchers, incorporated into the sessions.
There is also lots of room for outdoor play, and there is a discussion about a fenced-in area, she says, "but we have eight acres. It would also be nice for parents to be able to wander around outside with their children."
The smallest of the three new family rooms is set up with a gigantic rocking chair, small tables and chairs and lots of toys for babies. It's being called the infant room, while a larger space is decorated for toddlers, and is considered the preschool room.
"The furniture was all ordered in February, 2019, and we've had it waiting for more than a year now. The smaller items we've been buying recently to fill in the space, and to be here when the kids arrive. It's been so exciting to see it all come together. We can't wait to see it used," says Tomlinson.
The space has been designed to meet the standards of a daycare centre, and that might be possible at some point down the road, but not in the immediate future, she says.
The largest area of the expansion is called a great room, and is set up for parents to use for workshops while their kids are playing elsewhere, although all are free to move around and use whatever space they want, she says.
There is a large window in the wall between the great room and the preschool space, originally planned for a water feature that could be seen from both rooms, says Tomlinson.
"That was a dream of mine, but it would be expensive, and we didn't have the funding. It may be filled in. We're not sure at this point. Water is so sacred — we were in water before we were brought into this world. If I could have two wishes for funding, it would be for a water feature and a mini van to get people here."
The Airport Road centre also has an expanded gymnasium, and a new board room which was moved from its former space and completely redone.
The gym, about a third larger than the original space, will be used for a variety of sports and activities, Tomlinson says, including basketball, which the centre has been very successful with in competition, volleyball, and healthy living programs.
Tomlinson has been the co-ordinator for the Canada Nutrition Prenatal Program at the Native Centre for years, a program that is moving to the new family space. It is funded by the federal government to allow community groups to help improve the health of pregnant women, new mothers and their babies. One of its goals is to ensure culturally-sensitive prenatal support for Indigenous women.
Tomlinson came to the Native Centre after a long career in early childhood education, and didn't realize until she arrived she has Indigenous roots herself. "I learned my great-grandmother was Indigenous," she says.
It has been 49 years since she graduated with the second early childhood education graduating class of Niagara College, she added, and has continued to take courses since then.
When she is ready to retire after a 50-year career, probably in spring of 2021, she will be happy to do so with the knowledge that she was able to help set up the new space at the centre, and arrange more programming for families and children in the community. "It will be a nice way to end a great career, but my goal right now is to get these doors open and run a fantastic program in this space."
For more information, visit nrnc.ca.