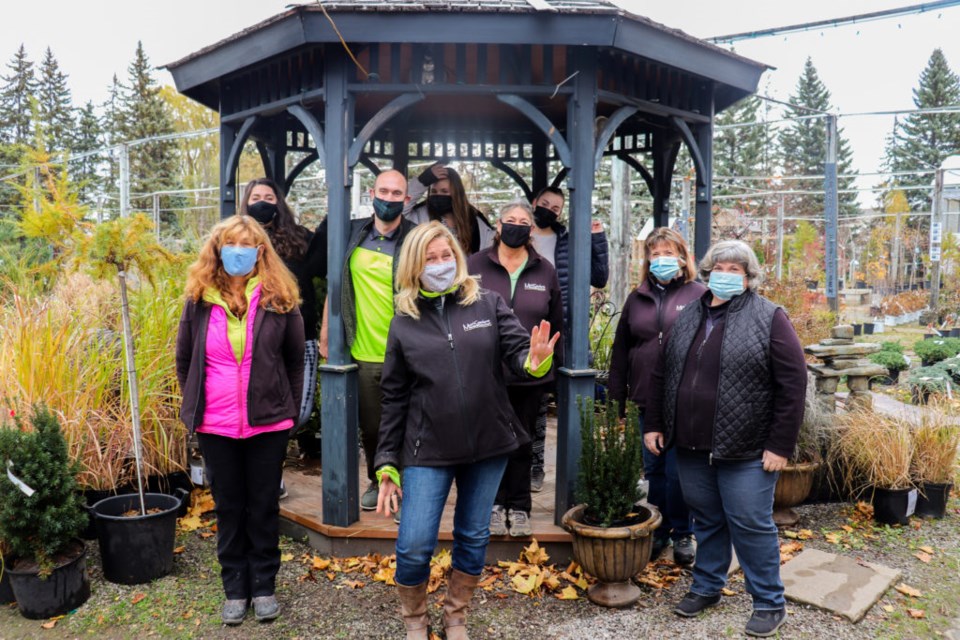 Tonie Mori, a prominent business owner in the community for almost three decades, is ready to move on to the next adventure life holds for her.
The owner of Mori Gardens will see its doors close for the last time at the end of the year, as the  Niagara Stone Road property passes into the hands of Two Sisters Corp., owned by Benny Marotta.
The sale includes the 26-acre property and the home of Mori Nurseries for nearly 70 years.
A portion of the land has been leased to Mori Gardens for the last 45 years, which was established as a way to serve the many members of the public who would come to purchase plants at the wholesale operation, says Tonie.
After her husband Rob Mori passed away in 2006, she tried to sever the garden centre property, but was unsuccessful due to provincial and town guidelines for the Greenbelt property.
The two businesses, the garden centre and the nursery, are entirely separate, and as owner of the Mori Gardens, Tonie has had a long lease on the property, and didn't have to give it up, she says, but didn't want to stand in the way of the sale.
It came at a good time for her, as she contemplates what she wants to accomplish in the next stage of her life.
"I'm ready. It's a good opportunity for me, and a lot of my staff are getting close to the age of retirement, so it works for them as well."
She goes on to praise her "wonderful" staff, which over time has been about 20 employees each year, included many of her family members, as well as a lot of local young people who worked during the summers, coming back six or seven seasons to pay for their post-secondary education.
She has four or five employees who have worked for the garden centre for more than 25 years, including designer Joanne Young, who plans to continue the work for which she is so respected in the community.
Tonie's son Miguel always loves the garden centre, having played there as a child. Since receiving his master's degree in business, he has looked after the marketing for the garden centre. That has been just one of his projects as he builds his own business in growth management, and he will turn his full-time attention to that now.
Tonie says she has loved running a business in the community where she was born and raised. She met Rob at Niagara District Secondary School, fell in love, and after marrying her high school sweetheart, was heavily involved in teaching gymnastics, before taking over the garden centre. As someone who loves plants, and also working with the public, it was a natural fit for her. "I've so enjoyed being part of this community," she says.
The support has worked both ways. Locals have come to the garden centre for landscaping and gardening needs, and in turn the business has contributed $20,000 to $30,000 a year on several important fundraisers, including an annual Passion event for Wells of Hope, garden tours, and the Rotary Holiday House Tour.
Local businesses are asked often for gifts or financial support of local events and fundraisers, says Tonie, and she has been happy to give back to the community, as have most businesses, out of gratitude for the loyalty of local customers.
"I'm grateful to the community for the support I've had in the past, and also looking forward to the next adventure," she says.
For Tonie, this is a little like re-inventing herself, as she steps back from being a fixture in the community at the helm of a major business, a woman in business with a public persona.
That includes turning her attention to Perridiso Estate Winery on Warner Road, which she co-owns with her partner Joe Perri. Business there is starting to rev up, with an increased number of tastings, even during the pandemic. "I'm looking forward to getting more involved with that," she says. And in addition to still being connected to people, the winery has a lovely greenspace around it, which will give her an opportunity to indulge her love of gardening.
As much as she is looking forward to it, she admits to the bittersweet feeling of seeing the closure of what has been an institution in town.
"It would have been nice to see it continue, to have someone else take it over. It's sad to see it go, with so many of the loyal customers we've had over the years, even people from Toronto who come here to buy their plants," she says.
"It will also be sad to leave our staff. We're grown together over the years, and spent a lot of time together, through our ups and downs, problem-solving together, rejoicing together. We're slowly starting to see this (closure) as a reality, and I think that's the hardest part about it."
The property has been for sale for about five years, and there have been several offers in that time that didn't pan out. The deal with Two Sisters has been in the works for some time, long enough for her to be unsure there would be a full 2020 season for the garden centre.
Tonie says she learned when she was selling her Queen Street home, not to count on a deal until it's final — she had a deal set to close, only to have the buyer back away "in the 25th hour," and had to begin the process of selling all over again.
So she wasn't surprised when, after thinking the garden centre might close in June, to have plans change, although the sale has been finalized now.
Along with the challenge of running a business with an uncertain closing date looming, staff she had the additional challenge of operating safely during a pandemic, but thanks to Miguel, who runs a growth management business, with the garden centre one of his clients, they were able to move quickly to online sales, offering outdoor pickup and delivery. "It's been an interesting time," says Tonie.
Once opening was permitted, there were customers who wanted to visit to see plants before purchasing, she says, but online ordering has remained popular, and with so many people focusing on home and garden improvements during the pandemic, "it was actually a good year for the garden centre."
With Miguel's expertise, she adds, "we were able to do a quick switch, and that really helped us."
They actually ran out of triple-mix soil in May, a staple at the garden centre, and with other businesses also having difficulty getting some supplies, they worked together and helped each other out. "There was good cooperation between businesses," she says.
Mori Nurseries, she says, at one point included 1,000 acres of nursery stock in Niagara, and about that much more across Ontario, in B.C. and in the U.S., where they grew everything from cuttings. Most of it has been sold off in the last five years or so by her father-in-law, Leno, with the Niagara Stone Road property the last to go, except for one parcel on Line 1. The property with the house where Leno, now 93, grew up, has been sold, and everything now remaining on the property, including the family home where Leno's children were raised, will be demolished.
Marotta told The Local last week, when he spoke of putting his John Street properties up for sale, his plan is to turn his attention to "winery facilities" on the Niagara Stone Road property.
"We're still in the planning stages," he said. "I don't know what we're going to do with with it."
He said he is looking at expanding wine production on the property, which he took possession of last Thursday.
With the acreage within the Ontario Greenbelt and zoned for agricultural use, that's one of the few uses that would be permitted on the site. "It's a great spot for a winery,' says Tonie.