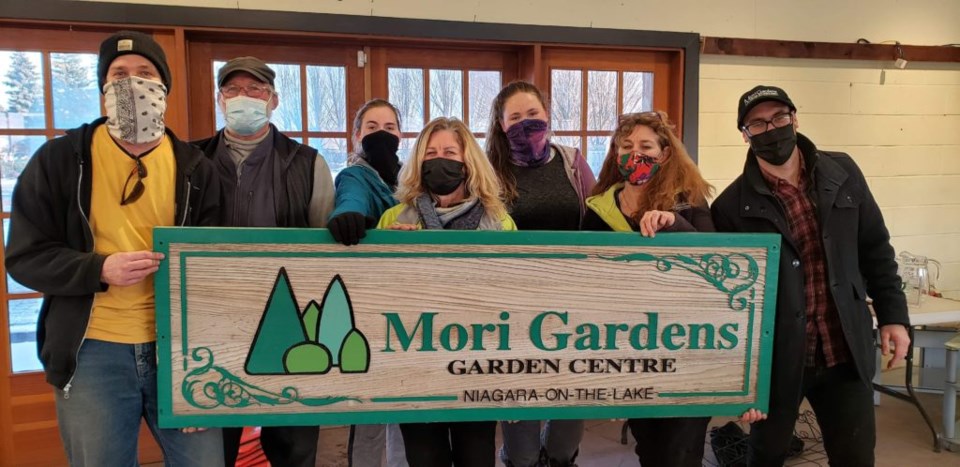 Mori Gardens has closed its doors for the last time.
The next step is a bulldozer to demolish some of the buildings on the property, although part of the garden centre will remain.
For now, at least, the Mori Nursery building on Niagara Stone Road is expected to remain as an office, and the portion of the garden centre where Tonie had her office, to the right of the large yellow entrance to the garden centre, will also stay.
The Niagara Stone Road property, which had been for sale for about five years, has now passed into the hands of Two Sisters Corp., owned by Benny Marotta. Marotta told The Local last fall that he planned to turn his attention to "winery facilities," and expanding winery production on the property.
Although Saturday was officially the last day, and a busy one with sales to help clear out the property, she and other staff were still working Sunday, and Monday Tonie was doing deliveries to get rid of some final items.
They had been using social media to post items that were for sale, and then, finally, things they were giving away, such as counters.
Many people were stopping by to take advantage of the sale, and also to say thank you and to pick up something as a memento of the local garden centre, which had been serving locals for about 45 years, says Tonie.
"So many people have told us over the last few months that this was their happy place," she says.
It was hers as well. "I used to bring my kids here when they were growing up."
Her "girls," long-time staff members, have found jobs at Country Basket Garden Centre in Niagara Falls, and her son Miguel, who has a master's degree in business and had looked after the marketing for the garden centre, is now working for another local greenhouse operation in e-marketing.
"That makes me feel satisfied, knowing everybody's taken care of," she says.
The knowledgeable staff at the garden centre, some of whom have been there for more than 25 years and have provided valuable advice helping locals plan and landscape their gardens, will be hugely missed in the community, as will the business itself.
Tonie has always believed in giving back to the community that supported her business, and has contributed $20,000 to $30,000 a year on several important fundraisers, including an annual Passion event for Wells of Hope, garden tours, and the Rotary Holiday House Tour.
The two businesses, the garden centre and the nursery, were entirely separate entities, and as owner of Mori Gardens, Tonie had a long lease on the property, and didn't have to give it up, but didn't want to stand in the way of the sale.
She still has some work to clean up, and then will be ready to turn her attention to Perridiso Estate Winery on Warner Road, which she co-owns with her partner Joe Perri.
There is no break for her, no rest in between, but she likes being busy, and is looking forward to getting more involved with Perridiso, and moving on to the next stage in her life.