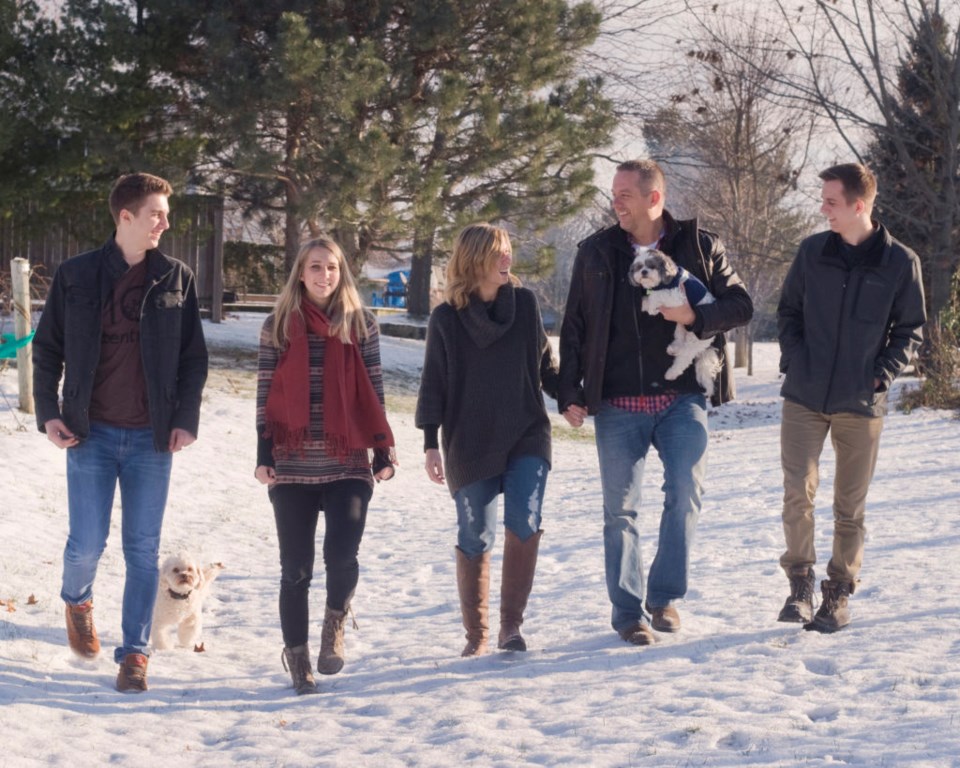 The statistics are grim, the experience even more so, but for many families mental health is a serious issue.
Experience and diagnoses of anxiety and depression in children are growing exponentially. A recent report by Children's Mental Health Ontario says parents who stay at home to care for their children who are suffering from anxiety cost Ontario's economy $421 million annually. "That's a huge loss to the economy," says Kim Moran, CEO of CMHO.
As many as one in five children and youth in Ontario will experience some form of mental health problem, according to the CMHO.
Kevin and Debbie Krause know all about the losses caused by a child's mental health issues.
"Anecdotally the numbers are staggering," says Kevin. "On the one hand you feel you're not the only one, on the other hand you feel so alone it in it."
Their son Noah is 20, and now says mental illness is a simple fact of his life. "Nobody shames you — my generation totally gets it. They've already been through it, or they know someone who has," he says with a shrug.
But life for Noah hasn't always been so simple.
"The summer before Grade 5 we knew something was really wrong. He was melting down, he would not go to ball hockey," says Kevin, an open-hearted and engaging man. "He started pulling out of everything, quit teams — all the things he was excelling in he quit."
Noah was also missing day after day of school, unable to leave his bed. "School attendance was a big, big problem," says Debbie, a straight-talking, intelligent woman.
"We weren't thinking serious mental illness yet," says Kevin, "but we started the journey of getting him the help he needed."
They took Noah to their family doctor, worked with teachers and the principal of Noah's school, and tried to find solutions. There remained no diagnosis for the boy's avoidance and isolation. Local services were of little-to-no help, with only one (officially retired) child psychiatrist available for all of Niagara.
"The GP looked at me and said, 'Okay what do you want me to do?,'" says Debbie. "I was at a loss. That's part of the story too," she continues. "The community resources: people don't know about these things. Our doctor was as frustrated as we were. Why is there no path to follow for doctors? We have a wonderful family doctor but his hands were tied because there is nothing available for kids. We talked to guidance counsellors and other resources but Noah was so low on the list because of so many worse cases."
"You cast your net wide, talk to everyone and hope someone has something to help," she says. The family sought the services of a day program at McMaster Hospital in Hamilton. Noah was assessed by a psychiatrist to get into the program, and diagnosed with anxiety.
"It started at 8 a.m. and went all day, with him interacting with professionals the whole time," says Kevin.
"I took him every day for two weeks. I pushed him through," says Debbie, who left her job as a supply teacher to be able to spend the days in Hamilton waiting for Noah. Sadly, there was no improvement.
"Slowly it got worse and worse; his attendance in Grades 6, 7 and 8 was terrible. One year he had more than 50 days off school," says Kevin sadly. "I would leave for work every day before 6 a.m., and would call before school and ask if Noah had left the house. When the answer was no, my gut would just sink." He goes on, "There were times I would drive home determined to convince him to go to school. And then I would leave even more defeated. Every day I had that sinking feeling in my stomach. I never felt good at work — never."
Noah didn't feel good either. He spent his days sleeping, or playing video games. "He just played video games all the time — we felt like terrible parents but disciplining someone who is suffering is very difficult," says Kevin, hanging his head.
One day, Debbie was at the gym chatting with a woman, who introduced her to a new option that had never come up before. "Talk to everybody," she advises. "That is really the only way anyone is going to get help. If I hadn't talked to a woman at the gym I never would have learned about Rogers."
Rogers Memorial Hospital is a very reputable mental health care facility in Wisconsin. It happens to be the only U.S. mental health facility covered by OHIP, according to the Krauses.
"Kevin and I looked at each other. We were not convinced we could do it," says Debbie. "That changed when things got really desperate." Noah was not only not improving, but getting worse. His parents feared for his safety.
"We called Rogers and they said they could take him," says Kevin. "We went to a restaurant with Noah and said 'what about this?' We were surprised he didn't fight us."
Noah agreed to go to Rogers in early 2013. The family met with the manager of the residential program who explained to Noah what anxiety would look like: it would pull him out of everything. "They were very blunt with Noah," says Kevin. "They said, 'If you want a better life, you're going to have to make a better decision.'"
"This hit us like a ton of bricks. We left there thinking, 'Is Noah going to respond?'"
They were given a date in February. Noah said he would go. They went to Disneyland for a week as a family; when the plane landed on their return trip Debbie and Kevin turned around to take their son to Wisconsin.
"He was there for 76 days. We went every other weekend to visit," says Debbie. They often drove, taking extra days off work if they could. Of some comfort was the fact the hospital is set in the scenic town of Oconomowoc, on a lake surrounded by cottages. "It's just beautiful," says Debbie.
Intensive exposure therapy, access to a therapist and psychiatrist every day, and full-time care and treatment seemed to be helping Noah. "By the end they were taking him to the local high school and making him talk to strangers," says Kevin. "It was exposure therapy. He did his school work at the same time; Eden [High School] was really helpful and sent all his work along."
"He got a pretty good handle on his anxiety — but when he came home the wheels came off the bus," Kevin continues. "He started to get frustrated because he had done all this work and it wasn't working."
"It ties your hands," Debbie says, referring to mental illness.
Things at home were difficult for everyone. Relationships were strained — "The marriage takes a beating. We weren't good for each other. We both tended to shy away from people. We just didn't want to go to social activities," recalls Kevin — and Noah's older sister and brother were suffering too. "His sister was angry," says Debbie. "His brother said, 'I just feel sorry for Noah because I would just hate to have his life.'"
"He came home in May of 2014 and by the end of the year it was a train wreck," says Kevin. "Out of desperation we called Rogers again. They took him back in January of 2015, for 56 days." This time the treatment was different: Noah was finally diagnosed with ADHD. "That was the turning point. He started taking that medication and he was a different person," says Kevin.
Noah came home and changed schools, for a fresh start. "The schools worked together to support the change. The staff at Governor Simcoe was amazing," says Debbie with relief. "All the schools were willing to do anything to help him. There was lots of support from the schools."
Noah went back to school and finished Grade 11 and Grade 12, getting all the credits he needed to graduate. His parents encouraged him to get a job and be self-sufficient, so he applied at McDonald's. He's been there on and off since, recently being promoted to crew trainer.
He still has the occasional rough day, but it's different now. "For the first time he said, 'I'm having trouble; help me.' We made a doctor's appointment and went," says Kevin.
"I ask him how he's feeling, if he's nervous, if he's anxious, if he's depressed," Kevin continues. "He answers. It's been good; he and I have connected a bit. We watch hockey together, go to the car show. I love hanging out with him," he says with joy and amazement. "He's so smart; it's so interesting to listen to him. I told him, 'I love listening to you.' We've created a nice relationship."
"We were robbed of that between the ages of 10 and 17," says Debbie. "He just wasn't Noah. He was gone."
Lyndsay Gazzard also knows about the challenges of mental illness. "I've got a lovely bunch of coconuts in my head," says her bright and precocious 12-year-old daughter Maya with a grin.
In Grade 4, Maya's teacher noticed she had developed a stammer, which he believed might have been brought on by anxiety. They went to see their family doctor, who spent a lot of time with Maya, says Lyndsay, and recommended a consultation with the region's child psychiatrist, Dr. Ken Santhers. "It was two to three months before the introductory meeting," recalls Lyndsay.
Meanwhile Maya was struggling. She had been forced to change schools, and the transition was difficult. "After Parliament Oak closed down it was over for me," she says. "That place was home for me. When they closed it down, I was forced to go to a new school, and I hated it. There were tons of groups, like gangs almost. It was terrifying."
A horrific bullying incident didn't make things any better. "I was afraid most of the time, and had to change. I started to dress differently. It was awful," she says. "I was just lost. I had no hope. I was in a dark rut. I was empty." This is a 12-year-old girl describing her 9-year-old self.
While waiting for the appointment with the psychiatrist, Lyndsay asked if counselling was available at the school. "Maya was set up with the DSBN counselling system," she says. "With three weeks left, a new counsellor started — then they left and there was a four-month gap. She saw counsellors a total of six times in one year."
"I saw her a few times and felt better," says Maya, "but then she was moved from our school. Other counsellors didn't help. I had a lot of trust issues — I was afraid they would leave. I was just kind of frozen — I never really felt complete."
Santhers diagnosed Maya with anxiety and potential ADHD and potential OCD, says Lyndsay. "He felt they might become more prevalent." She continues, "He said she's just wired differently, and she's an alpha female. He told her, 'You'll consider them stupid, and they'll consider you odd.'"
For Maya's "physical and emotional safety," says Lyndsay, they decided to change schools. The small class sizes and individual attention at Royal Oak Community School seemed to suit Maya's temperament better.
In the meantime, "We went to Pathstone [Mental Health] and had an intake assessment within a month. Three months later, five months later we still didn't get a counsellor. In the meantime Maya called a crisis hotline due to thoughts of self-harming," says Lyndsay. "We had found a private counsellor through recommendations from the school. Maya saw her every two weeks and created a bond. But she felt abandoned by the former counsellors."
"The counselling was helpful," Lyndsay hesitates, "but things started to escalate with adolescence. Her OCD manifested in obsessive negative thinking. Medication didn't seem to help much." There was another call to a crisis hotline. "The Pathstone crisis line is excellent but if a child calls with thoughts of self-harm they should intervene and put them in a system for immediate help," she says. "They just say 'call us back if you need to.' I felt very let down. I totally understood, but that doesn't help when you don't know what to do and where to turn."
"The crisis hotline helped," says Maya, "but then I developed more trust issues, because it would only ever be over the phone, I was never going to meet them."
Lyndsay is no stranger to mental health issues. She grew up in Belfast in the 1970s, surrounded by violence, and as a result has PTSD and anxiety. "I had seven years of counselling, and medication has helped," she says. "I accept it's something I have to do for the rest of my life. I thought medication was weakness. I was functioning but not really living. I'm happy to take meds."
Lyndsay recounts a high-level business meeting where, when she roused the courage to ask, it turned out eight out of 10 executive-level, successful women said they were on medication for mental illness. "I just see medication as another tool in the toolbox."
Meds were a harder sell for Maya in the beginning. "She struggled for a bit," says Lyndsay. "She pretended she was taking it, and hid it. She didn't want to seem 'weak.' Then she had a serious downturn and realized she needed to keep taking the meds."
"It's a feeling of living in a dark hole," says Maya, "The meds helped a bit. I took a few downturns at the beginning," she concurs.
With medication adjusted, a solid routine at school established, and private counselling sessions ("We're in the private system because we cannot access public care," says Lyndsay), Maya is thriving. "She is a challenging and amazing child," says her proud mother.
Other factors that contribute to Maya's mental wellness include Muay Thai, a type of kickboxing. "We worked to ramp up her social and physical activities to empower her," says Lyndsay. "She goes to St. Catharines two to three times a week to practise. It gives her a tremendous sense of empowerment." She continues, "We are working on introducing her to groups in St. Catharines to get her used to kids in the city before she starts high school there."
The Gazzards and the Krauses are strong advocates of speaking out, telling the whole story, sharing the good and the bad, in the hopes of minimizing stigma, and also finding new solutions through collaboration. "It's really hard for all parents to deal with these things as parents," says Lyndsay. "We should talk about it. I'm a bit of an advocate for kids and youth issues in town. I'm so happy to use my voice to help."
"Take care of yourself, and talk to people," is Debbie's advice. She recalls her chance conversation at the gym. "If we hadn't found Rogers," there is a long pause. "They saved his life."
"Mental health is such a huge issue," says Kevin. "Why is mental health not health? Any other kind of chronic disease is treated and covered. There is still stigma out there." He and Debbie now suffer from PTSD themselves, and have had counselling.
"I think about half the planet has mental illness," says Maya pragmatically. "I'm not ashamed of me."
Lastly, Lyndsay makes a grassroots suggestion: "I would love a support group of people who say I've been through this too."
If you or someone in your family is struggling with mental illness, visit your family doctor. Other resources include calling Contact Niagara at 905-684-3407 to be referred to Pathstone Mental Health.You can also find resources at https://www.cmho.org and https://www.camh.ca.