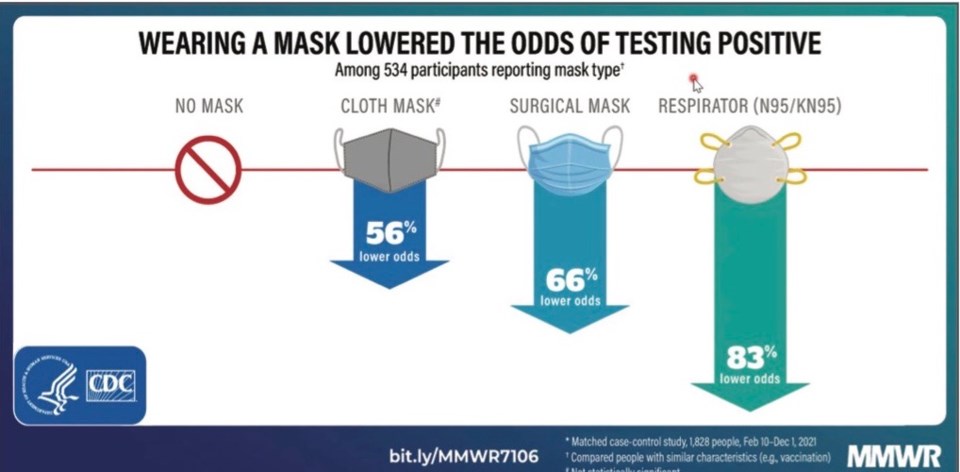 With the number of COVID cases and accompanying hospitalizations starting to creep up again in Niagara, a regional order to bring back a mask mandate and proof-of-vaccination requirements remains on the table if needed.
Dr. Mustafa Hirji, Niagara's acting chief medical officer of health, says he is hoping the region can continue to align with the provincial decision for individuals to make personal decisions about their risk, but he is disappointed the messaging from the province hasn't been stronger in promoting voluntary wearing of masks.
"It's a little frustrating that they have been basically radio silent about COVID over the last couple of weeks," he says.
And he is "absolutely leaving the door open for masking and proof of vaccinations," should COVID cases go sideways.
Outbreaks have been increasing in Niagara since mid-March, even before restrictions were lifted last week. Hirji says he's
hoping that information alone will be enough to encourage people to wear masks, and get booster
vaccinations, which remain the best tools in stopping the spread of infection.
Most of the outbreaks are in hospital facilities, long-term care and retirement homes and other congregate living situations, he says.
It's difficult to know what's happening in schools, with no record of infections unless parents report them, but it's likely there are a fair number of cases "that I'm afraid we're blind to."
Hirji often compares what is happening in Ontario and across the country to other countries that are typically ahead of Canada. Countries in Europe, such as France, Austria and Switzerland, are broadly similar to Canada, he said, in the way they have regulated cases, and now show a surge of infections, hospitalizations and intensive care admissions after lifting restrictions. Their cases are close to numbers during the peak of omicron.
Some European countries have chosen to reinstate restrictions, such as a mask mandate, as a result of their upward trajectory.
Hirji fears the same might happen in Ontario, including an increase in deaths, and refers to the already-increasing numbers as a "new wave," saying it could be as bad as the last one.
"Just because we have a lot of immunity (through vaccinations) out there doesn't mean we can expect hospitalizations will be okay, but they won't go up as much as they did in the last wave. If there are hospitalizations, a small number of people will die. I do worry suddenly we'll see an increase in deaths as we go through this next wave. We want to prevent this, to prevent human suffering."
And people who come out of the hospital may have long-COVID, he added. "It's important to prevent this."
In Niagara, testing indicates a 14 per cent positivity rate, far higher than during other waves. Outbreaks are up 160 per cent since mid-March, hospitalizations for people with COVID are up 94 per cent in the same time period, and the number of patients primarily being treated with COVID has jumped by 182 per cent.
The data from wastewater testing also shows an upward trend, both in the region and across the province, he says.
Hirji also presented data that indicates an unvaccinated person is 37 per cent more likely to become infected with COVID, 490 per cent more likely to be hospitalized, and more than 700 per cent more likely to be admitted to intensive care.
He showed figures that indicate those in the lowest income categories may suffer the most from COVID, including more deaths. They may not have easy access to good health care, and may not seek treatment as quickly. "It disappointing that those who are the least well-off will feel the greatest impact of COVID," he says.
In addition to stronger messaging about wearing masks and getting fully vaccinated, Hirji says he'd also like to see the province put out more messaging about how to access medical treatment, and make pathways to treatment easier.
"We also need to build a culture of staying home if you're sick, including providing pay for sick days." Those without sick pay "are more likely to come to work and spread infections."
The province should already be working on a plan for re-introducing a mask mandate, and proof of vaccinations, if necessary, two initiatives Hirji says have a lot of public support.