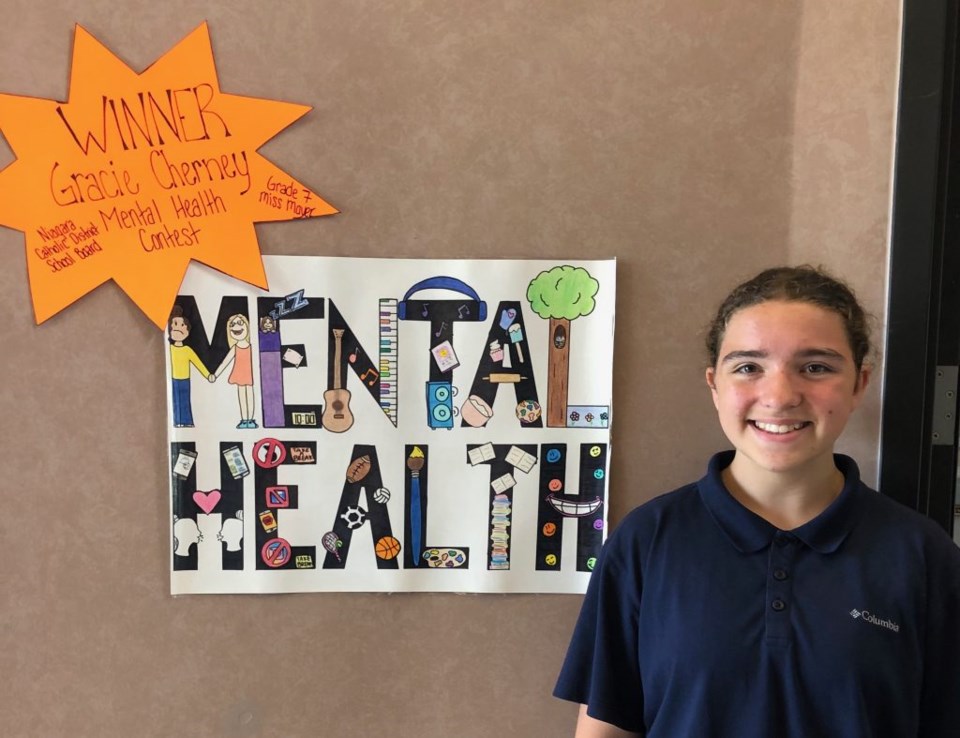 A young teen from Niagara-on-the-Lake was recently chosen the winner of a Catholic school board mental health contest.
Gracie Cherney, a 13-year-old in Grade 7 at St. Michael Catholic School, had the poster she submitted in the contest chosen from more than 700 entries in the Grade 7/8 division, explains Jenny Reid, a child and youth worker with the Niagara Catholic District School Board.
Students were asked to enter a piece, if they wished, in the contest for a chance to win, Reid says. "The theme for this year was Renew, Rebuild and Restore, which focused on what students can do to improve or maintain good mental health. The students could submit a video, poster, song, poem, or digital art piece."
Gracie says her poster submission displays all the activities she and other teens enjoy doing, activities that help to contribute to mental health.
Last year, she says, she had an assignment that used letters to express an idea, and in doing some research, discovered similar posters demonstrating healthy activities.
She put those two together, and came up with the idea of incorporating what she and her friends like to do, that can contribute to mental health, into letters that spell out mental health.
"My idea was that taking some time to do things that make you happy can prevent mental issues, and that it's super important to take care of yourself."
Included on her poster are drawings of some of her favourite activities, including baking, reading, sports, arts, nature, and one really important to her — music.
She also incorporated reminders of help that is available, such as Bell's Let's Talk, a well-known program designed to break the silence around mental illness, and support mental health across Canada; a kids' help phone line, and a drawing of two kids talking to each other.
Gracie says her love of music began when she was a little girl. She can play a few musical instruments a little bit, but listening to music is one of her favourite activities, and helps her relax, especially when she's doing school work, so it's well-represented on her poster.
"I've always loved music," she says. "Music makes me happy," and that is the point of the mental health exercise — to encourage kids to make time for activities that make them happy.
She has a record player in her room, and a collection of vinyl records and LPs, mostly from the '90s, listing Queen, Van Halen, The Killers, an American rock band, and INXS from Australia as her favourites. Her uncle has a large collection, she says, and they swap records, "so I have a variety to chose from."
Gracie also loves sports, which help keep her physically active.
She plays soccer with the town's minor soccer league, and has fun playing football with her friends during recesses at school.
Because many of the activities she has included on her poster are ones she enjoys, they are naturally part of her life, but there are others she makes a conscious effort to remind herself are important, such as sleep.
"I do sports a lot, I listen to music all the time. But sleeping is important too. When I'm doing homework at night, and it's getting late, I tell myself I should probably be sleeping."
Most likely to make her stressed, she says, are studying for tests and big projects at school, "but I get them done," usually with music playing while she works.
Because of the range of activities promoted on her poster that make her happy, she explains, "I'm not super stressed. I can get stressed, although not very, and not often."