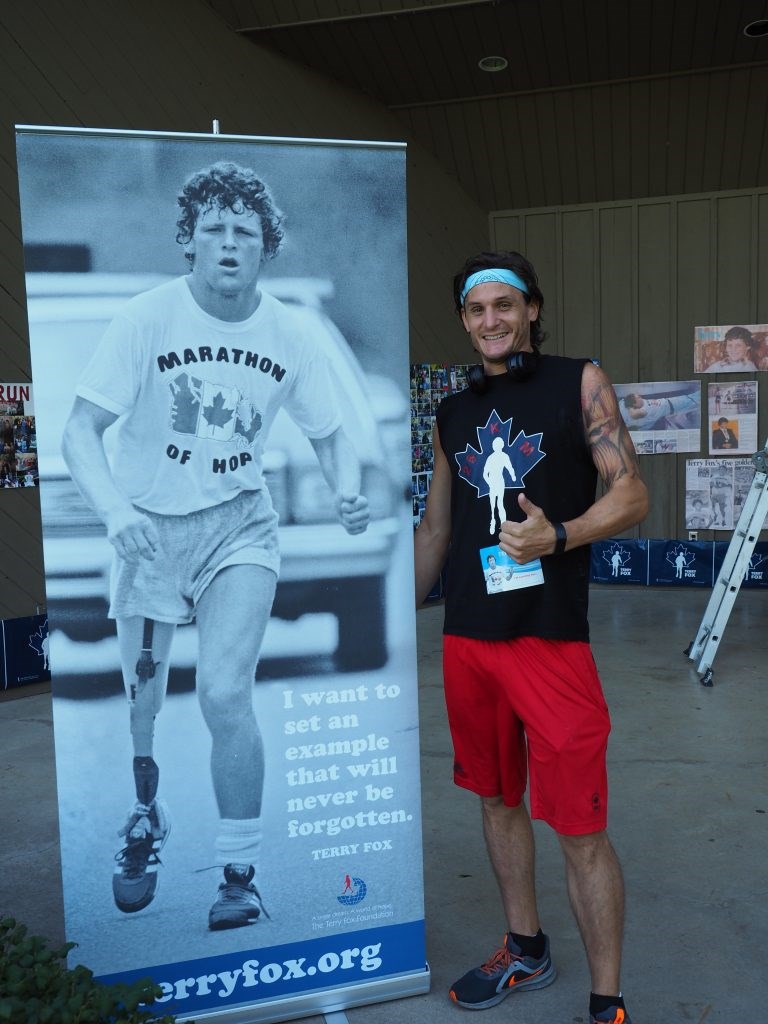 For the last few years, Sean Wright has pushed himself to run further, and raise more money for the Terry Fox Foundation.
This year, he intended to run 25 kilometres, but "a little bit of confusion" meant he ran an extra time around the five-kilometre route.
Wright, now 38, was an 18-year-old Niagara District Secondary School student when he was involved in a collision at Line 1 and Townline Road. The driver of the car he was in lost control, went into the ditch and hit the guardrail. Wright was thrown onto the road from the backseat, and sustained a severe head injury.
He graduated from high school, and worked hard to become a registered massage therapist at college. In recent years, he has been working at 124 Queen, but has been out of work recently due to COVID, although he hopes to return soon.
His first Terry Fox run was in 2016, when he walked five kms.
But then he began training, and in 2018 was able to run 10 kms in 50 minutes. He completed 15 kms in one hour and 10 minutes in 2019, 20 kms in one hour, 39 minutes in 2020, and this year, ran 28.67 kms in two hours, 27 minutes, raising about $600.
It was hard work, he said, and his mother Patti, who was watching him and counting laps, thought he had one more to go — his parents are Patti and Bob Wright, who retired from full-time ministry in 2015 after 17 years as Rector of St. Mark's.
"My body told me I was going way too far," he said, but he kept going, determined to reach his goal. "I like running, but I didn't plan that."
Sean says running runs in his family — his grandfather ran several marathons, his mother was a runner, and his dad a runner and cyclist. So he's been running all his life, although as a sprinter in school, and didn't begin training seriously until recently.
He says when he was growing up, he was "the little scrawny guy," and came to the realization that he wasn't going to accept that "I can't do it. I can do it."
He has focused on a positive attitude. "Believe in yourself" is a message he lives by, and would encourage others to as well.
College wasn't easy, because of his brain injury, which makes him forgetful, he says, but he wasn't going to give up.
"I always had the drive to do better, and it took me an extra year, but I finished."
When he thinks about the most recent run, which was tough, he says, "Terry didn't have to do what he did, but he wanted to. I wanted to do this. Anything's possible if you try. So I'm trying."
He remembers his parents telling him they saw Terry Fox on his Marathon of Hope through a small town near Ottawa, and feels now "it's cool to have someone like him to look up to, and to push me."
He says he's grateful to his friends and Terry Fox supporters, as well as his older brother, Ben, whom he looks up to more than anybody, for helping to push him.
Sunday was Terry's day, he adds, and, "I was kind of running alongside with him."
Sean can be reached at [email protected].