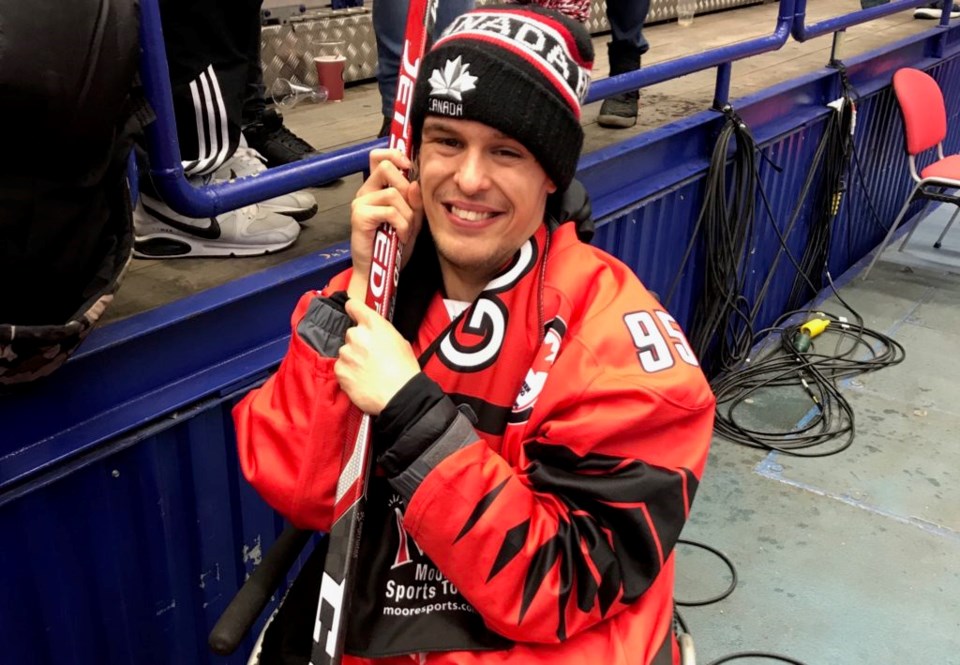 Calvin Goodman has just returned from a 10-day whirlwind trip that included the thrill of a lifetime — he was at the world junior hockey championship game in the Czech Republic, where he watched Canada beat Russia 4-3.
Not only did the Canadian juniors come from behind to win the gold medal, down three to one at the start of the third period, but when they won, Ice Dog Akil Thomas, who scored the winning goal for Canada, skated over to Goodman and handed the 24-year-old his stick.
Goodman is an avid hockey fan. He was there to watch the match-up with his father Paul Goodman, winding up a trip they took with a group of 13 and 14-year-olds from Niagara, including Paul's brother Jeff and Jeff's
grandson, one of the hockey players travelling to the Czech Republic, Prague and Munich to play hockey. When Paul learned there were two seats not being used, he asked Calvin if he wanted to go along, and thus they ended up spending most of the trip in arenas, and loving it.
"It was Calvin and I, and a busload of parents and young hockey players," says Paul. "Calvin had a great time. On the last day, he said he would have liked it to last longer."
Paul takes Calvin to hockey games whenever he can, both Ice Dogs and NHL match-ups, and Calvin, always sitting in the wheelchair section close to the ice, considers several of the players "good friends," including Sydney Crosby, who spent some time with Calvin after a Penguins game — even taking him to the dressing room —and the Hamilton brothers. Dougie Hamilton now plays for the Carolina Hurricanes and his brother Freddie is a retired NHL player.
Paul says because of his seat in close proximity to the ice, Calvin seems to attract attention, and the NHLers are nice guys. And Calvin is "a hoot" to talk to, very personable, and very knowledgeable about hockey and other sports — about a lot of subjects, says Paul.
Being at the semi-finals, and the bronze and gold medal world junior games, says Paul, "was quite something."
He says Thomas told him after the win that he recognized Calvin from Ice Dogs games.
And then, the day after the gold medal game, they arrived at the airport to find they were travelling on the same flight as the Canadian junior team.
"It was so much fun. There was a lot of hooting and hollering going on, and when we got off the plane, we got some photos with them."
Calvin, after an exhausting flight Monday, was still trying to process all that had gone on during the trip and on the airplane home.
"Wow! I just don't know what to say about it. I can't put into words how great it was. Just going out and seeing the world was the best part, meeting new people, and the hockey. Of course the hockey."
Calvin and his twin brother, Daniel, grew up in NOTL, going to Col. John Butler School. They attended Holy Cross Catholic High School in St. Catharines because both boys, excellent students, required some help from an educational assistant, and the District School Board of Niagara couldn't promise one would be available. The Catholic board jumped in and said they'd make it happen, says Paul.
Daniel is at university, while Calvin, who tried Niagara College but found it too much of a challenge, is pursuing his own education, at home, on a computer. He writes music, and also has a blog — he and Daniel are both writers and heavily involved in music. Daniel walks with a cane, and uses a wheelchair only for distances, so he's able to live quite independently, while Calvin requires more help.
They now live in Port Weller, on the NOTL side of the bridge, and have friends and family in town.
"Our heart is still in NOTL," says Paul. "We still consider it home."
Reminiscing about the trip, Calvin says, "I was happy all the time. It was all very exciting. They are all such nice guys."
He can't wait to go to the next Ice Dogs game — he's going to take the stick Thomas gave him and ask him to sign it.