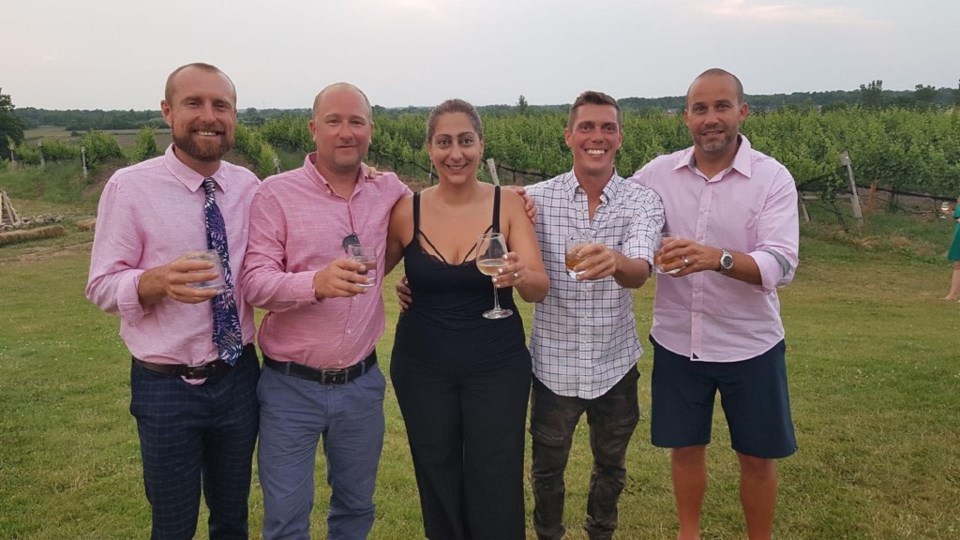 Maria Mavridis has been nominated for the 2021 Women in Business community impact award, which recognizes the leadership and success of women in the Niagara business community.
Although the businesswoman is known locally as the operator of the Corks Wine Bar & Eatery on Queen Street, and Firehall Flame, across the road, she has become increasingly familiar in recent years for her dedication to helping organize fundraisers for important causes.
Her award nomination is for her work with Anchor Niagara, a local events planning company which she founded to partner with charities and other organizations looking for help with offsetting costs for fundraisers, festivals or other events.
Mavridis says many people attend fundraisers assuming items such as food, venue and entertainment are donated. Often they are not, and her goal is to partner with those who provide such services and people planning events, to ensure fundraisers are successful while supporting local businesses.
Most events were put on hold during COVID, but as restrictions loosened, Mavridis says she began hearing from not-for-profits who were suffering from having to cancel their fundraising events, begging her to please help out.
"How could I say no?" she asks. "I had to do something." And she did — she has resumed organizing events. When she began, however, it was with 50 per cent capacities for venues.
She recently held one of her usually twice-annual Designer Purse Bingo events — the last one was held in the fall of 2019 — to benefit Hotel Dieu Shaver Health and Rehabilitation Centre, and although she was concerned capacity restrictions of 50 per cent would limit its fundraising success, the reality turned out to be just the opposite, she says. Those who attended the sold-out evening were so grateful to be out, and having so much fun, almost double the pre-pandemic amount was raised.
Anchor Niagara is now selling tickets for two big events, the next one coming up for the Pink Pearl Foundation, a registered charitable organization that provides support, facilitates connections and empowers young women who are courageously overcoming the social and emotional challenges of a cancer diagnosis.
It was founded by ovarian cancer survivor Elise Gasbarrino, who at the age of 21 received treatment at Juravinski Cancer Centre in Hamilton for ovarian cancer. She discovered there were few women her age to talk to about her situation, and decided to organize some programs for the younger age group, including wellness retreats and social events, providing a means for them to conquer their issues together.
Mavridis, with this and other fundraisers she has organized or taken part in herself, is fulfilling a promise she made to her mother Vera, who died of breast cancer at the age of 45. Vera had lived with the cancer diagnosis and its progression for 13 years, and during that time, she volunteered for several organizations that raised money to fight cancer, promoted awareness of the disease or offered support to those who were going through cancer treatment. She hoped her daughter would carry on those activities when she was gone.
As Mavridis was putting some finishing touches on the Eat, Drink, Pink! event this week, including responding to lifted restrictions that doubled the tickets that could be sold, and adjusting plans to accommodate the increased number of people, she learned her aunt had died of cancer. Mavridis had recently returned from Greece where she had travelled to see her aunt, who was a lead doctor at an oncology clinic, and was able to have a good visit with her. Maria's father, Bob, left for Greece Friday to see his sister, and Maria says she spent the day hoping he would get there before her aunt passed, which thankfully, he did.
It makes her even more committed to raising money to support women going through cancer treatment, and grateful to double the number of tickets she can sell, she says.
Eat, Drink, Pink! is being held at the Ravine Vineyard conference centre, Thursday, Nov. 11, at 6 p.m., with a three-course dinner, music, a silent auction, a swag gift bag and a beautiful view of the vineyards. Proof of vaccinations is required. Tickets are $89, and are available at https://allevents.in/niagara-on-the-lake/eat-drink
-pink/10000162307180145.
The next Anchor Niagara event, an evening of comedy with local boys Joe Pillitteri and Jeff Paul at White Oaks Conference Resort and Spa on Nov. 26, also has tickets available, since capacity limits were lifted this week. "That means we can sell more tickets and make more money," says Mavridis.
The two comedians are planning on roasting community leaders, although Mavridis is remaining tight-lipped about who the subjects of the roast might be.
The event is a fundraiser for the Niagara Community Foundation, at Pillitteri's request, and also for Pathstone Mental Health as requested by Paul.
It begins at 7 p.m., and following the comedy evening, will include a Video Dance Party.
Proof of double vaccination must be shown.
Mavridis has one more event she's working on — a Boyz II Men concert, also at White Oaks, on Feb. 5. For more details, visit https://www.eventbrite.ca/e/boyz-men-live-tickets-162111968261.
With the work Mavridis does, partnering with charities and businesses to maximize fundraising efforts, it is not surprising she has been nominated for a community impact award, although she is uncomfortable talking about it.
Although it "100 per cent" feels good to be nominated, she says, "it also feels a little awkward. We were taught growing up you do what you can do for your community, and for your soul. I try to do things on the down-low. This is humbling, and it's nice, but you don't do things for a pat on the back, you do them because you want to help. That's how we were brought up."
However, she is looking forward to the awards presentations, and being in a room surrounded by women who are leaders in the community. "We can look around and we all know each other," she said. "It's going to be great. And my dad's going too. I told him there will be some men there, but he would be there anyway. He's the reason I have the confidence to do what I do. I couldn't do it without him."
For more information about the presentation of the Women in Business awards, Nov. 19, visit https://www.eventbrite.ca/e/2021-women
-in-business-awards-wiba
-tickets-170215732839#tickets
Janice Thomson was also nominated, but unavailable this week. Read about her nomination in next week's Local.