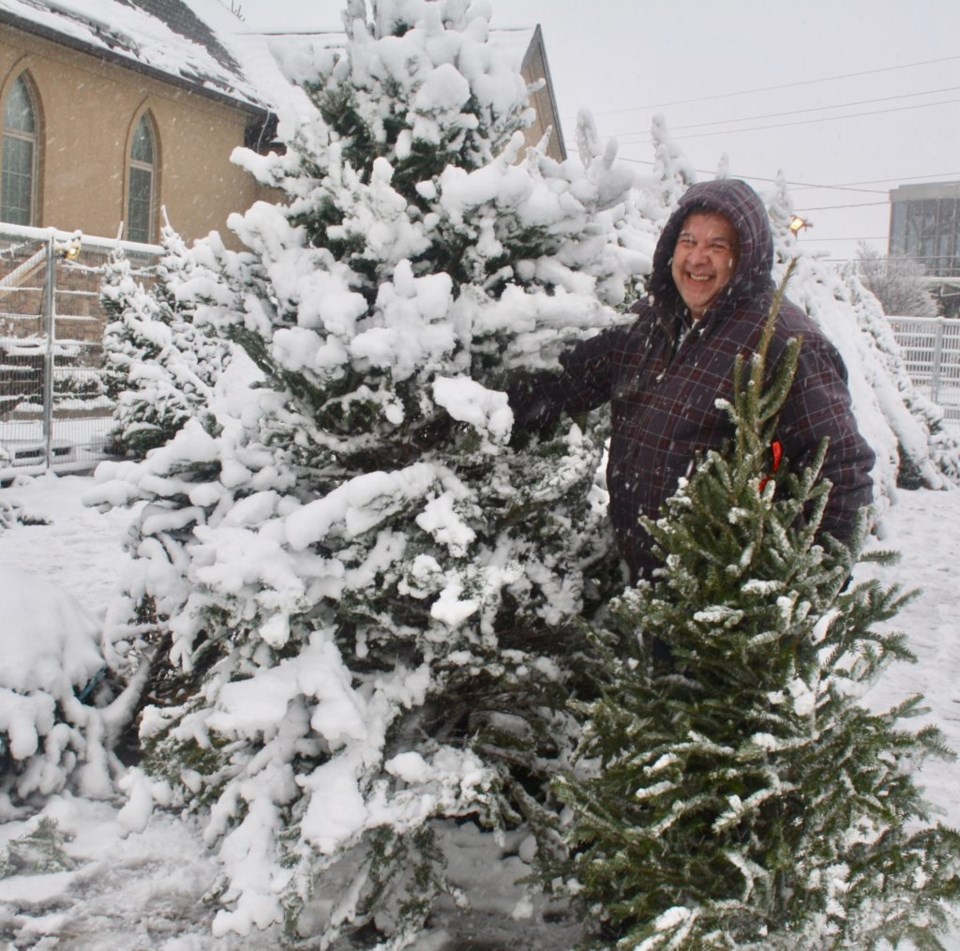 Local Lions Clubs' Christmas tree sales are underway, all in the name of giving back to the community.
The Niagara-on-the-Lake Lions Club has a new home for their Christmas trees this year, but it's working out better than could have been imagined, say organizer Terry Flynn.
Their inventory of 320 Christmas trees was unloaded in the parking lot of Cornerstone Community Church at the corner of Field Road and Niagara Stone Road last week — the church calls it their town campus, with their church services held on Hunter Road at their Orchard campus. By Monday, they were down to half that amount, says Flynn, who is predicting they could be sold out by Dec. 10, which would be unusually early.
The tallest and most expensive trees are all gone, he says.
The club has used the parking lot of Niagara Fruit and Vegetables on Four Mile Creek Road since it first started selling trees, says Flynn. They took over from the Virgil Lions Club, which folded, about 25 years ago.
"I saw the writing on the wall last year. And lo and behold, we got the news we'd have to vacate," says Flynn.
Niagara Fruit and Vegetables has been sold to Niagara Orchard & Vineyard. Lion member John Skubel, former organizer of the tree sale, has moved as an employee from one business to another, and although Flynn took over organization of the sale, Skubel still watches over it.
"Big John still checks in a couple of times a day," says Flynn.
He's also really pleased with the pastors of the church, who are still handling some of the administration and several of the church programs from their Field Road location.
"They have been really amazing, really helpful."
The tree lot is fenced and secure, and cameras will be added to the very visible location, says Flynn.
He had hoped to increase their order this year, but a shortage of Christmas trees meant that he had to settle for 30 fewer trees. The NOTL Lions had the Niagara-on-the-Lake Minor Hockey midget Niagara Lions unloading trees for them, and as sponsors, the club gave the hockey team $1,000. Flynn says he expects the club will make a donation to the Lions hockey team in memory of Mickey Labonte, a midget player who passed away from a rare and aggressive form of cancer last August.
The NOTL Lions tree lot is open 12 to 8 p.m. on weekdays, and weekends 9 a.m. to 8 p.m
St. Davids Lions received 600 trees, almost twice as many as they've ordered in previous years. They were fortunate to have the St. Davids Leos on hand to help unload.
"It was hard work, but they did a really good job," said Lion Susan Snider.
"We were happy to have them there to help out."
The St. Davids Lions tree lot is open 10 a.m. to 7 p.m. seven days a week, and has Balsom at $55, six to eight-foot Fraser for $65 and 10-feet and over at $100.
All proceeds from both clubs go back to the community.