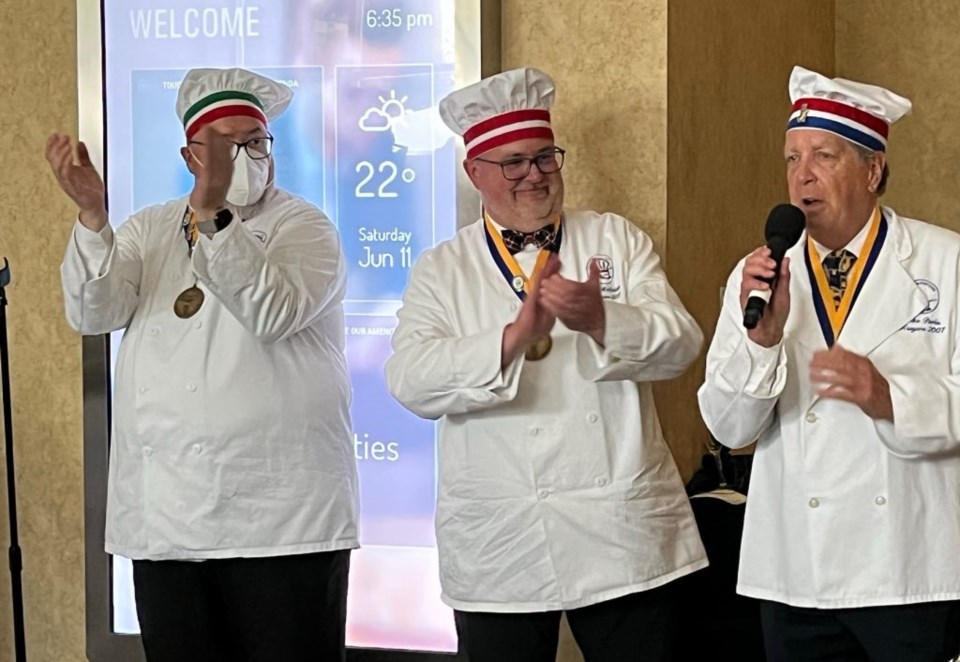 White Oaks executive chef Michael Price was nervous addressing the gathered crowd of about 150 to outline the menu for Saturday's Les Marmitons International Gala.
Though Price claimed he just doesn't enjoy talking to large groups of people, one must wonder if the fact that more than half the attendees were wearing their crisp, white Les Marmitons chef's jackets made him a bit more nervous than usual.
The Niagara chapter of Les Marmitons was hosting representatives of 19 clubs from across Canada and the US for the twice-postponed 2020 International Gala. Eighty members and their spouses from chapters as far away as South Carolina and New Jersey mingled with those from Montreal, Calgary and Halifax.
With eight of their 36 Les Marmitons visiting Niagara, the Sandy Springs chapter from Atlanta, Georgia had one of the biggest contingents. Current Sandy Springs treasurer Jim Sullivan arrived three days before the planned events, which began Thursday, to experience more of what Niagara had to offer.
"We rented a B&B on the Niagara River for the first few nights," the 2017-2018 winner of the Jean-Pierre Jobin Award of Merit, the highest honour in Les Marmitons, said. "We saw 'Damn Yankees' at Shaw, walked the Old Town, ate in some of the very nice restaurants, Treadwell's was one of them. And today we went to a high-end wine tasting (at BarBea)."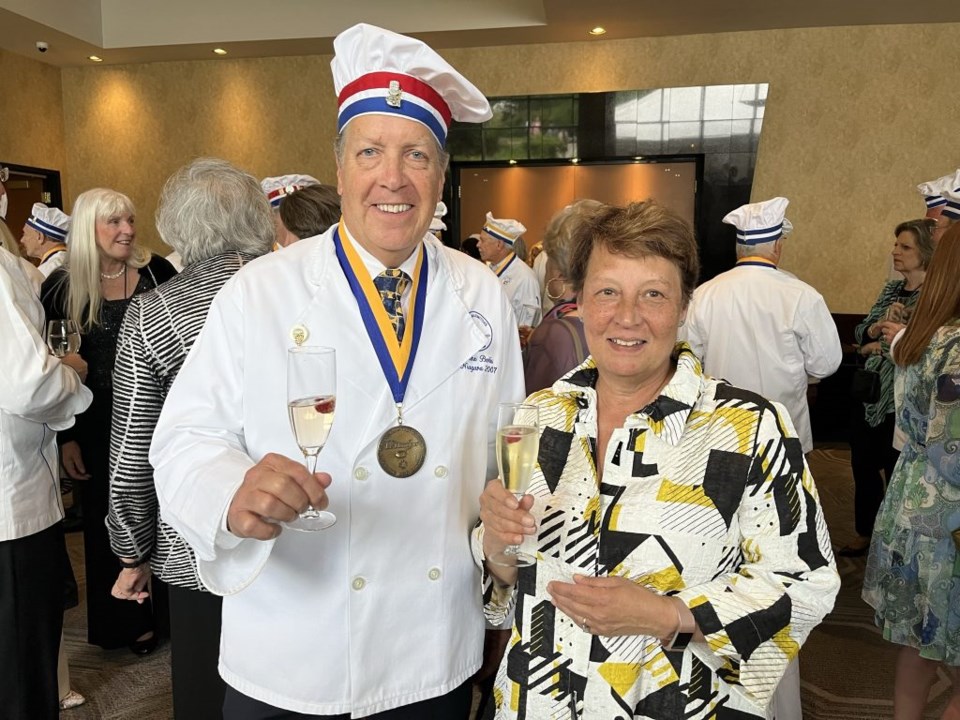 Loosely translated, Les Marmitons means kitchen boy. The organization is a gastronomic and social club of gentlemen, all with a common interest in fine food, wine and the culinary arts. They are not professional chefs who work in kitchens, but rub shoulders and learn from them via monthly cooking meetings.
Niagara president Mike Berlis, a former partner in the founding of Oast House Brewers in Niagara-on-the-Lake, joined the local group shortly after he moved to Niagara from Ottawa.
"Food was always an interest of mine, along with wine and beer," Berlis says. "I belonged to Les Marmitons in Ottawa for a few years. When I came here in 2005, I thought it was a perfect place to start a chapter, then I found out it had already started just a year before."
Ross Macfarlane was the one who beat Berlis to the punch. The founding president of the Niagara chapter is now serving as president of Les Marmitons International (LMI) and co-chaired the gala organizing committee, along with his brother Alex, also a past Niagara president, and Berlis.
"They did most of the heavy lifting on it," laughed Macfarlane. "We also had lots of volunteers who were working on the excursions today and staffing the information desk. We have 14 members (of about 40) here enjoying the festivities too."
Originally scheduled for spring 2020, Macfarlane said attendance was a bit lower this year than it would have been prior to the pandemic, but he was thoroughly impressed with the turnout.
"We had hoped to be over 200 in 2020," he admits, "but in light of the circumstances, particularly because COVID is still happening, it's wonderful to see so many people here."
COVID has also affected the meeting routine of the local chapter. Berlis explains that over the years Les Marmitons had a strong relationship with Niagara College, holding their monthly cooking (and eating) sessions at Niagara College's hospitality, culinary, wine and brewery facilities. In turn, Les Marmitons have supported Niagara College students through bursaries and scholarships.
During the pandemic, however, their monthly events could not be held in person. The group shifted to online sessions, enlisting the likes of Riverbend Inn chef Ross Midgley to lead them through cooking sessions.
In the past they've worked with chefs Ryan Crawford of Ruffino's and John Vetere of Ravine Vineyard Estate Winery, among others. They also enlist winemakers such as Ravine's Lydia Tomek to tutor them on the best pairings with each menu.
Membership to Les Marmitons is $100, and members contribute that same amount each time they participate in the monthly gatherings, which they hope to return to in the fall.
"They enjoy working with us," Berlis says of the chefs and winemakers. "They're not compensated by us, though all their costs are covered. They do it because it's a passion for them as well. They enjoy having 20 or so men who are interested in everything the chef is saying. It's a captive audience that is very interested in learning."
Les Marmitons come from all walks of life and bring to the club a varied set of skills. What is common is that passion for food and wine, and for learning about those pursuits. Many of them are retirees, but there were quite a few younger members milling about at Saturday's gala as well.
Prior to Saturday's dinner, LMI attendees were able to enjoy organized brewery excursions, historic walking tours, and a visit to Niagara College. There was also a Friday evening welcome event at Ravine Vineyard.
Of course, there was some LMI business to attend to. Macfarlane and other members of the international board, as well as the presidents of each of the 19 chapters present, conducted meetings to discuss business and share plans for the upcoming year.
Niagara last hosted the international gala in 2010, though the Toronto chapter of Les Marmitons hosted the gala at Niagara College in 2004. Next year's event is scheduled to be hosted by the Calgary chapter.
Unlike their monthly sessions, the 80 or so chef's jackets were worn mostly for show this past weekend. Les Marmitons were doing none of the cooking at either White Oaks or Ravine, but instead were enjoying the fruits of other chefs' labours.
"It's an opportunity for us to meet some new acquaintances and to see some old friends as well," Berlis says. "Over the years, when you go to these galas, you see some of the same faces, and get to know people from different chapters in Canada and the U.S. Quite often, a lot of new friendships come out of it."