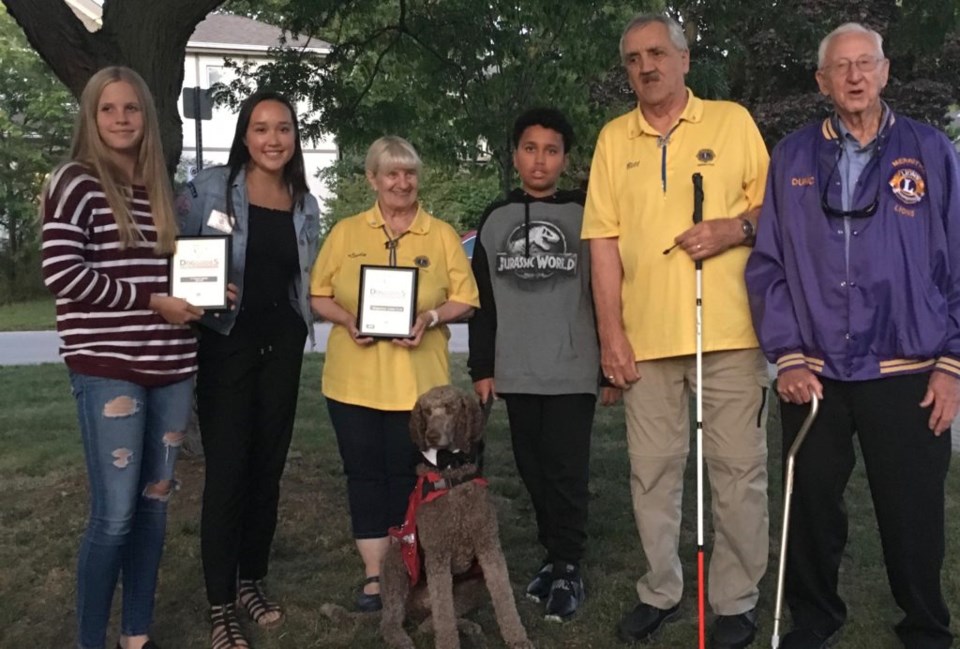 Having just completed a second ambitious fundraising campaign, providing two autism-assist dog guides for two children, the St. Davids Leos Club has embarked on another project.
The Leos' next goal is to raise $1,500 for the MacKids Teen Zone Project, to upgrade a teen cancer unit in Hamilton.
The McMaster Cancer Clinic is being renovated and expanded in a project that will cost $1.6 million, says St. Davids Lion Bradd Anderson. Lions clubs from Niagara and the Hamilton areas have pledged $75,000 by January 2021 to help fund a unique area for teens undergoing treatment that will be separate from the adult centre.
The St. Davids Leos Club, now 44 members strong — one of the largest, if not the largest, in Ontario, is committed to helping, says Leo Zoe Abraham.
The Leos Club has grown as members have attracted friends, both from St. Davids Public School and now from Niagara high schools attended by Leos who have graduated from St. Davids and remain members.
Abraham is spearheading the MacKids Teen Zone campaign for her club, and is grateful for the opportunity to help teens with cancer.
"We're raising money to make the area more fun for teens who are in the hospital or living in homes nearby, such as the Ronald McDonald House. We'll be helping to pay for TVs, games, and making the unit more colourful."
The space will be used by teens during their chemotherapy or other cancer treatments.
Abraham joined the Leo Club as a Grade 6 St. Davids student. She's now in Grade 10 at A.N. Myer Secondary School in Niagara Falls, and has continued as a club member. She was especially grateful to attend a recent graduation ceremony for dog guides in Oakville at the Lions Foundation training school.
he recipient of the second dog the Leos helped finance was on hand, with his dog, she says, and spoke about how grateful he was to the Leos for allowing him the opportunity to have a dog guide.
Leos fundraise by helping out at Lions fish fries and the annual carnival, and at events they have organized.
The St. Davids Lions have also contributed to their campaign, as has the Merritton Lions Club, which partnered with St. Davids on the guide dogs, through their Dog Bowl, a five-pin bowling event held to raise money for dog guides
Often referred to as "blind bowling," it also helps educate participants on what it's like to be blind or visually impaired, by providing them with specially-designed glasses that mimic eye disease from macular degeneration, diabetes, glaucoma or retinopathy.
In addition to making desserts and selling them at fish fries, they are now planning a game night for families to help fund the MacKids Teen Zone, says Abraham.
It will be held Sunday, March 1, from 4 to 7 p.m., at the St. Davids Lions Club.
There will be an admission charge of $5 for adults and $2 for teens and children, who are encouraged to bring their favourite board games.
Pizza, pop and dessert, including cupcakes, will be sold as part of the fundraiser.
"I think I made hundreds of cupcakes to help pay for the dog guides, and we were all so happy to have reached our goal. It's hard to raise that much money from the dessert table, selling treats and popcorn, and we really appreciated the partnerships with the Lions clubs."
At the dog-guide graduation ceremony, with the children who had also received training on how to handle their dogs, "we could see how important it was to Reece, the friendship he and his dog had already developed, and how happy he and his parents were," says Abraham.
"We'd like to fundraise for another dog guide in the future, but for now we're concentrating on the kids' zone."