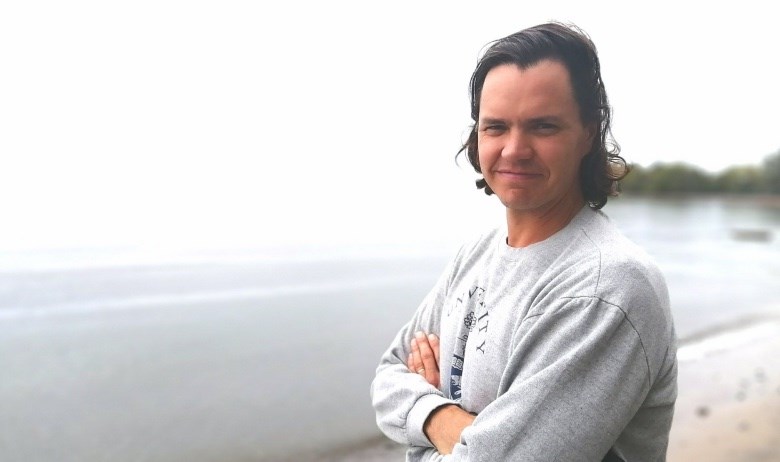 While using the Niagara-on-the-Lake Public Library as his work space nearly every day pre-COVID, Dr. Adam Martin, an assistant professor in the department of physical and environmental sciences at the University of Toronto, felt he should give back to the community. 
His chance to do that begins next Tuesday evening, when the 42-year-old resident of the Old Town begins a series of three talks on climate change called The Changing World.
"I have a couple of lectures, introductory environmental science and climate change lessons, that my undergraduates really find interesting," he explains. "And I thought these would be really good, publicly accessible topics that might be of interest to people in the community."
He worked with Debbie Krause, the library's community engagement coordinator, to broaden his lectures to appeal to all ages and all levels of expertise. He promises there is no previous scientific training needed to understand the themes.
The first session in the speaker series focuses on the causes of climate change. In a broad sense, says Martin, it comes down to human activity. On Tuesday, he'll fill in the gap with the science that backs up that conclusion.
"In its most simple terms, it's the increase we've seen in greenhouse gases and carbon dioxide in the atmosphere," says the Welland native. "The science involves tracking that. Where are the increases coming from and what are the activities that have led to them? There are some natural processes that create gases. But the science is quite clear - human activity is what's leading to big spikes in CO2 concentrations in the atmosphere."
Martin acknowledges the struggles professors such as he have had convincing climate change deniers about their concerns. He feels that some progress has been made in the past five years, though, and adds that events such as the speakers series are ideal for advancing the public's understanding of the issue.
"The experience of climate change," he says, "especially with wildfires, droughts, flooding and heatwaves, it's been so overwhelming. People are now living the experience of climate change. It's quite undeniable. That voice is starting to be minimized."
Lending credence to the scientific process is the fact that the incidents that have been taking place worldwide are now matching up with what climate scientists had predicted about 10 years ago.
"By extension," he says, "our predictions for the future of our climate are looking like they're pretty accurate."
The graduate of Welland Centennial Secondary School first became interested in what he calls "the science of being outside" while earning a Bachelor's degree in physical geography at the University of Guelph.
"I really just wanted to work in nature," he says. "I wanted to find some kind of career path that let me do that."
An early job opportunity working on stream restoration in Fort Erie showed him that he could find his way onto that path. He became progressively more interested in forest ecology, specifically that of tropical forests.
He pursued a Master's in the forest conservation program at the University of Toronto and followed that up with a PhD in 2012 under his U of T mentor, Sean Thomas, in that school's faculty of forestry.
Martin teaches in the Centre for Critical Development Studies in Toronto. His primary interest is in how differences in morphological, chemical and physical characteristics of plants influence the structure and function of agro-ecosystems. His research focuses on the functional traits of leaves and how the interaction between crops can lead to resilience, taking him across Central America, the Caribbean and southeast Asia.
"We measure things about plants," he explains in layperson terms. "What their leaves look like, the chemistry of their wood, for example. All of those little things tell you how the plant is going to respond to its environment. We characterize those traits of plants in much more detail, and this tells us a lot about the conditions they are best suited to grow in."
Through his research, focusing primarily on coffee agro-systems, he and his collaborators have been able to discover the benefits of diversifying agricultural systems. Planting different species and varieties with different genetic makeups in a single system, they found, can aid in resistance and the ability to rebound from climate shocks.
Adam and his wife Dana moved to NOTL in the summer of 2019 with their two young sons. Since settling here, he has been a guest speaker on a couple of Jane's Walks (named in honour of urban activist Jane Jacobs) in the Chautauqua area. He has also begun expanding his focus to include the impact of climate change on vineyards.
Lecture number two in the library series, scheduled for Oct. 27, focuses on what the future of our climate will look like.
"Overall, it depends on what our CO2 emission profile will look like in the future," he warns. "If we continue to emit at the rate we are, or if we increase our emissions, it will look pretty bad. If we see some mitigation, we have a chance of minimizing temperature increases. Generally, the science will tell us, no matter what we do, we are looking at increasing temperatures."
Along with that warming environment will come an increase in the melting rate of glaciers, which further contributes to a warming environment.
"I just saw some studies that certain continental glaciers in Antarctica and the Arctic are losing ice very, very quickly," he adds, "much more quickly than we anticipated. This is a real thing, and we are seeing real time observations of that."
The series wraps up on Nov. 29 with a talk entitled Are We in the Midst of Earth's Sixth Mass Extinction?
"It sounds like something of a shock term," Martin admits. "We'll talk that night about how, in biodiversity science, the thought that humans are triggering a mass extinction is actually rooted in science. Earth has a history of about 4.6 billion years. Life on Earth really took off about 500 million years ago. Over that history, we know from the fossil record that the Earth experienced five mass extinctions, when biodiversity just dive-bombed."
The current rates of extinctions, he adds, are on par with what was seen in those five extinction events. The current evidence proves that certain species of trees, amphibians, mammals and aquatic life are experiencing extinction rates that haven't been seen for millions of years.
It's not all doom and gloom, though. Martin says a lot of work is being done in the areas of climate change resistance and resilience to buffer the potential eventuality of a human extinction.
"We have to address these environmental change issues," he says. "Maybe I'm too optimistic, but we are starting to see some change in behaviour."
The series of three one-hour talks promises to be informative and thought-provoking. For information and to register, visit notlpubliclibrary.libnet.info/events