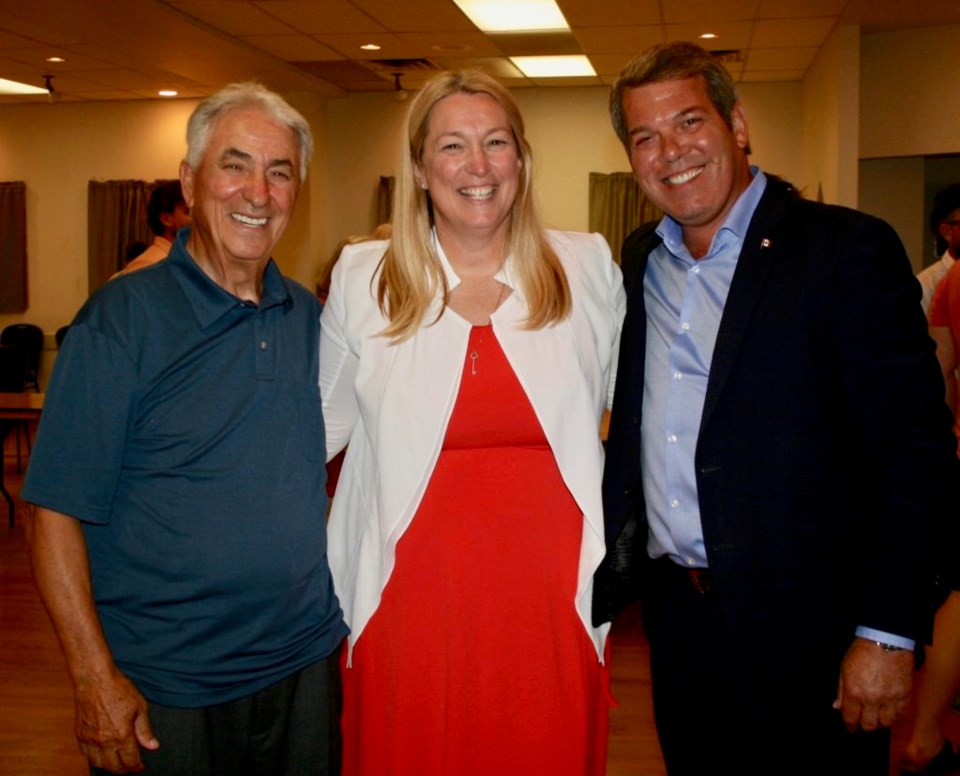 Niagara-on-the-Lake's Andrea Kaiser has won the opportunity to represent the Liberal Party in the Niagara Falls riding in the upcoming federal election.
At a nomination meeting held Monday night at the Royal Canadian Legion in Niagara Falls, 361 registered party members cast their vote. Kaiser came out the winner over long-time Niagara Falls city councillor Joyce Morocco.
Kaiser, who served on Niagara-on-the-Lake council from 2003 until 2014, was both elated and overwhelmed to hear her name called after the two-hour voting session wrapped up. She admitted she felt the whole experience had been quite surreal up to that moment.
Since throwing her name into the race last month, she says she has been working hard to gather support from the community, and it paid off Monday night.
With the riding encompassing Niagara-on-the-Lake, Fort Erie, and Niagara Falls, Kaiser knew she would need to mobilize her supporters in the party to get out and cast their vote for her.
And with a quick glance around the room, it was clear that was the case. Many prominent members of the Niagara-on-the-Lake community could easily be recognized within the room. A large contingent from the grape and wine industry were there to show their support.
"I think they're excited, regardless of party, to see somebody that understands the industry, because when you are in Ottawa trying to communicate the needs of the riding, you do have that experience and understanding, and I think that's why you may have seen some people who may not have normally been Liberal, but who were happy to support that local voice," said Kaiser.
One local wine industry veteran Kaiser was thrilled to see Monday was the last Liberal to win the riding, Gary Pillitteri. Kaiser said she had not had much contact with Pillitteri prior to the nomination meeting.
She said Pillitteri, as a retired MP, wanted to let the process unfold, "and let Joyce and I both work hard, and work independently. And at the end of the day I think he's just excited to support whoever would win, in this case, now, me, to win the riding back."
Both Kaiser and Morocco said they believe the time is ripe for the Liberals to take back the Niagara Falls riding.
In April, Conservative MP Rob Nicholson announced he would not be seeking re-election this year. The 67-year-old Nicholson was first elected to Parliament in 1984 and was re-elected six more times. He has held the Niagara Falls riding since 2004.
Tony Baldinelli, the Director of Communications for the Niagara Parks Commission, will be trying to fill Nicholson's Conservative shoes this October, while teacher Brian Barker will represent the NDP. Other candidates include Sandra O'Connor for the Green Party, Alex J.C. Taylor representing the new People's Party of Canada, and Niagara Falls city councillor and former Olympic boxer Mike Strange running as an independent.
Kaiser said though she studied politics at university, she never set out to become a politician. She said her decade on town council was inspired by her community asking her to step up and serve with a strong and experienced local voice.
This time, however, she said she has been inspired by three specific individuals.
"It was the strong and compassionate leadership of New Zealand Prime Minister Jacinda Ardern, in the aftermath of a terrible tragedy (last May's mass shooting at two New Zealand mosques) that reaffirmed to me that we need to be bold and to step up and set an example for our youth," she said.
Her second inspiration is Prime Minister Justin Trudeau.
Perhaps somewhat surprisingly, Kaiser credited her 21-year-old daughter, Madison Lepp, as being the third and main inspiration for running for the Liberal nomination. She said Lepp carries the warmth and compassion of Kaiser's mother, and her commitment to fighting climate change has inspired Kaiser to become a better person.
Madison seemed flabbergasted by her mother's comments, though she did say "we both have a lot of respect and support for each other, and I've always encouraged her to go big or go home, and always shoot for the stars, and we both mutually support each other like that."
Kaiser went on to say the journey of her father, the late wine industry pioneer Karl Kaiser, led to her strong entrepreneurial spirit, and both of her parents' core liberal values taught her to care for her neighbours.
Having won the party's nomination, she was planning to meet with riding officials early Tuesday to discuss the party's strategy in the riding for the next two-and-a-half months.
Kaiser said her focus will be "getting a local voice at Parliament, one that's really passionate about tourism and agriculture, and that is concerned about investments in our community. And I'm excited about the work that's been done by the Liberals on climate change, and I'm really excited about making sure that we have the investments for families, seniors and youth."
As the crowd filed out of the Legion, and Kaiser and her supporters headed out to celebrate her victory, she talked about her respect for Morocco as a fellow Liberal Party member.
With resumes that are very similar (both served on local councils, both have business and tourism backgrounds), it was expected that Monday night's vote would be close. The riding association did not comment on the actual breakdown of the vote, but Kaiser said she hopes she and Morocco can work together to paint the riding red for the first time since 2004.