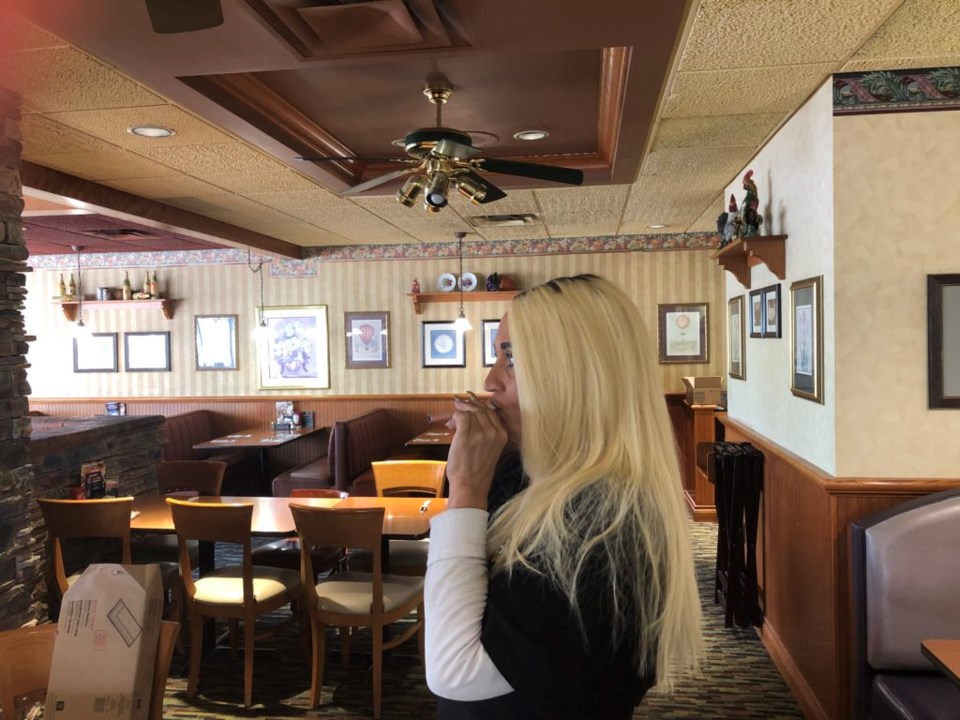 When Darlene Moeller, 47, had a cough she couldn't shake back in October, she went to the doctor.
Chronic Obstructive Pulmonary Disease is an umbrella term used to describe inflammatory lung disease, which is marked by increased shortness of breath, chest tightness and coughing more than usual.
Moeller's grandfather and mother were both smokers and died prematurely due to emphysema. After learning she had the beginning symptoms of COPD, and with her family history, Moeller knew it was time to make a change.
"It's not a very comfortable death, I can assure you," said Moeller, having witnessed it first-hand. "It feels like you're drowning."
When she decided she was going to quit smoking, she realized she had to switch to something else. "I clearly needed the change," said Moeller, who chose e-cigarettes to help her.
Today, the cough is no longer there.
The harmful effects of cigarettes are well-known and taught to children from a young age in an effort to deter them from smoking. School health classes stress the known facts about cigarettes and why they're poor for one's health. In recent years, however, e-cigarettes, or vaping, have increased in popularity, especially among youth.
An e-cigarette is a handheld, battery-powered vaporizer that imitates smoking by providing some of the same behavioural aspects of smoking, like the hand-to-mouth motion.
Niagara Region Public Health representatives go into elementary and high schools, educating students about vaping by providing facts and answering questions. Students as young as Grade 4 are included in an assembly to debunk common misconceptions about the product.
Public Health nurse Joanne Germano is part of the team of regional nurses who go into schools to talk to children. She said the nurses address the misconception that vaping is harmless.
"Some of the immediate health effects are shortness of breath," she said. Vaping can also worsen a chronic cough. "If someone has asthma or bronchitis it can aggravate those symptoms. It can cause light-headedness, increase heart rate, blood pressure, and increase airway resistance."
Germano said when e-cigarettes first came about it was to help cigarette smokers quit, but the device has since evolved into a trendy commodity. The industry heavily targets youth, from the design of the vape down to the fla- vours available.
"We talk about how the industry really appeals to youth, and that they're trying to secure customers," said Germano. "They're targeting them by using flavours — bubble gum or blueberry — flavours that appeal to young people."
Moeller agrees, and said she thinks the popularity of vaping with youth comes from the flavours, and that they think it looks trendy.
"The flavours that are available are very similar to flavours that you can find in a candy store. So I'm sure that the flavours are definitely a huge component in promoting younger people to vape," said Moeller.
"I'm sure there's also a component for people who aren't exposed to nicotine. It gives them a type of euphoria, almost like a high," she added.
Diana Teng, the manager of chronic disease and injury prevention at the regional public health department, said vaping is renormalizing tobacco use. The Region is working towards denormalization and reducing visual cues for people who want to quit using vaping products.
"Part of the denormalization piece that we've been trying to work on for years with tobacco is through different types of legislation," said Teng. For example, "you no longer really see people using tobacco in all the regular places — bars, restaurants, or indoor public places — and so the use of tobacco is more of an abnormal thing for people to see if anything."
Seeing youth vaping, she said, has the Region looking at policies to reduce that use and that visual appeal.
The Smoke-free Ontario Act was updated in October, 2018 to include vaping — where you can't use tobacco products, you also can't use vaping products. It's applied to all indoor and outdoor public spaces such as hospitals and schools.
Teng said that the Region is working on a bylaw that would broaden no-smoking and no-vaping areas.
"Locally we're working on a bylaw that also integrates cannabis, vaping and tobacco under one law," said Teng. The bylaw would include prohibiting smoking nine metres from places such as parks, playgrounds and sports fields, and would also include beaches and recreational trails that fall on municipal and regional property.
Grade 11 student Makenna Moeller, Darlene's daughter, has been vaping for two years to help her with stress and anger. "It calms me down," said Makenna. "I wouldn't say I'm dependent, but I know it's there."
Makenna thinks half of the kids who vape do it to cope with stress, and the other half to fit in.
Darlene said although for her vaping is a physiological addiction, it's also partially a psychological hand-to- mouth ritual to help smokers dependent on putting something in their mouth out of habit.
"It satisfies that and the need for nicotine as well. I would say I am probably addicted to my vape."
Germano said the big concern in the public health department is while there are options for getting e-juice without nicotine, most do have nicotine in them now. "It's a chemical that is responsible for addiction," said Germano. "There are a lot of youth or even adults that are under the impression that e-juice doesn't have nicotine in it."
Some vapers don't realize they can become addicted, "and then all of a sudden they are," she said. The adolescent and teen brain continues to grow into the 20s, she added. "Nicotine is powerful on a growing brain — it's more harmful."
The public health unit provides all that information and discourages youth from trying it in the first place, she said.
"We tell them unless you're a smoker trying to quit, you shouldn't be using these products."