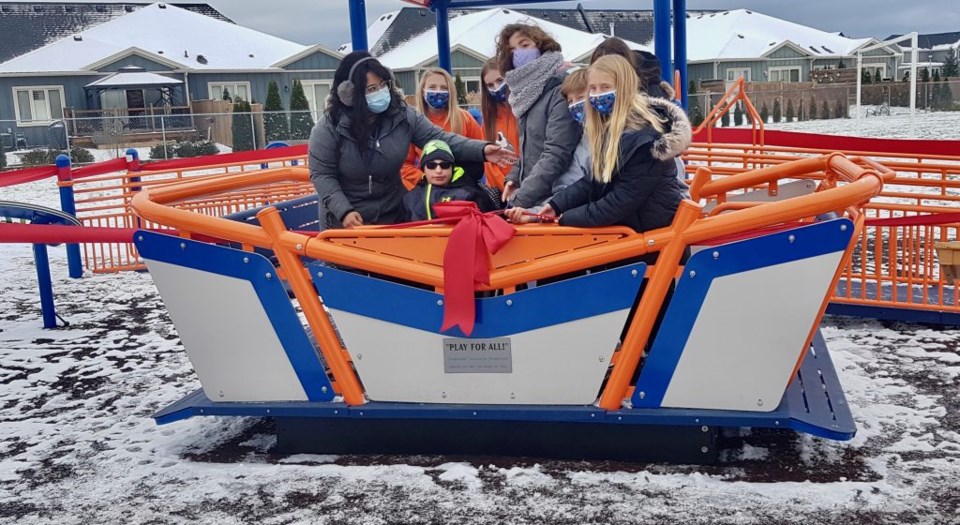 It has been a bittersweet time since an inclusive playground was installed at Crossroads Public School in the summer of 2020.
After successful fundraising that helped pay for the $114,000 structure, it sat in the playground "all new and shiny," said parent Matt Dietsch, while his son Dylan and others who had been so excited to try it out could only look at it. When schools opened in September, 2020, playground equipment had been declared off-limits due to COVID-19 restrictions.
Friday morning, a small crowd gathered at the back of Crossroads to finally officially open and celebrate the new accessible equipment.
Dietsch was instrumental in helping to raise money to build the new structure, and couldn't be happier for Dylan, who was excited to play on it, as were other students who were finally going to be able to play with their friends.
Amber Dyck, with Dietsch one of the co-chairs of the fundraising committee, asked to speak at the opening, because, she said, "I wanted to express my deep gratitude, and how much hope I see for my daughter and her future when I look at this project, and all of the amazing people who made this happen."
Her daughter Megan was one of the children who looked longingly at the playground, waiting for the day she could try it out.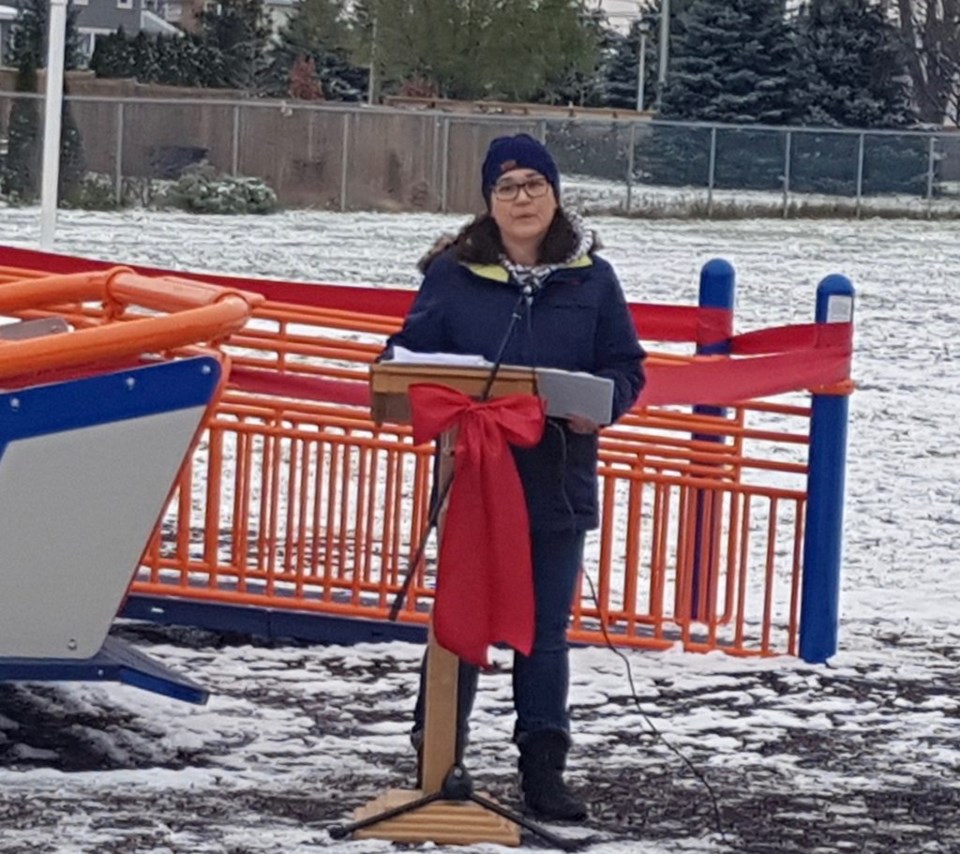 Dyck said she wanted to remind Megan, now 12, "of how much goodness and generosity and love there is in this world. I want her to know that there is a collaborative desire to allow all children to play regardless of ability, and to have equal opportunities. I want every child to know that they are seen and valued. On this journey I discovered that most people want to see and want to help. What a beautiful thing."
As the proverb says, "it takes a village to raise a child," said Dyck, but when a child has complex special needs, "it definitely takes a community."
Megan's "amazing resilience and positive attitude have helped her endure life with a rare genetic disorder that has caused both physical and cognitive disabilities," Dyck said.
Megan, explained her mother, "lives in chronic pain, with a fragile spine, and joints that dislocate and have continual irritation. Academics are also challenging, as her brain processes differently so reading and fundamental math skills are still goals to be achieved. However, her heart has always been sensitive to others, and despite a diagnosis of autism, she has a strong desire to connect with her peers and form meaningful relationships."
The accessible playground, the most comprehensive in the District School Board of Niagara's jurisdiction, helps children do just that, and the sight of Megan and her friends playing together on it "brought tears to my eyes."
"In a life filled with constant struggle and pain, the opportunity to laugh and play takes on even more meaning," she continued. "As our principal, Kate Fish, recently said to me, 'play is powerful.' It definitely is, and so is a community that is committed to allowing all children the opportunity to play."
With support from the school's parent council, money from the school's major fundraiser, the annual Home Show was put towards building an inclusive playground addition. Local businesses were generous in their support, making direct donations or acting as sponsors for the Home Show, knowing their funds would go directly to the playground project,
said Dyck.
"We hit a monumental turning point when we approached the Virgil Business Association. They encouraged us with their words and finances to dream bigger, and our original idea of the addition of a single piece of accessible equipment became a whole new accessible playground."
Gerda Klassen, the principal at that time, collaborated with the DSBN to make it happen, said Dyck, and current principal Kate Fish "has definitely picked up the torch and carried on the vision, and with our incredible administrative staff made today happen."
Each family and business that supported the Home Show and contributed to the project "supported the dream, and allowed it to come to life so much sooner than we could have imagined."
While COVID-19 prevented the school community from fully using the playground and expressing its gratitude publicly sooner, "it also gave us time to reflect on what collaboration and kindness can accomplish. My hope is that this playground continues for many years to tell the story of what teamwork, creativity, compassion and perseverance can build, and that it is through these things that barriers to inclusion will continue to fall."
"From the depths of my heart," she concluded, "thank you."
Principal Fish also spoke to the crowd, thanking the dignitaries for attending, and all those who donated to help fund the playground. To the Crossroads Coyotes who helped out with the opening, she said, "thank you so much for your contribution to our event today. As always, you bring us such joy, and humbly remind us that you have so much to teach us."
"There are many people to thank for this amazing structure that allows our students to excel at what they do best," Fish continued, "be a kind, compassionate, respectful community, that recognizes the unique brilliance of each and all of its members, and finds creative and progressive ways to include everyone."
In the short time she has been at the school — Fish took over as principal in January, 2021 — Crossroads community has "eagerly and heart-warmingly demonstrated how much they care for one another, and the great lengths they will go to to ensure everyone is being included, cared for, and shown kindness and respect."
The building of the inclusive playground, she added, "epitomizes Crossroads' deep and exemplary sense of social responsibility."
Credit is due to former principal Klassen, she said. "I just arrived on the scene in January, after Gerda's well-deserved retirement, to find a brand-new, sparkling playground just begging to be used, and children begging to use it."
Fish thanked committee co-chairs, Amber Dyck and Matt Dietsch, the Virgil Business Association, the Home Show organizers, parent council and the community, for their support and desire "to make inclusion a priority in our community."
The inclusive playground, said Fish, "represents exactly what public education is designed to be . . . a need for progress, identified by a conscientious and compassionate community, that then uses all of its unique strengths to come together to make it all possible."