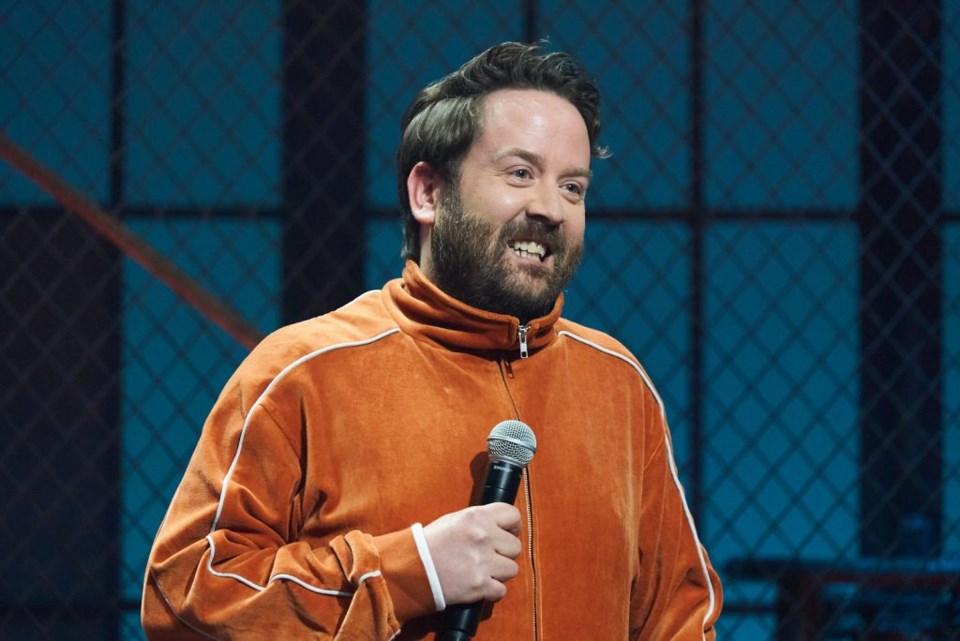 Jeff Paul will return to his hometown for a 2022 Icebreakers Comedy Festival — just a little later than usual.
The shows typically coincide with the Queen Street Icewine Festival in January, but because of COVID restrictions all festivities were called off. The four shows are going ahead April 7 to 9, with close to the same line-up as was originally planned. They are being booked at 50 per cent capacity, and tickets are selling out quickly.
Paul, the festival founder and artistic director, MC's the two shows at Corks Wine Bar and Eatery Saturday night, with some of the festival's favourite comics from previous years performing. Both shows feature Adrienne Fish, Marito Lopez and Jarrett Campbell.
Paul traditionally appears at the Saturday night Meltdown, the late show of the festival held at Corks, with a performance that is likely to be a little more vulgar, no-holds-barred than the other shows.
The Catholic boy from St. Davids, a graduate from St. Michael Elementary and Niagara District Secondary School, says the schedule has been changed due to COVID to finish earlier, with the Saturday Meltdown beginning at 9 p.m. While he might take his comedy "a step further" than the
earlier show, for an audience that knows what to expect, he will be conscious that it might not be the same late-night crowd he usually attracts.
Joe Pillitteri opens the festival at Oast Home Brewers. Always a favourite, he swings from comedy locals identify with — he always does a great job of reading his audience — to some of his inspirational stories that demonstrate his love and support for the community.
Marc Sinodinos and Michael Moses will also take to the Oast stage for the opening show.
Paul says Oast is a great venue for comedy — laughter is contagious, he says, and the room at Oast is a perfect size.
The CBC Radio Gala on Friday, April 8 at Ravine Winery returns with live recordings for Laugh Out Loud, with its host Ali Hassan returning to MC a lineup of some of Canada's top comedians, including: Keith Pedro, Nick Beaton, Nour Hadidi, Dylan Gott, Dena Jackson and Rob Pue.
Paul says he really enjoys the trips back to Niagara, not only for the opportunity to perform but to catch up with friends and family. High school friends Maria Mavridas, Tim Balasiuk and Paul Harber are also involved in putting together the festival, which has become something locals anticipate to break up the winter.
Although tickets are selling quickly, with venues currently limited to 50 per cent capacity, Paul says if that restriction is lifted, "we can sell more tickets and get on with our lives."
The 2020 festival was the biggest yet, he says, held over two weekends, but then COVID came along and festivities for 2021 were cancelled.
"Now we're back to square one, and it's been tough." Some sponsorship has been lost, although he mentions one in particular that has hung on. Rich Kunkel of Sweatsedo has become a friend and strong supporter of the festival, says Paul — in 2020, he gave each of the performers one of the velour jogging suits Kunkel's Sweatsedo is famous for. Paul himself has one in every colour, and often appears on stage in the attire that's made for comfort "I wouldn't travel on a plane wearing anything else," he adds, "although they do stand out a bit."
One of these days, he jokes, he's going to organize a show and suggest all the comics on stage wear them.
Come April, he expects a great audience of people who are ready for a laugh, including many who bought tickets for the January shows and held on to them rather than accept a refund. And expect COVID to be a common theme, he adds, "since that's our life now, and everyone can relate to it."
He recalls in 2020 comics were being asked not to mention COVID, "but it was the biggest thing going on in the world. Manikins were being placed in the crowd as space fillers, and when I started shows I had to remind everybody of the restrictions."
All the protocols will continue to be followed, and all the venues will be asking for proof of vaccinations.
"I feel like it's a good thing we're doing, getting some laughs, spreading some joy. This is a fun thing that's been going for years — that's what any comedian wants."
In addition to doing what he obviously loves, with regular performances in Toronto clubs, and a comedy festival in Parry Sound, near the Paul family cottage, he is still enjoying his day job — one that he feels fortunate to have had after graduating from a broadcasting program at Fanshawe College in London. He works as a program co-ordinator for CTV weekdays, and learned during the pandemic he can do it from home, and fit in daily walks with his dog. But while it's a great job, he lives for the moment he can step on to the stage to make people laugh.