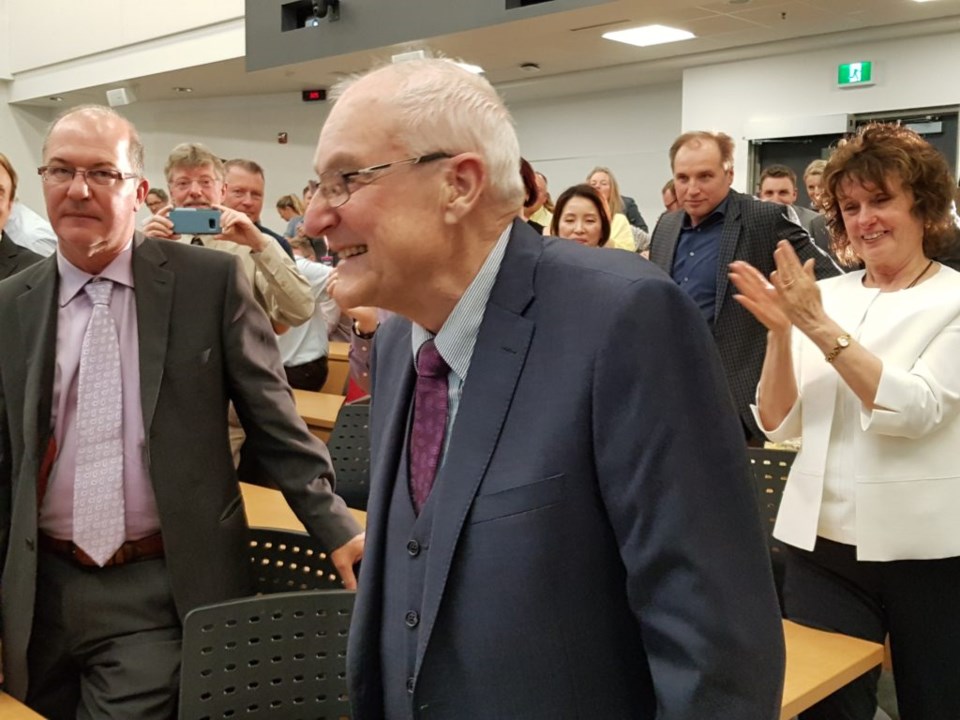 Before making a decision to transplant his family to Canada and build a winery, Herbert Konzelmann filled a suitcase with soil from a lakeshore peach orchard and took it back home to Germany to be tested.
The result, he said, convinced him he could grow vitis vinifera grapes, instead of the hybrids most grape growers had planted.
It was 1984 when Konzelmann, then 47, brought his young family to Niagara and followed in the footsteps of his great-grandfather, who started a winery in Germany in 1893.
"I saw the soil here, I saw the climate, and I decided we could make some of the wine here in Canada."
He pulled out the peach trees, planted 100 per cent vitis vinifera grapes, and before long was winning awards for his wines and building a reputation as a pioneer for the Niagara icewine industry.
Today, most Niagara growers have vitis vinifera grapes planted, and Konzelmann Estate Winery has won 100s of awards in the intervening 35 years, not only in Niagara but in Europe and London, England.
Twenty-five years ago, Konzelmann said, he was very honoured to be named the first Ontario Wine Awards Winemaker of the Year.
Leading up to this year's awards, he said, he was invited to a dinner of winemakers who have since been recognized with the same honour, organized by the awards committee, and he was happy to attend. Surprised to be singled out to come to the front of the room that evening, he was even more surprised to be presented the first ever Lifetime Achievement Award, in recognition of his many years of outstanding contribution to the Ontario wine industry.
"When I was named Winemaker of the Year, I was given a very expensive watch. Now every year when I go to the Ontario Wine Awards, Sandy (Kurbis, assistant to Tony Aspler, who founded the awards) asks if I'm wearing my watch. I always do."
When he arrived in Canada, he found it very difficult, especially not being able to speak much English.
But he has worked hard, and now, at 82, when he looks over his vineyards, he is proud of what he has accomplished.
Niagara wines today have more finesse, more fruit, and are more elegant than many around the world, he said, and Konzelmann Estate Winery has been named one of the top 100 in the world.
Yet he still gets on a tractor and out into the vineyard whenever he can, to prune, cut the grass or spread compost, and he is still the one to decide when it's time to harvest the grapes.
The winery has invested in "the best of the best equipment," including ways to test the brix, and pH levels to ensure it's time to harvest, "but I pick a grape and put it to my tongue, and I say now it's time, or wait a week longer. Icewine, is the same, I watch the temperature, and I give the command when I feel it's time to pick."
But he quickly goes on to say while he's still the boss, he has good people to head every department, and for that he's very grateful.
While life may not have always been easy for Konzelmann, he says now, "life is good. I really, really like my job. I don't know how much longer I'll keep doing this, but for as long as I can I will."
He recalls when he came to Canada as an immigrant to start a winery, a Canadian consulate told him to "make a good name for Canada."
Konzelmann said, "I told him I will, and I think I have. I love Canada, and so long as I live, I will make a good name for Canada, and for Niagara-on-the-Lake."