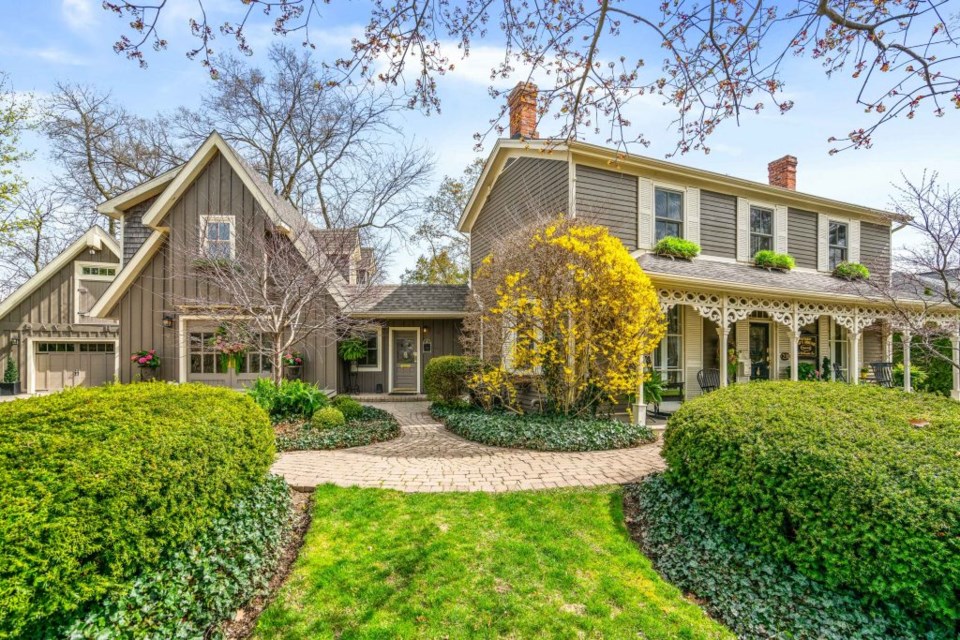 A decision of council on the appropriate punishment for an owner who rented an illegal country inn for a short time does not sit well with one councillor, or with a resident who has lost her income.
When Jennifer Tilley found herself in a tight financial situation, she took the advice of a person who manages property rentals in Niagara-on-the-Lake and other towns, and advertised and then rented out the Davy House on Davy Street, after she had applied for the licence and submitted payment, but before the process was completed.
The house had been a bed and breakfast for about 15 years — although it took the previous owners four years and a successful Ontario Muncipal Board appeal to get their licence — but since it has been a successful B&B for so long, she wasn't expecting any problems.
At last week's council meeting, when Tilley and real estate agent Katie Aeby joined the virtual meeting to give Tilley's side of the story, they were only able to sway one councillor.
Wendy Cheropita was sympathetic to Tilley's plight, and felt the penalty was harsh. Although the town licensing appeals committee suggested the owners be allowed to reapply for a licence Nov. 1, 2021, councillors voted for a year's suspension before Tilley will be permitted to reapply. But councillors didn't know all the facts of the situation, Cheropita said. She told The Local that given the pandemic and all the issues Tilley has faced, council could have decided to be kind, and given her the benefit of the doubt, rather than chasing such a harsh punishment.
Coun. Gary Burroughs, a member of the town's short-term rental committee told The Local he felt the penalty was "overzealous," because, there is no allowance for that severe a punishment included in the current bylaw, and no warning given. The bylaw is soon to be amended, and should detail the possible penalties, but there is nothing in place to guide councillors now.
Burroughs said he didn't support Cheropita's motion to overturn the decision for Tilley because it applied to only one of three cases that were heard, and his objection was that there was no justification for the penalties for all three, especially when the three appeals to the licensing committee resulted in recommendations for much-reduced penalties.
Coun. Norm Arsenault, also on the short-term rental committee with Burroughs, strongly agreed with the year-long penalty, saying if someone rents without a licence, they should be penalized.
The beautiful sprawling historic home under question is in a commercialized area of the Old Town, surrounded by the Moffat Inn, the Prince of Wales Hotel, and another large B&B. It is not an area that looks like a residential neighbourhood, and there are no neighbours to disturb.
Although Tilley did not speak herself at council — she was nervous just being part of the virtual meeting, and felt Aeby was better able to speak for her.
Aeby acknowledges that Tilley might have been better to speak for herself at council, allowing councillors to hear her tell her own story, but Tilley said she was much too nervous.
She stresses when she speaks of recent events that she knows she made a mistake by moving too quickly to rent the house. She owns that bad decision, and regrets making it, she said.
She applied for a licence in July, and it wasn't until October that she received a letter from the town saying her licence had been denied. The only unresolved issue by then was that she was advertising and renting rooms.
Tilley had purchased the Davy House in 2020 and moved to NOTL to live in it with her family, which includes her two ailing parents and three sons.
She had been going through a difficult divorce, had been litigating in Superior Court for six years, and still struggles with serious emotional issues, some which can't be discussed in a public forum.
She is a "blessed single mom of three sweet young boys," she said. She has heard there are some people in the community and on council who do not consider her single, but says, "I am 100 percent a single mother and I support my children in every way, including financially."
She feels her finances seem to have turned people against her, that councillors and others believe if she could afford the Davy House, which she bought with her parents, then she shouldn't need rental income to keep it.
She takes responsibility for the situation she is in, but says renting the house now is the only way out.
When she made the decision to buy the Davy House, she did so "in a flurry. My goal was to find a home, school, and get my boys settled before school started so I would not have to uproot them and interrupt any part of their school year."
The house was the only one she found with enough rooms for the family. Her parents need to live with her, because she's their caregiver.
Unfortunately her mother had a handful of bad falls at Davy House, which has old, uneven floors that change levels from one room to the next. Falling contributed to serious health issues she was already suffering from before moving to NOTL, said Tilley. The decision was made to sell the house for her mother's safety, and they found another home not too far away, with a closing of six months to give them time to sell the Davy Street house.
When Aeby tried to explain to council why the house wasn't selling because the licence to rent the house was denied, councillors questioned her. A licence doesn't transfer from one owner to another, she was told. But Aeby explained the house is too large and too costly for the current market. Anyone looking at it is thinking of it as a short-term rental. And once they hear a licence has been denied, they're scared off, thinking they will have trouble being licensed.
Waiting for that licence to come through was "an awful time" for Tilley, with both she and her father dealing with health issues. "I was trying to take care of everybody, and I was struggling," she said.
They were also dealing with bridge financing, had a home they needed to sell, and a market that wasn't supporting it.
That was when she was introduced to the rental agency, and overwhelmed and desperate, took the advice "that it was not a big issue to rent for a few weeks as the renewal should be imminent." She turned it over to the agency, having no idea how serious an issue it was, she said.
"I most certainly know now. And I know I did something wrong and that ultimately it was only my poor choice that has contributed to all this."
With the penalty of not receiving the rental licence for a year, "I don't know if we will ever bounce back from this financially."
She is also very upset that she's been accused publicly of failing a fire safety inspection, a serious issue, which was never the case. Town staff confirmed for The Local that there were no fire safety issues identified during the licensing process.
Once council ratified the committee of the whole decision, it would be difficult, although not impossible, to overturn, said Burroughs.
The only avenue to reverse the decision would be for a two-thirds majority of council to agree to reopening the discussion and taking another vote, but with eight out of nine votes at council upholding the year-long penalty, that's not likely to happen, he said.