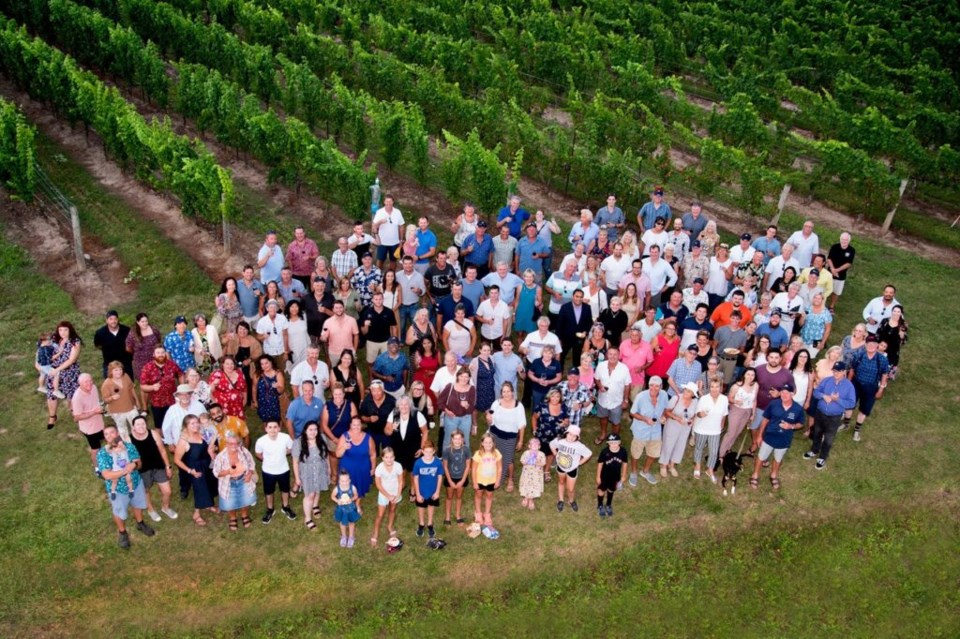 More than 300 Niagara grape farmers, their families and supporters, and a few local politicians gathered at Fruithaven Farms in St. Davids last Thursday to celebrate the 75th anniversary of the Grape Growers of Ontario.
The Line 8 property just happens to be owned by the current and longest-serving Grape King ever, John Fedorkow and his family. Named to the ceremonial position in 2019, Fedorkow has continued to hold on to the title with the cancellation of the Niagara Grape and Wine Festival the past two years.
With the celebration situated next to a pond in the middle of his vineyards set to start in less than an hour, Fedorkow could be seen driving a tractor, delivering shade umbrellas to vendors set up along the path. No resting on his cushy throne for this hard-working king.
"They kept asking me to hold onto the position," Fedorkow told The Local. "We had the Ice Wine Gala, and then every other event got cancelled. This year, because it's the 75th anniversary, they asked me if I wanted to host the party at my place. I'm still the Grape King, so I said okay."
At the September 24 Grape and Wine Festival Parade, Fedorkow will finally get to ride on the Grape King's float with his successor. He may be joined, as well, by some of the other former Grape Kings who attended last week's party.
Fedorkow was happy to hold the role and to make an effort to advocate on his peers' behalf.
"The responsibilities include pushing the industry, making sure it does well in promoting Ontario and Niagara wines," Fedorkow explained. "As a king, I represent all the growers in the province of Ontario. This is a great industry. It's my job to remind people that we grow some great grapes and make some fantastic wine."
Though he says the industry in the province still has a long way to grow, especially when compared to its European counterparts which have survived hundreds of years, Fedorkow is clearly proud of how far Ontario has come, especially over the last 15 years. And he stands up for the farmers.
"A good bottle of wine starts with good grapes," he said. "It depends on the year, of course. We're given what we're given by Mother Nature and we work around it and do the best we can."
Like other local growers, he's concerned with this year's crop.
"It started last fall," lamented Fedorkow. "Industry-wide we're guessing we're looking at almost a half-crop. Some farmers are really hurting more than others. They can be down to 25% of a crop or less. There's still time, though. All we need is sunshine and not a lot of rain in September and October."
The conversation turns to farmers as stewards of the land, and then to the very important VQA designation available for 100% Ontario wines.
"That's what you have to look for in the store," he insisted. "If you buy VQA, you're helping us 100%. There's blending at some wineries, of course, but that's not 'all Ontario'. All this 'buy local' that people have been pushing for the last few years. It's simple. Buy VQA. I don't care which kind. Wine is a personal choice. But as long as it's VQA I'm happy."
It's not just the Grape King who pushes that VQA designation. Grape Growers of Ontario CEO Debbie Zimmerman usually finds a way to slip that abbreviation (it stands for Vintners Quality Alliance) into most conversations. She is a strong advocate for Ontario growers and wineries in her role with the organization.
"It was formed in 1947," says Zimmerman. "The growers had been concerned that they couldn't get the prices up for selling grapes. They went to the Minister of Agriculture at the time, and he told them to get organized."
Formed that year as the Ontario Grape Growers' Marketing Board, its mandate was to to serve the needs and represent the interests of grape growers in their dealings with processors. For the first time, growers had the ability to set a unified, minimum price for grapes. They also gained a voice in the grape and wine processing industry.
At that time, the grapes being grown were labrusca varieties, native to this region of North America. They were ideal for juice, preserves, and dessert and low-alcohol wines. Their lower sugar levels and higher acids, though, were not suited for the lighter, dry, table wines that most wine lovers seek today.
The big turning point for the industry came between 1989 and 1991, when growers removed most of those vines and replaced them with Vitis vinifera vines, the traditional Euorpean varieties.
Those efforts were supported by the federal and provincial Grape Adjustment Program, designed to remove grape varieties deemed surplus to industry needs, and to help farmers replace them with varieties suited for the higher quality table wines that consumers were demanding. Concurrent to that program, labrusca grapes were banned from all table wines made in Ontario.
The organization's name was changed to the Grape Growers of Ontario in 2002 to better reflect its membership.
It took a few years but eventually vinifera sales began to outpace the sales of hybrid grapes. In 2012, there were about 66,000 metric tonnes of grapes sold for processing, including more than 64,000 of wine grapes. Vinifera varieties, virtually unheard of in this area 65 years ago, now account for 67% of the total amount of grapes sold to wineries during regular harvest.
As well, according to their website, there are 17,000 acres of vineyards in Ontario today, almost the same as 65 years ago. But the kind of grapes grown is dramatically different than it was, and the industry has evolved and achieved its status as an internationally acclaimed grape and wine region. And in the past 65 years, the farm gate value of grape sales has risen from $2.5 million to more than $88.6 million.
Meanwhile, the host of last week's party, Fedorkow continues to be grateful to his fellow growers for nominating him for Grape King back in 2019, guessing that they must have been impressed with his vineyard practices and his innovation.
But alas, all good things must come to an end. Fedorkow will finally turn over his ceremonial chain when the 2022 Grape King is announced at the Grape Growers of Ontario's Celebrity Luncheon on Wednesday, September 14 at Club Roma in St. Catharines. Ticket are available at grapegrowersofontario.com or by calling (905) 688-0990. Former Olympic swimmer Mark Tewksbury is this year's celebrity guest.
"Yeah, I'll miss it," Fedorkow said of giving up his crown. "But it's time to pass the torch on to somebody else."