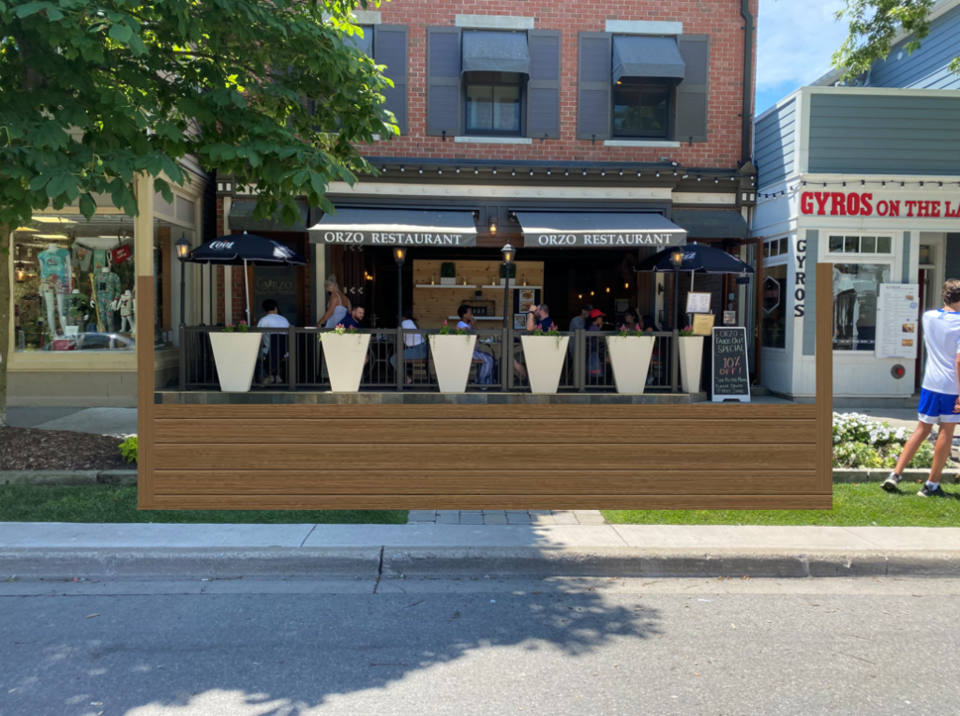 Councillors want to help Maria Mavridis come up with a plan to open a temporary patio on top of two flower beds on Queen Street, and staff agreed it could work.
Orzo Restaurant, about 100 feet away from the four-way stop at King and Queen Streets, does not have the opportunity to use two parking spaces for a patio, similar to others on the street, because there is no parking in front of the building.
Mavridis would still be willing to pay for the parking spaces, as well as all costs associated with removing the flowers, which would be planted in boxes or baskets around the patio, she told councillors Monday night.
"The structure will be professionally built to ensure safety, and will have reflectors for night time, with solar lighting," she said.
Because the patio will sit overtop of the beds, so as not to harm the sprinkler system, a wheelchair ramp will be built into the deck base, not impeding on sidewalk, and will have a hand rail on each side, Mavridis said.
Her family owns two Queen Street restaurants, Orzo and Corks Wine Bar & Eatery, and both have drastically reduced seating due to the physical distancing necessary during the pandemic, even with the reopening of restaurants in Stage 3, she said.
The small patio outside Orzo now has only 10 seats. The additional space would give them five tables, for up to 20 people. Inside, they will be able to accommodate only 18 to 20 diners.
That doesn't bring the capacity to what they need to see them through the winter, she told councillors.
Even when the indoor space opens, Mavridis said, "it worries us visitors will not be confident enough to sit inside, although we have taken every precaution and have all our protocols in place. We would love the opportunity to place an outdoor patio temporarily, as others have done down the street."
Although several councillors spoke in support of the patio, interim CAO Sheldon Randall said he has some issues with it, including whether the ramp slope is steep enough to meet regulations for wheelchairs.
As the council meeting neared its cutoff time Monday night, with a plan to reconvene at 6 p.m. Wednesday, councillors suggested town staff meet with Mavridis to come up with a design that works.
"We need some creative thinking here," said Coun. Clare Cameron. "I have faith that the operator, working with staff, can achieve this. Let's do this please. Let's be empathetic."
Randall agreed to visit the site and work on a plan with the restaurant owners, to present to councillors at their
Wednesday meeting.
When council reconvened Wednesday, Randall had visited the site. "I have a better understanding of what they are trying to achieve," he said, adding staff would work with the owners to see what they could do.