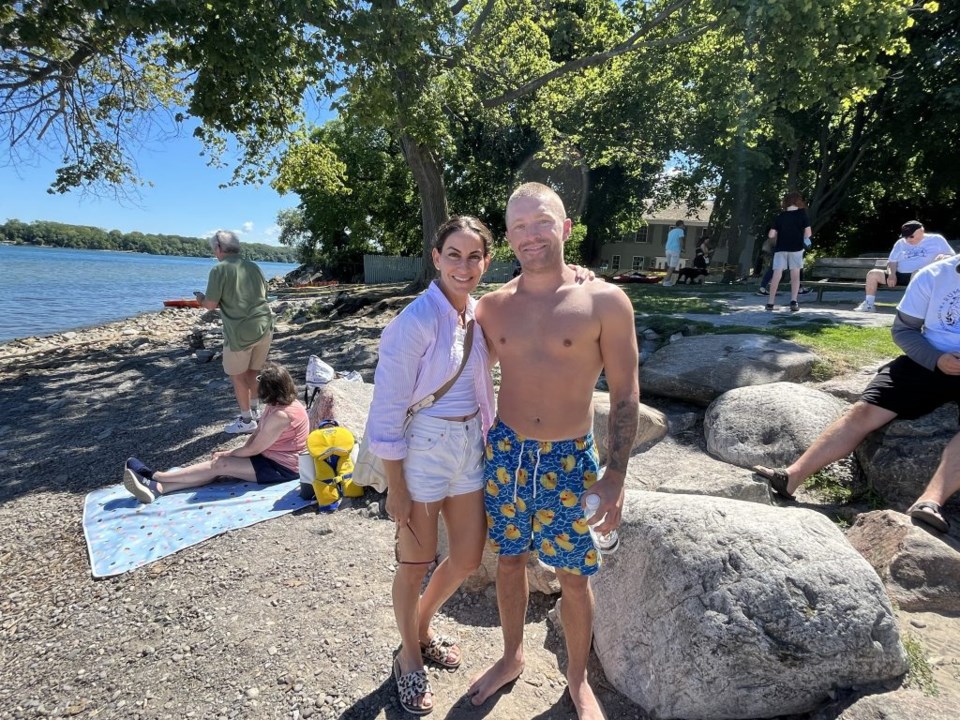 Niagara-on-the-Lake's Dylan Rumsey crushed two of his goals this weekend.
On a beautiful, still Saturday morning, Rumsey swam against the natural current from the Queenston Docks to Queen's Royal Park much faster than the four to six hours he had estimated. And the GoFundMe page he set up to raise $12,500 for Pathstone Mental Health Foundation exceeded that total by $340 at press time.
After making it to Navy Hall, where he ran into some stronger current, it was smooth swimming for the 25-year-old, who had jumped off a friend's boat just after 9:30 a.m. By around 11:15, his friends and family awaiting his arrival at the end of King Street were contacting Rumsey's team on the boat, asking them to encourage him to take his time.
To a greeting from about 40 supporters, Rumsey emerged from the water onto the beach at about 11:45, completing the swim in just two hours and 15 minutes. Quite an accomplishment for someone who does not consider himself a swimmer.
The diesel mechanic at Metro Truck Group claims he prepared for the swim without really hitting the river. Instead, he had been putting in up to three hours a day in the gym, focusing on fitness and strength, and taking boxing lessons for the past three months.
"I've never swam any distance like this," he said. "This proves my point I was getting across, that if you set your mind on something that seems impossible, you'll definitely be able to accomplish it. For example, with depression, someone who has depression and thinks they'll never get out of it, they need to know they can do it."
Though his attention-getting feat did raise a large sum of money, for Rumsey, that's not what it was all about.
The purpose behind Rumsey's swim was to raise awareness for mental health issues, and to encourage those who suffer from depression and other maladies to try to fight through their problems without pharmaceuticals, if possible.
"I've had PTSD since I was 14, I was diagnosed with psychosis when I was 17," he explained after catching his breath. "Doctors always wanted me to take pills. But just through the things that I've been doing I was able to manage it really well. I went to college and I got a good job, and I did it all without taking any anti-depressants."
Pathstone Mental Health is a community-based organization that provides innovative and effective treatment for all children in Niagara struggling with mental health issues. Currently, Pathstone serves clients at nine walk-in clinics across the region and online, with a wait list of youth seeking treatment 570 names long. Pathstone ran a weekly clinic out of Red Roof Retreat at one time, but currently Niagara-on-the-Lake is one of the region's municipalities without a dedicated location.
Among the group awaiting his arrival at Queen's Royal Park was Pathstone Foundation director of philanthropy Kim Rossi.
"This was about stigma reduction," Rossi said Saturday. "He really did a great job. We saw this story covered everywhere. He was owning all the things he himself had struggled through. He talked about it publicly. I asked him if it felt therapeutic and he said yes. Him going public gives others the strength and the will to talk about theirs, too."
Rossi admitted that yes, the money raised is important, but the impact Dylan made on stigma reduction is potentially much more impactful.
"It spreads the message far and wide in a different way," she added. "Dylan has a whole different circle of people than we do at Pathstone, his friends, family and co-workers, and he's able to engage them at a different level. One in two people will have a mental health struggle. This fundraiser has introduced me to a whole new group of people who may want to find out how they can help Pathstone."
Almost all of those who greeted Dylan at the end of his swim were there for the start of his journey in Queenston. Many of them were wearing one of the 100 T-shirts made to support him on his journey. The Local was told that all of the shirts were sold, raising even more money than what was posted on the GoFundMe page.
Some, such as his grandparents Ron and Martina Rumsey, made numerous stops along the Niagara Parkway to track their grandson's progress.
"We're pretty worried," Ron told The Local. "I grew up right around the corner from here, and I swam across this river all the time when I was younger. I never swam against the current this far, though."
Dylan said he may have been inspired by Ron's adventures on the river, as well as those of his father Ken, who also frequently crossed the span as a youngster.
"When I was a kid, I always wanted to do that," he laughed. "But today, I one-upped them."
As far as the money, Rumsey hopes it goes toward supporting a different approach to helping youth with their mental health struggles.
"I wouldn't mind seeing it going to something like their natural park (at their Branscombe Centre in St. Catharines)," he said. "That's the reason I chose Pathstone, because I saw that they were trying to take a more natural approach to things."
Rossi looks forward to working with Dylan to help him decide how the organization will use the proceeds from his swim.
"I consider the struggles Dylan has gone through from a mental health perspective to be more high-risk," she explained. "He may want to designate that money to our family intervention or our more intensive treatment programs. That will be up to him to decide. He's part of the process in deciding what happens next."
The GoFundMe page will remain active for another two weeks to encourage further financial support. As well, Pathstone has a link on their website for donations to the same cause.